On the eve of Saratoga Race Course's 2021 opening day, a New York federal judge ruled the New York Racing Association's suspension of Bob Baffert was unconstitutional. That Wednesday ruling by Judge Carol Bagley Amon opens the gate for the Hall of Fame trainer to run his charges at Saratoga's lucrative, 40-day summer meet.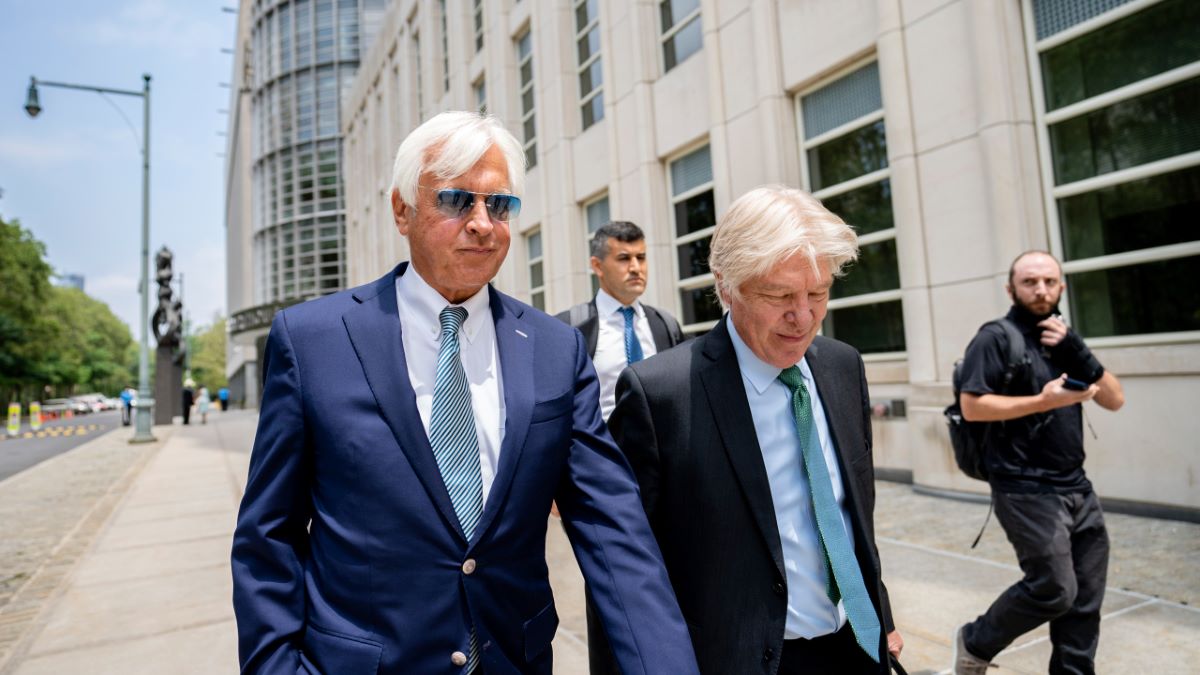 Amon ruled from her Eastern District of New York bench that the NYRA's suspension of Baffert did not pass constitutional muster because the organization didn't grant Baffert a post-suspension hearing to answer the charges. Instead, the NYRA suspended the trainer on May 17, denying him and his horses access to NYRA races or stall space at any of its tracks.
The organization did so after Baffert's star colt and Kentucky Derby winner, Medina Spirit, tested positive for the anti-inflammatory medication betamethasone. That medication is legal, but not permitted in a horse's system on race day.
The NYRA took action based on Baffert's recent history of medication violations. It followed similar action by Churchill Downs, which slapped a two-year suspension on the trainer.
Baffert has not challenged that suspension, largely because Churchill Downs is a private entity, free to make its own rules. He challenged the NYRA suspension based on the fact the organization is a state entity and, therefore, subject to due process.
Private Churchill Downs vs. public NYRA
In her 28-page ruling, Amon ruled that the NYRA didn't follow due process in suspending Baffert. That violates the US Constitution's Fourteenth Amendment's Due Process Clause. In her ruling, Amon clearly indicated that Baffert has a strong case his Fourteenth Amendment rights were violated.
"I conclude that due process required that Baffert, having an undisputed property interest in his licenses right to race horses in New York," was entitled to a pre-suspension hearing," read part of Amon's ruling. "And even if one accepted that NYRA's interest in 'preserving the integrity of racing' was paramount and that there was a need to act quickly because the Belmont Stakes was 'coming like a freight train,' the failure to accord Baffert any acceptable form of post-suspension hearing is fatal to NYRA's position that it compiled with due process."
Baffert proved NYRA denied his Constitutional rights
The NYRA contested Baffert's charges during a Monday hearing, claiming it is a private entity charged with ensuring that horse races are conducted fairly and honestly. Amon dismissed the first part of that claim, ruling that the organization "uses state-owned property to perform a role prescribed by statute and closely regulated by state entities, to generate revenues for the state. As NYRA has conceded in other cases, New York has so far insinuated itself into a position of interdependence with NYRA that NYRA's actions are fairly attributable to the state."
She accepted the second part of the claim — with a giant asterisk. Amon wrote "although NYRA invokes important interests here, those interests do not outweigh Baffert's weightier interest in being able to practice his chosen profession…."
In a statement released Wednesday afternoon, NYRA President and CEO Dave O'Rourke said his organization's decision to suspend Baffert "was taken to protect the integrity of thoroughbred racing."
Baffert showed how suspension hurt his livelihood
The statement added that the "NYRA is reviewing the court's decision today to determine our legal options and next steps. What is clear, however, is that Mr. Baffert's actions and behavior can either elevate or damage the sport. We expect Mr. Baffert to exert appropriate controls over his operation."
Recently, Baffert illustrated the financial and professional harm that the NYRA's action took on that operation. Baffert's attorney, W. Craig Robertson, sent a letter to Amon last Friday. As Thoroughbred Daily News reported, the letter listed five owners considering moving their horses from Baffert if NYRA's indefinite ban continued.
TDN reported that list includes Gavin Murphy of SF Bloodstock, Jack Wolf of Starlight Racing, Peter Fluor of Speedway Stable, Sol Kumin of Madaket Stables, and George Bolton. Two other industry titans, WinStar Farm and Spendthrift Farm, have already taken horses from Baffert.
WinStar removed standout 3-year-old Life Is Good and 4-year-old Grade 1 winner Country Grammer from Baffert. Spendthrift took promising sophomore Following Sea. All three went to Todd Pletcher, who entered Following Sea in Saturday's Grade 1 Haskell Stakes at Monmouth Park.