Tickets to watch this Futures Collegiate Baseball League team have never been hotter. That's because the Brockton Rox features the sons of baseball legends like David Ortiz, Manny Ramirez, Pedro Martinez, Garry Sheffield, and Keith Foulke.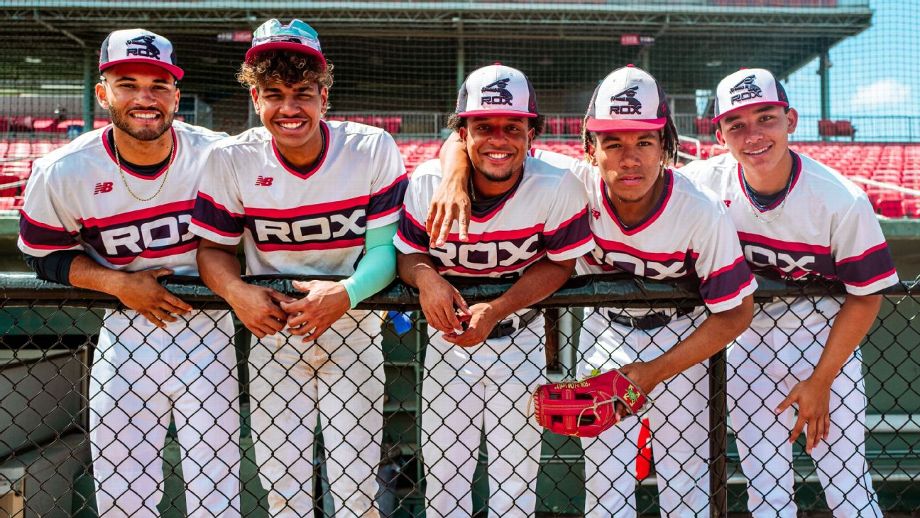 Scouts travel far and wide to size up potential talent for MLB. But they aren't the only ones. Sports bettors follow prospects across baseball's myriad of leagues to get a potential edge as players move up the ranks. This year, however, scouts and punters could just spend the summer at Campanelli Stadium, watching the sons of baseball legends.
Tiny FCBL attracts big talent
The FCBL is a collegiate, wooden bat, summer league, comprised of eight northeastern teams. It formed in 2011 after the New England Collegiate Baseball League refused expansion teams for Martha's Vineyard and Nashua, New Hampshire. Only players who were on a college roster the previous spring, or committed to play collegiate baseball in the upcoming year, are eligible for the FCBL.
A stunning baseball pedigree isn't required for the FCBL, but this year's Brockton Rox roster comes with plenty. Located just 30 miles from Fenway Park, Brockton is geographically well-positioned to draw from Boston's finest.
Manny Ramirez is famous for "being Manny." Facing a second suspension from MLB, the infamous Red Sox slugger retired in 2011. After retirement, Manny looked at ways to stay connected to the game. He even considered playing in Taiwan. At least now Manny Sr. is reliving some of baseball's finest moments through Manny Jr.
D'Angelo Ortiz drives in Manny Ramirez Jr. and I suddenly feel very old. pic.twitter.com/yVGmsC2T9n

— Pete Abraham (@PeteAbe) June 5, 2022
While there are no guarantees for Brockton's noted progeny, baseball has many examples of successful fathers and sons.
Famous baseball fathers and sons
Reggie Jackson was known as "Mr. October" for his post-season prowess. The Hall of Famer hit 563 home runs and won two World Series MVP awards. Jackson, however, wasn't the first ballplayer in the family. His father, Martinez Jackson, was a second baseman for the Negro league's Newark Eagles.
Craig Biggio was considered one of the Astros' best all-around players. The Hall of Famer won the Silver Slugger Award — once as a catcher and once as a second baseman. His son Cavan Biggio now plays for the Toronto Blue Jays. Both Craig and Cavan Biggio hit for the cycle in the majors. Gary Ward and his son Daryle Ward are the only other MLB father and son duo to hit for the cycle.
#PLAKATA NUMBER 40 💥 pic.twitter.com/mvGY1VCBlE

— Toronto Blue Jays (@BlueJays) September 6, 2021
Coincidently, Cavan Biggio is teammates with another son of a Hall of Famer. Nicknamed "Vlad the Impaler," Vladimir Guerrero Sr. was considered one of the best "bad ball" hitters in MLB. Last year, Vladimir Guerrero Jr. hit his 40th homer of the season out of the park — just like his father before him. They are only the second father and son duo to have a 40-home run season during their MLB careers.
The Griffeys, however, did what few baseball fathers and sons could do. They were MLB teammates. In fact, Ken Griffey Sr. and Ken Griffey Jr. hit back-to-back singles with the Seattle Mariners on Sept. 14, 1990. They played 51 games together before Ken Sr. retired in 1991. Before his own retirement in 2010, Ken Jr. hit 630 home runs and won 10 Gold Glove awards.