Manny Ramirez, who turns 48 at the end of the month, wants to return to the baseball diamond by eyeing a comeback in Taiwan. Ramirez won the World Series twice with the Boston Red Sox in the mid-2000s. Manny being Manny, once again.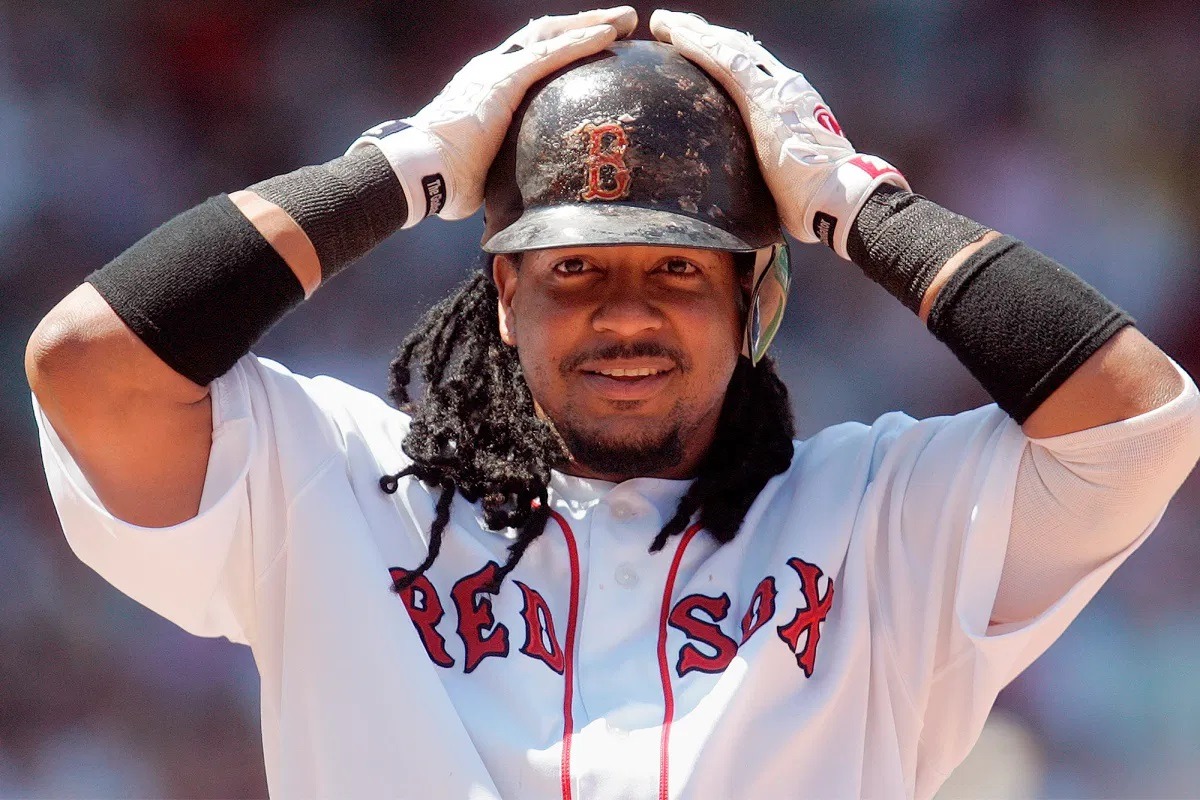 Ramirez, a 12-time All-Star, slugged 555 home runs over a baseball career that spanned 19 seasons. Ramirez played for five different teams, including the Cleveland Indians, Boston Red Sox, LA Dodgers, Chicago White Sox, and Tampa Bay Rays.
He also served two drug suspensions late in his career that tarnished his reputation and irked baseball purists who showed zero respect for PED users. He served a 50-game suspension with the LA Dodgers in 2009 and got flagged for elevated testosterone while playing with the Chicago White Sox in 2011
WHO IS MANNY RAMIREZ?
Age: 47
Hometown: Manhattan, NY
Position: OF
Hits/Throws: Right, Right
Career Batting Average: .312
MLB Stats: 555 HRs, 1,831 RBI, 2,574 Hits
World Series Wins: 2004, 2007
MLB Teams: Indians, Red Sox, Dodgers, White Sox, Rays
Ramirez won the Silver Slugger Award nine times, including eight consecutive times between 1999 and 2006. Ramirez also won the coveted Hank Aaron Award twice (1999 and 2004) as the top hitter in the American League.
At different times in his storied career, Ramirez led the American League in batting average (.348 in 2002), home runs (43 in 2004), and RBIs (165 in 1999).
At age 21, Ramirez finally made it to "The Show," playing 22 games in 1993. He smacked 17 home runs in his official rookie season in 1994. He did not become an everyday player until 1995, where he slugged 31 home runs and hit .308.
Ramirez Taiwan Overseas Comeback
Many MLB veterans have attempted to extend or reboot their careers in Japan and the Asia Pacific region. Korean baseball is one of the few sports running during the coronavirus pandemic. In Taiwan, teams in the Chinese Professional Baseball League have been playing without fans.
After a stint with the Aguilas Cibaenas in the Dominican Baseball League during the winter of 2012-13, Ramirez headed to Asia to continue playing ball.
Ramirez played for the CPBL's EDA Rhinos in New Taipei City. Ramirez hit .352 in 49 games. He also smacked eight dingers and drove in 43 RBI. He finished the season in the top 3 in all three major batting statistics.
In 2017, Ramirez had a brief stint with the Kochi Fighting Dogs of the Japanese Shikoku Island League Plus. A knee injury knocked him out for the season and he returned home to America for surgery.
Three years later, Ramirez is seeking a comeback in Taiwan. He still thinks he has gas left in the tank even though he's about to turn 48-years old. He's actively seeking a contract with a team in the Chinese Professional Baseball League once again.
"I have been itching to get back in the batter's box and be able to compete again," Ramirez told the Taiwan Times. "Also [I] miss being around teammates and team dinners post-game. I know if I was given the opportunity to come in an organization as a player-coach, it would do great things for the organization and the league."
The player-coach option could work with a bigger emphasis on "coach." Ramirez noted that attendance to Rhino games quadrupled after his arrival in Taiwan in 2013. Even kids in Taiwan wanted to catch a glimpse of the dreadlocked Ramirez.
"I have been working out daily and keeping my mind at ease," said Ramirez. "I have only one thing in mind: how to get back on the field."
Manny Being Manny
Ramirez is a self-professed space cadet. The term, "Manny being Manny" was coined by his teammates and coaches due to his sometimes breezy and aloof attitude. Former Indians skipper Mike Hargrove is credited with being the first one to mention it to the press while speaking with a Newsday beat writer in 1995.
ESPN pinpointed the origin of the phrase in an article by Mike Hume in 2008.
"While referring to one such incident," wrote Hume, "Ramirez had forgotten his paycheck in a pair of boots at a visitor's clubhouse, writer Jon Heyman picked up on an interesting quote from Hargrove, 'That's just Manny being Manny,' he said. 'He's a lot better than he was two years ago.'"
Manny being Manny. You know the type. He's your friend that everyone thinks is stoned 24/7 but actually doesn't smoke weed, and who's just naturally out of it.
Ramirez might have acted weird in the clubhouse and on the road, but when it came to play ball, he excelled at the plate. He finished his career with a post-.300 batting average. His career slashline is .312/.411/.585.