Of the three remaining undefeated teams in the NFL, San Francisco is the biggest surprise. New England and Kansas City are both Super Bowl favorites, but the 49ers weren't even considered by some to be a playoff team. The over/under on their regular season victories was 8.5, a lofty number since they only won four games in 2018.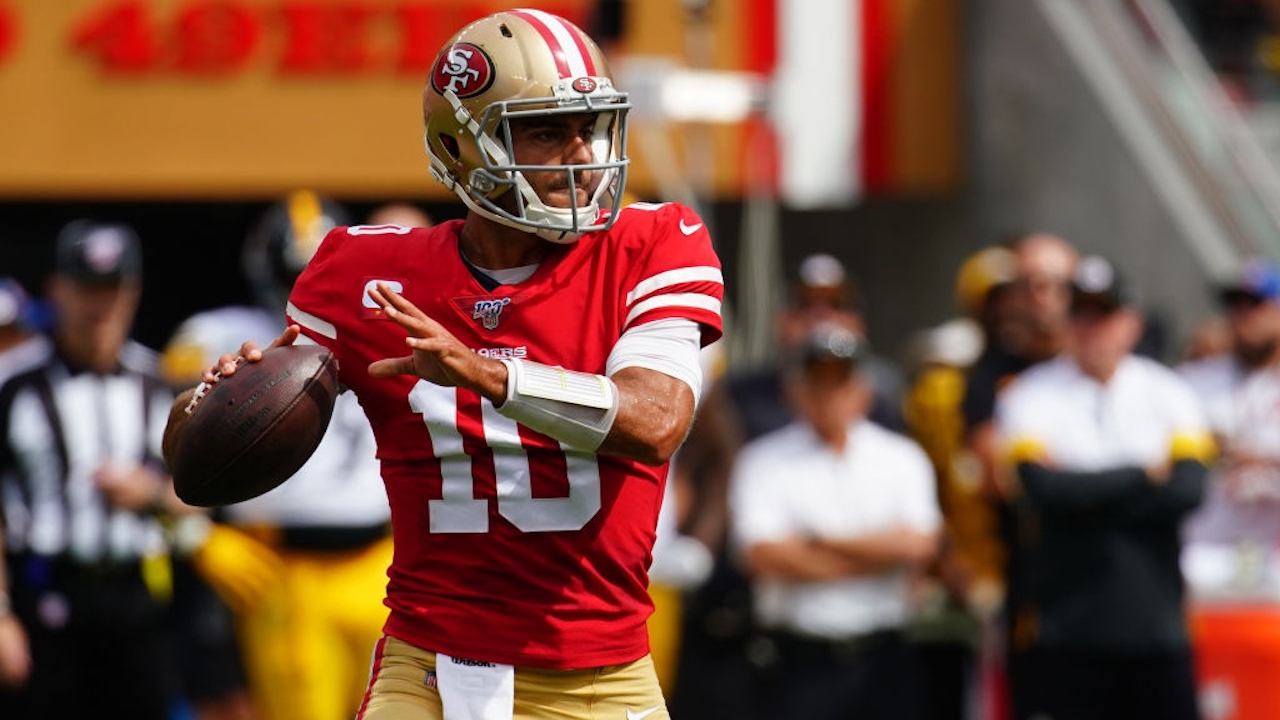 With a healthy Jimmy Garoppolo back at quarterback, San Francisco is 3-0, and atop the NFC West. But coach Kyle Shanahan isn't impressed by the team's record, and he doesn't want his players to be either. He told ESPN that he has cautioned them about being overconfident.
"That is good, but that doesn't mean anything," Shanahan said. "I've been 5-0 and not made the playoffs before, so that doesn't mean much."
Will San Francisco get to 4-0 this week? They're playing the Cleveland Browns on Monday night, and are coming off a bye.
We take a look at that matchup, as well as the other two undefeated teams, to see who has the best chance to remain without a loss.
San Francisco Faces Dangerous Cleveland Squad
Even though the 49ers are undefeated, the quality of teams they have beaten is not good. None of the three — Tampa Bay, Pittsburgh, and Cincinnati, have winning records.
Now, San Francisco gets Cleveland, who are better than their 2-2 record would indicate.
This should boil down to the 49ers' fourth-ranked offense against Cleveland's No. 13 defense. If San Francisco can score on them, they should win this game.
For the Browns, it will be all about ball control. Points against the No. 3 defense will be hard to come by. If Baker Mayfield and the offense can keep San Francisco's offense off the field, they have a chance.
Chances of winning: 60 percent
Kansas City Needs Defensive Improvement
The Chiefs were tested last week on the road against a surprisingly tough Detroit team. But, like good teams do, Kansas City found a way to win. They host Indianapolis this week, and it shouldn't be as tough a game.
The line opened at 8.5 points in favor of the Chiefs, but the sharps quickly pounced, driving it up to 11.
The Lions disrupted Kansas City quarterback Patrick Mahomes enough to give the MVP candidate a game with no touchdowns. He did finish with 315 yards, but faces an Indianapolis defense which ranks 13th in passing defense.
Kansas City's defense is 30th overall, and that could be an Achilles heel for them, but not in this game. The Colts are 19th in total offense, and will lose in what could be a shootout.
Chances of winning: 75 percent
Patriots Should Cruise Against Washington
We might as well give the Patriots the victory and move them to 5-0. New England is playing 0-4 Washington, and is favored by 15.5 points. Washington is in such disarray that coach Jay Gruden doesn't even know who his starting quarterback is going to be.
"We don't have one right now," Gruden said when asked what his plans were in regards to who was going to be his starting signal caller.
It's not going to matter who is under center on Sunday. The Patriots have the No. 1 defense in football, and the Redskins are ranked 28th out of 32 teams in total offense.
If this game isn't decided by halftime, it would be a shock.
Chances of winning: 99.9999 percent