Now in its sixth incarnation, The Match has become a popular, offbeat addition to the golfing schedule. And with four quarterbacks lined up to participate in The Match VI on Wednesday, there's never been more uncertainty – or less golfing talent – heading into any of these contests before.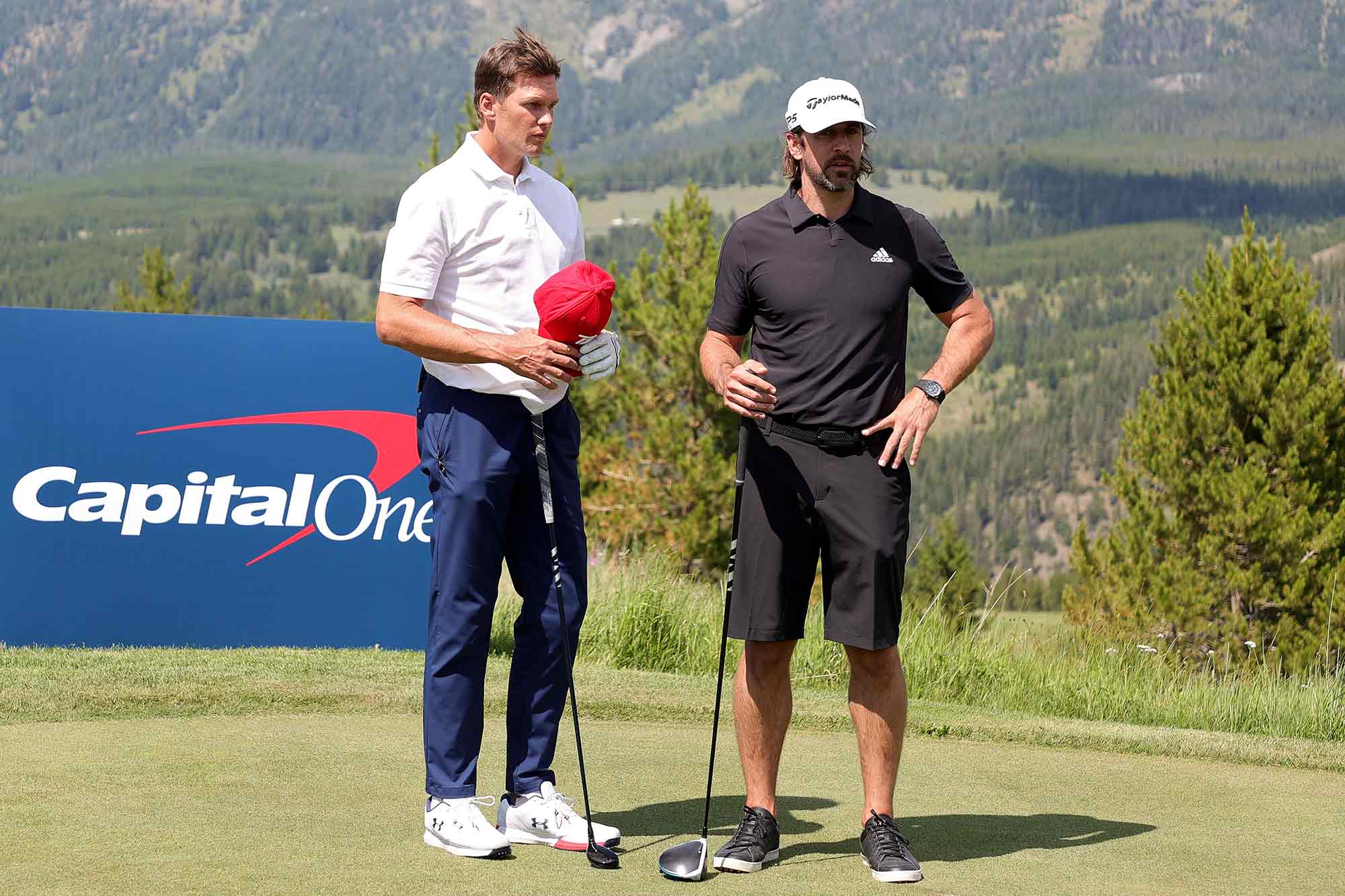 Tom Brady and Aaron Rodgers come into The Match as -190 favorites to beat Josh Allen and Patrick Mahomes (+160), according to DraftKings Sportsbook.
Rodgers, Brady have experience in The Match
Brady and Rodgers are not only veteran signal callers, but also veterans to The Match as well. Brady has teamed up twice with Phil Mickelson in the event, losing both times. Meanwhile, Rodgers won a round with Bryson DeChambeau against Mickelson and Brady last summer.
On the other hand, Allen and Mahomes are both making their first appearances on The Match. Allen has competed in the Pebble Beach Pro-Am event, however. The truth is, few know exactly what to expect when these four hit the links on Wednesday.
Except, of course, for the trash talk. Banter has been one of the biggest selling points for The Match, and that should be no exception this time around. With Charles Barkley and JJ Watt on commentary, there should be plenty of egging on from the booth. Not that these quarterbacks need it.
"Pat I'm sure is a big TikToker. Runs in the family."

Brady and Rodgers are from a different era 😭#CapitalOnesTheMatch is June 1 on TNT pic.twitter.com/fUvR4rKJtw

— Bleacher Report (@BleacherReport) June 1, 2022
Tom Brady came out swinging ahead of The Match, referencing where his opponents have come up short on the football field ahead of their golf outing.
"Josh really hasn't backed much up on the football field in his career, let's be honest, especially playing against me," Brady told reporters. "I would just say it's going to look like what it's looked like for a long time against [Allen], and Patrick, although he's played a lot of great games, he didn't really win the important ones. He has won a few of the other ones, but not the really important ones."
Mahomes, Allen expect to win trash-talk battle
Allen and Mahomes have promised to give as good as they get on the course, however.
"I don't know if I'll be the best golfer there, I hope to be, but I'll be the best trash talker," Allen told reporters. "When we're on the course, there's some things I'll have to tone down and try not to cross the line between two of the greatest quarterbacks of all time and guys I've grown up watching. But, I've got to get in their head somehow, so we'll see what we can do."
Mahomes took aim at exactly where Brady and Rodgers are getting their jokes.
"They've been trying to talk trash, but you tell it to their scripted or old jokes that they found on Twitter," Mahomes said, via Chiefs Wire. "So when we get on that golf course, and we get to really talk trash, I know me and Josh are gonna do that. And we're gonna win the match as well."
The Match will air at 6:30 pm ET on TNT.