Tiger Woods and Peyton Manning won The Match II on Sunday, but the real winners were golf fans. The telecast, which was shown on multiple channels, attracted an average of 5.8 million viewers and peaked with 6.3 million viewers.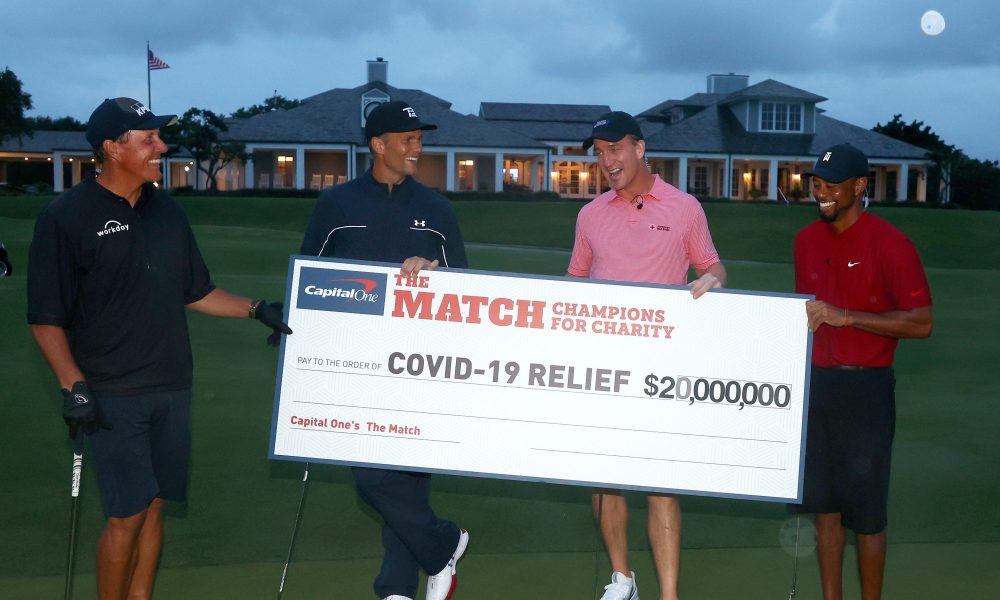 According to Turner Sports, The Match II was the most-watched golf telecast in the history of cable television. Woods and Manning scored a 1-up victory over Phil Mickelson and Tom Brady in the competition which was played at Medalist Golf Club in Hobe Sound, Florida.
Woods was quick to remind people why the foursome hit the links in the first place.
"The fact we all came together to raise $20 million for those who have been severely affected, the fact Tom and Peyton, hats off to them for coming out here," Woods said. "This is our arena, this is what we do. We can't imagine going out on to their field and doing what they do. But it was a great day."
Some commentators speculated that the success of the charity golf exhibition was due to a lack of other sports on television. A similar television golf match, with teams of Rory McIlroy and Dustin Johnson against Rickie Fowler and Matt Wolff, was played a week earlier and failed to garner even half the numbers The Match II did. That contest, won by McIlroy and Johnson, saw an average of 2.35 million viewers.
Personalities Drove The Match II
Another contributing factor to the success of The Match II was, likely, the presence of the non-golfing participants. Manning and Brady brought a fresh perspective to the contest, with humility about their golf games, and outgoing personalities.
Mickelson credited Brady with not only great banter on the golf course, but some decent golf on the front nine.
"My man (Brady) hit some really great shots on this back nine and we fought hard to make up (the deficit)," Mickelson said. "I was a little nervous, a little tight on the front nine and my man kept us in there and, on the back nine, he really shined and hit some great shots, and we made a run and we came really close."
It didn't take long for social media users to suggest other possible playing partners for Woods and Mickelson in The Match III. One Twitter user suggested Michael Jordan and Steph Curry. Another thought John Smoltz and Tony Romo would be a good combination.
European Tour Sets Late July Return
While the PGA Tour is readying for a June 11th return at the Charles Schwab Challenge at Colonial Country Club in Fort Worth, Texas, the European Tour is taking a more cautious approach toward its return. A story in Golf Digest said the tour is targeting the British Masters to be the first tournament in its comeback. That would be held from July 30 through Aug. 2, followed by events in England and Wales.
Lee Westwood, who is involved with the British Masters, told Golf Channel it should be the first event to return.
"All being well, it will be the first one back," Westwood said. "I don't think there's anything really planned before that. We've got our fingers crossed that nothing goes wrong, there are no second waves, quarantines get lifted, and we can have a successful tournament."