After having their season suspended in March because of the COVID-19 pandemic, professional golfers might get back to work soon. Commissioner Jay Monahan outlined a revised PGA Tour schedule on Thursday that would have the Charles Schwab Challenge played on June 11, and nine other tournaments either rescheduled or canceled.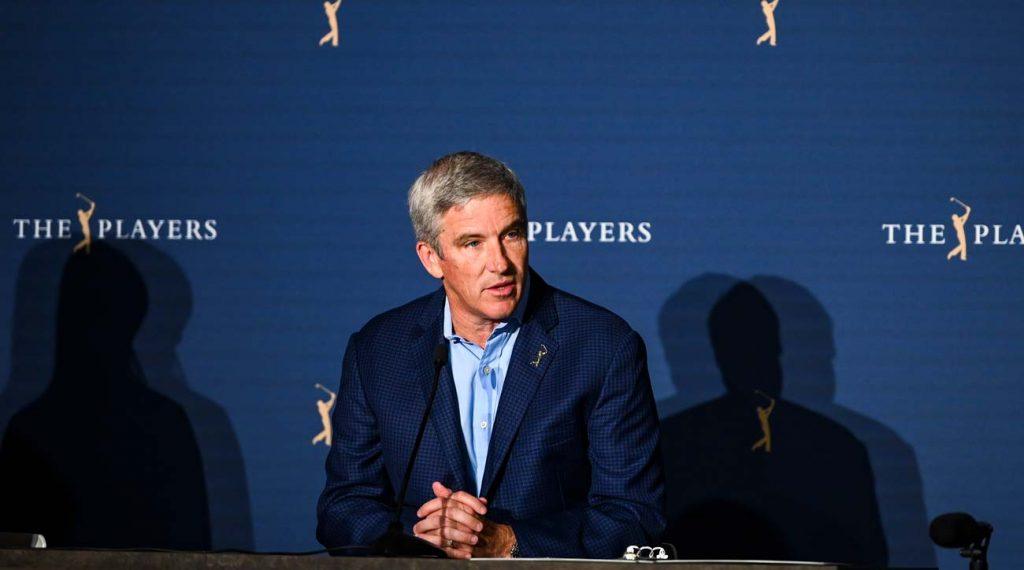 Speaking Thursday morning, Monahan said he believes it will be safe to hold an event nearly two months from now. He said the Charles Schwab Challenge, as well as the following three events on the PGA Tour schedule, will be played without fans.
"The health and safety of all associated with the PGA Tour and our global community continues to be our No. 1 priority, and our hope is to play a role – responsibly – in the world's return to enjoying the things we love," Monahan said. "Today's announcement is another positive step for our fans and players as we look toward the future, but as we've stressed on several occasions, we will resume competition only when – working closely with our tournaments, partners, and communities – it is considered safe to do so under the guidance of the leading public health authorities."
A Logistical Nightmare
The Charles Schwab Challenge at Colonial Country Club in Fort Worth, Texas was originally scheduled for May 21-24. It was the first tournament that wasn't canceled or postponed by the PGA Tour because of the COVID-19 pandemic.
The tour originally canceled eight events, beginning with The Players Championship on March 13, up to the third week of May. One event, the Corales Puntacana Resort & Club Championship (March 26-29) was postponed, but will now be played opposite the Ryder Cup from Sept. 24-27. The latest reshuffling of the PGA Tour schedule affects 10 tournaments.
Tournament                       Old Date     New Date
| | | |
| --- | --- | --- |
| Charles Schwab Challenge | May 21-24 | June 11-14 |
| Canadian Open | June 11-14 | Canceled |
| RBC Heritage | April 16-19 | June 18-21 |
| Rocket Mortgage Classic | May 28-31 | July 2-5 |
| Barbasol Championship | July 16-19 | Canceled |
| Memorial Tournament | June 4-7 | July 16-19 |
| WGC FedEx-St. Jude | July 2-5 | July 30-Aug. 2 |
| Barracuda Championship | July 2-5 | July 30-Aug. 2 |
| Corales Puntacana Championship | March 26-29 | Sept. 24-27 |
| Sanderson Farms Championship | Sept. 19-22 | Oct. 1-4 |
The global pandemic also affected all four major championships. The Masters, usually played the second week of April, now has a Nov. 12-15 date. The PGA Championship was rescheduled from May 14-17 to Aug. 6-9, but still may not go on as scheduled. The US Open went from its June 18-21 date to Sept. 17-20, a week before the Ryder Cup. The Open Championship was canceled for the first time since 1945.
Commissioner Helping President Trump
Monahan worked with health officials and tournament organizers on the PGA Tour schedule, and last week put out a statement hinting at the progress.
"It's a complex situation, and we want to balance the commitments to our various partners with playing opportunities for our members – while providing compelling competition to our fans – but all of that must be done while navigating the unprecedented global crisis that is impacting every single one of us," Monahan said. "Events of this size are not easy to move."
Monahan was one of 10 professional sports commissioners that participated in a conference call with President Donald Trump a week ago. Trump said he was hopeful that professional sports would resume by the end of summer.
Monahan, along with LPGA Tour commissioner Mike Whan, were named to a 200-person advisory council by Trump on Tuesday. They will help advise the president on when it is best to reopen the coronavirus-battered economy.
"We have to get our sports back," Trump said during his Tuesday briefing. "I'm tired of watching baseball games that are 14 years old."