The buzz horse in Saturday's Grade 1 Haskell Stakes is definitely Jack Christopher. The buzz trainer – as he usually is in high-profile 3-year-old races – is Bob Baffert who brings in 7/5 morning line favorite Taiba.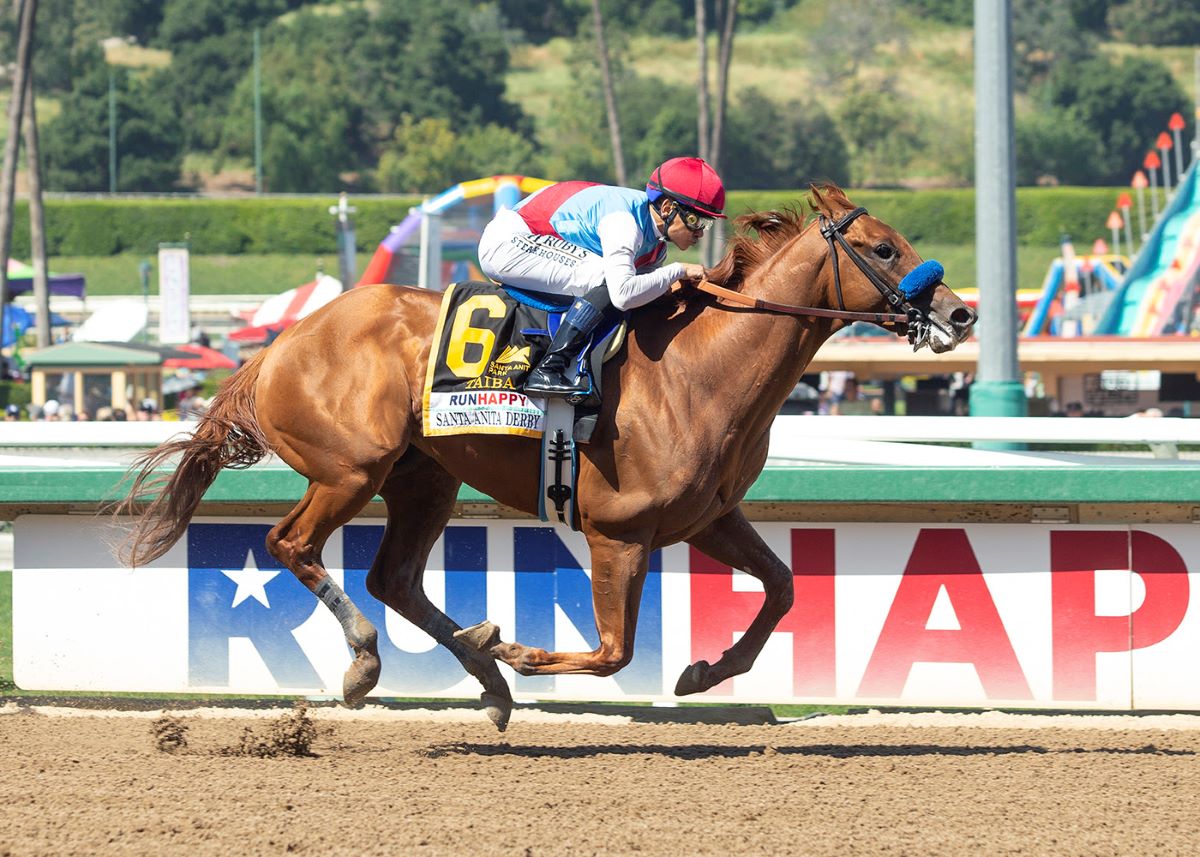 So when the starting buzzer goes off in the 1 1/8-mile Haskell, who's likely to keep the buzz going?
That depends. It depends on whether Jack Christopher (3/2) can navigate two turns and if Taiba can navigate shipping east for only his fourth race. Not that Jack Christopher, he of the 4-for-4 record, is heavily raced either. In fact, the two favorites for the biggest race on Monmouth Park's schedule have a combined seven races.
By way of comparison, third choice White Abarrio (5/1) has seven races by himself. Fourth choice Cyberknife (6/1) ran eight times.
Baffert's first Grade 1 back is one of his sweet spots
But the Baffert Factor has a way of evening out those odds. He's won nine Haskells, starting with Point Given in 2001 and ending the string (for now?) with Authentic in 2020. The Hall of Fame trainer sent 15 Haskell horses to Monmouth Park. All 15 hit the board (9-4-2).
The $1.7 million Gun Runner colt hasn't run since getting overwhelmed in the Kentucky Derby free-for-all. Taiba finished 12th and even though he wasn't there due to his suspension, Baffert chalked it up to the 20-horse Derby madness.
"We know he's lightly raced, but I feel he's doing really well," Baffert told Monmouth Park's Lynne Snierson. "I wanted to watch him train. I wasn't really convinced he was going to the Haskell. He breezed really well. He's a big, strong, heavy horse who won't light it up in the mornings, but I was surprised what he did first out. I let him dictate if he was ready or not. I wasn't going to throw him in the deep end of the pool.
"I would have liked an extra week with him. But he's doing really well. He has speed and he doesn't get tired. The two turns won't be a problem for him."
Jack Christopher comes in with his own questions
It's "the two turns" that stalks Jack Christopher. Not only has he never run two turns in any of his four races, but he's never gone beyond a mile. His Grade 2 Pat Day Mile victory on the Derby undercard and his Grade 1 Champagne victory at Belmont Park last fall were both one-turn miles.
This runs into the face of history. Even at nine furlongs, the Haskell is a stamina runner's race. According to Equibase, every Haskell winner dating to 1981 comes in with a victory at longer than a mile on their CV. Along with that, a glance at the pedigrees of recent Haskell winners shows sires with stamina.
Last year's winner, Mandaloun, and 2020's Authentic came from Into Mischief. Maximum Security (2019) came from New Year's Day. Good Magic (2018) was a Curlin progeny. Girvin (2017) is the son of Tale of Ekati. Going to 2016's Exaggerator — that year's Preakness winner — he too was a Curlin progeny. And 2015's Triple Crown hero American Pharoah came from Pioneerof the Nile.
You expect stamina pedigree in your Haskell winner
Every one of those sires except Into Mischief and New Year's Day ran at least one leg of the Triple Crown. And both of those exceptions won a route of at least 8 ½ furlongs.
So who's Jack Christopher's daddy? He's the son of Munnings, a great sprinter – emphasis on "sprinter." Munnings did finish third in the 2009 Haskell, but none of his four victories came at a race longer than seven furlongs.
But Jack Christopher will likely be the post-time favorite. That's due to two primary factors: his New York base and sizzling-hot trainer Chad Brown pulling the strings. Jack Christopher's 10-length boat-race victory as the 1/5 favorite in the Grade 1 Woody Stephens on the Belmont Stakes undercard is a money draw as well. So is his field-best 107 Beyer Speed Figure coming out of that race.
Jack Christopher has the pure speed to win the Haskell. Whether he has the stamina is another matter.
Grade 1 Haskell Stakes/Monmouth Park
Morning Line (Jockey/Trainer)
Cyberknife, 6/1 (Florent Geroux/Brad Cox)
Taiba, 7/5 (Mike Smith/Bob Baffert)
One Time Willard, 30/1 (Paco Lopez/John Stephens)
Howling Time, 10/1 (Joe Talamo/Dale Romans)
King of Hollywood 30/1 (Nik Juarez/Gregg Sacco)
White Abarrio, 5/1 (Tyler Gaffalione/Saffie Joseph Jr.)
Jack Christopher, 3/2 (Jose Ortiz/Chad Brown)
Benevengo, 20/1 (Angel Rodriguez/Jesus Cruz)
The two other Grade 1 winners in the field are the aforementioned Cyberknife (Arkansas Derby) and White Abarrio (Florida Derby). Their odds will likely float higher as more money comes in on the two favorites. Neither has the speed of Taiba or Jack Christopher, but a career outing from either could put them in the mix coming down Monmouth Park's 990-foot stretch.
The Haskell is the featured race on Monmouth Park's 14-race, six-stakes card. As a stop on the Breeders' Cup Challenge Series, the winner gets an all-expenses-paid berth into the Breeders' Cup Classic.
Because of Monmouth Park's fixed odds, available to bettors at the track, horseplayers at the Jersey Shore track could get better – or worse – odds than those listed here.