One day after Chad Brown racked up the Diana Stakes superfecta, he discussed his barn's new MO acquiring horses, where Preakness Stakes winner Early Voting is running next and what's next for his other two standout sophomores: Zandon and Jack Christopher.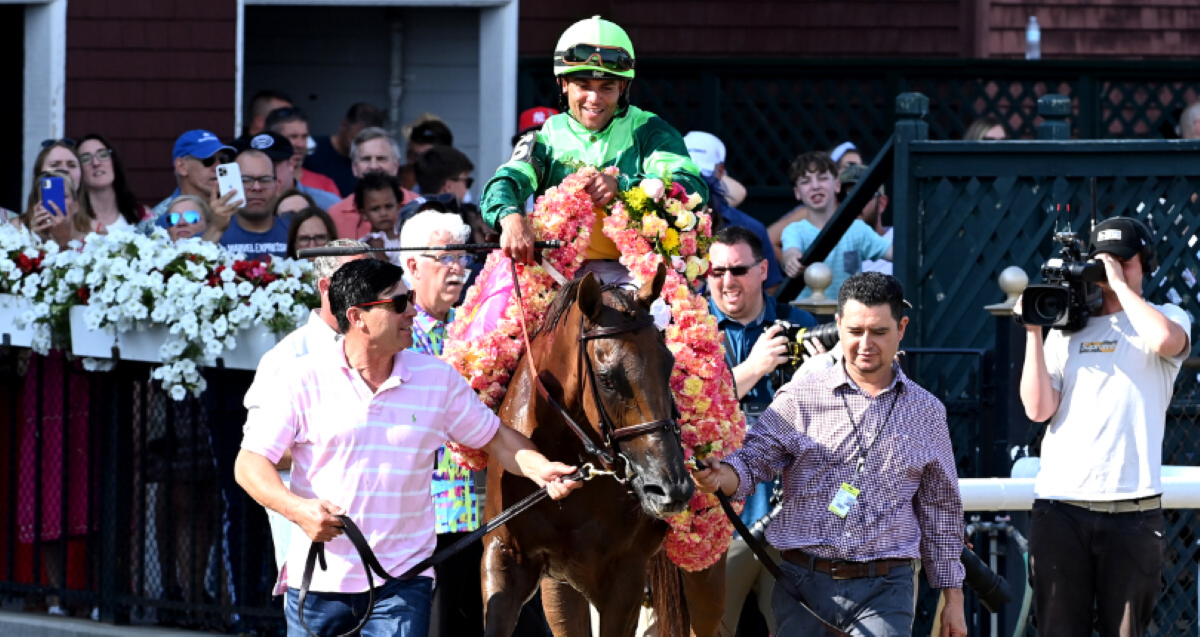 You'll see Early Voting next in the July 30 Grade 2 Jim Dandy at Saratoga. That's the prep for Saratoga's flagship race: the $1.25 million Grade 1 Travers Aug. 27. That race could have the best 3-year-old field of the year. Yes, even better than the Kentucky Derby.
The Jim Dandy also brings Zandon back to the races. He'll run for the first time since finishing third in the Derby.  Meanwhile, you'll see Jack Christopher, who missed the entire Triple Crown season recovering from injury, at Saturday's Grade 1 Haskell Stakes at Monmouth Park. Brown enjoyed seeing him cover a half mile in 49.80 seconds Saturday.
"Early Voting is here and he'll be going to the Jim Dandy," Brown told the New York Racing Association Saturday. "Jack Christopher looked great this morning and looked ready to go for the Haskell. At the end of the day, I was going to run two horses in one race and one in the other and I'd rather only run the one in the Haskell. I just didn't see the benefit of putting Early Voting in a larger field against a really fast horse and what it might do to him five weeks out from the Travers."
The Brown farm system comes alive
As for his continued Diana domination, Brown explained why and how he's finding horses such as In Italian. She set the Saratoga Mellon Turf Course record for 1 1/8 miles (1:45.06) en route to a 100 Beyer Speed Figure and 1 ¼-length victory. And en route to winning Brown his seventh Diana and sixth of the last seven.
What Brown and his owners have done is head to European public auctions in search of talented horses with blue-chip turf pedigrees. This deviates from Brown's previous tactic of buying horses at auction who have already run.
What this does is give Brown his own farm system. It allows him to build and condition from the ground up with horses who haven't run yet. This is what brought both In Italian and Diana runner-up Technical Analysis to Brown's stable.
Stablemates from the same sale
They both came out of the 2019 Tattersalls October Sale. Owner Peter Brant bought In Italian for $609,634. Seth Klarman of Klaravich Stables bought multiple graded stakes winner Technical Analysis for $258,109.
"It's been a nice addition to cultivate our own horses from scratch, going and buying them and putting them in our system," Brown said. "In recent years, it became harder to buy horses that had already run a little bit, which we used to do more of earlier on in my career. With those horses being more challenging to purchase privately, we just started to have our own farm team of going and buying European-bred horses. You see the successful ones and you get a batch of them and not every horse works out. But we've had tremendous success doing it and it's something we'll look to do more of for sure."
This gives horseplayers another angle when looking at Saratoga's turf card. Yes, Brown will be overbet. But as 8/1 In Italian attests, the "other Brown" — or "other Browns" — can be rather lucrative.