Mike Sando from The Athletic published his quarterback tiers for the upcoming season and several fans are having meltdowns because of some of his controversial rankings. The list of premier, Tier-1 quarterbacks includes Aaron Rodgers, Patrick Mahomes, Tom Brady, Josh Allen, Justin Herbert, and Joe Burrow.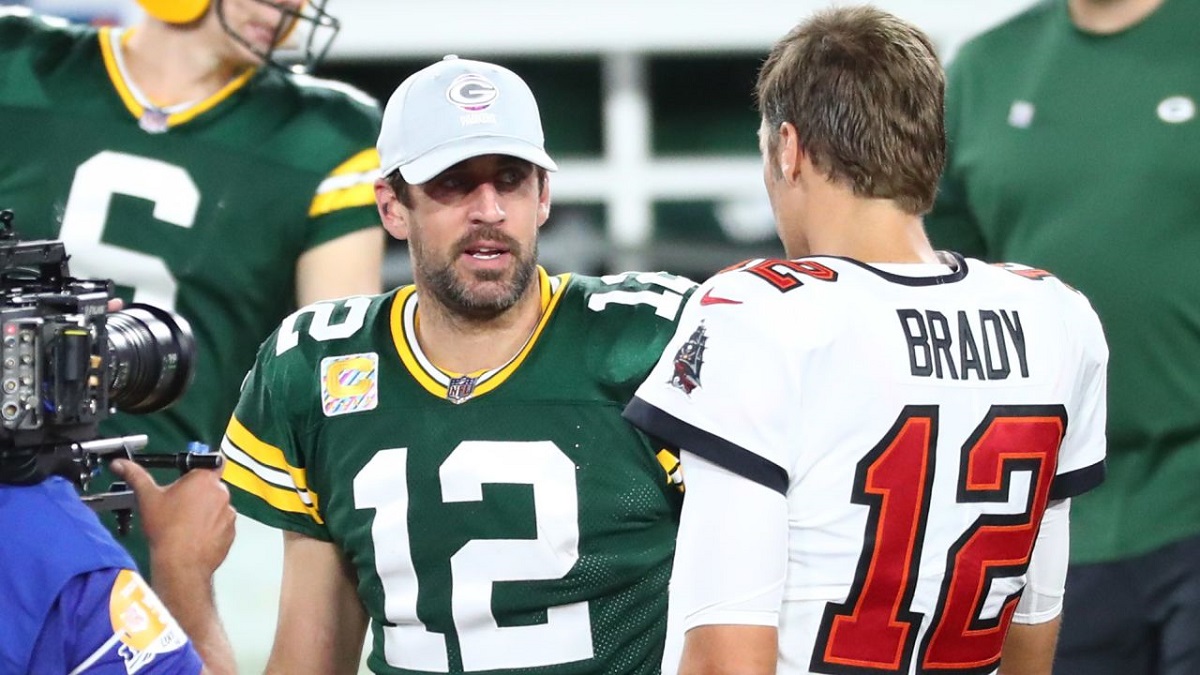 The best way to irk a group of fans is to install a ranking system, or in the case of The Athletic, divide all of the starting quarterbacks in the NFL into a tier system with overall QB rankings.
---
The Athletic's 2022 QB Rankings
Tier 1: Aaron Rodgers, Patrick Mahomes, Tom Brady, Josh Allen, Justin Herbert, Joe Burrow
Tier 2: Matt Stafford, Russ Wilson, Deshaun Watson, Lamar Jackson, Dak Prescott, Derek Carr, Kyler Murray, Matt Ryan
Tier 3: Kirk Cousins, Jimmy Garoppolo, Ryan Tannehill, Mac Jones, Baker Mayfield, Jalen Hurts, Carson Wentz, Jared Goff, Trevor Lawrence, Jameis Winston
Tier 4: Justin Fields, Tua Tagovailoa, Dais Mills, Zach Wilson, Trey Lance, Daniel Jones, Marcus Mariota, Sam Darnold, Mitch Trubisky, Drew Lock
Tier 5: Geno Smith
---
Rankings are subjective, but it's a fascinating article about every starting QB featuring quotes from NFL coaches, scouts, and executives.
Tier 1: Elites, perennial contenders
The Athletic selected six quarterbacks for Tier 1 of its QB rankings, and their list seems fairly accurate. If you asked insiders to rank their top five quarterbacks, it's safe to say that these Tier-1 QBs would be included in most every ranking.
Brady is 45 years old, yet he's still considered an elite quarterback. But how will he fare this season without starting center Ryan Jensen? Jensen was Brady's bodyguard and protector on the field since Brady joined the Bucs.
Rodgers won the MVP for the past two seasons, but can he win a third-straight one without Devante Adams? Adams left Cheeseland and headed to Sin City, where he'll be Derek Carr's #1 option.
Mahomes also lost the Chiefs' biggest deep threat when they traded Tyreek Hill to the Miami Dolphins. But, defenses started clamping down on deep balls, so Mahomes would have to adjust with quick passes and more shallow throws. Perhaps losing Hill isn't as bad as everything thinks. After all, Mahomes still has Travis Kelce.
Allen and the Buffalo Bills had two exceptional seasons yet they failed to return to the Super Bowl. The Bills Mafia have one mission: a trip to the Super Bowl to exorcise the demons of four-straight losses in the 1990s. It's Allen or bust, baby.
Tier 2: Super Bowl champs, controversial QBs
Two quarterbacks in the Tier-2 rankings — Russell Wilson and Matthew Stafford — have won a Super Bowl. The Rams hope they can win one more title with Stafford as their quarterback, while the Denver Broncos are gambling that Wilson will be the next franchise quarterback to deliver a Super Bowl to the Mile High City.
Lamar Jackson is one of those controversial quarterbacks because a lot of old-school minds think a mobile QB like Jackson can't procure a championship. After an auspicious rookie season in which he helped save John Harbaugh's job, Jackson is only 1-3 in the postseason.
Kyler Murray is getting paid like a Tier-1 quarterback, but based on his Tier-2 ranking, insiders think he's overpaid. Kudos to Murray's agent for getting his client a lucrative contract extension. Of course, the only way for Murray to shut up the haters is to win the Super Bowl.
Derek Carr now has a proper head coach in Josh McDaniel, who won multiple Super Bowls as an offensive coordinator. We'll see if McDaniel can really win in Las Vegas without Tom Brady executing his plays.
Tier 3: Mid-tier, dim future
If you're an avid fantasy football player, then you're not that thrilled to have a starting quarterback from Tier 3. You'd be happy if someone on this list was your backup and playing in a bye week, but you'd feel squeamish about winning your fantasy football pool with a Tier-3 QB in your weekly lineup. If fantasy dorks feel that way, how about NGL general managers?
You can feel good about yourself if you have a young and up-and-coming QB in the Tier-3 ranking like Mac Jones, Jalen Hurts, and Trevor Lawrence. However, it's got to feel weird if you're championship hopes ride or die on a Tier-3 veteran like Kirk Cousins, Carson Wentz, or Jared Goff.
Then again, there are a couple of injury-prone gunslingers in Tier 3 like Jimmy G and Jameis Winston. Jimmy G has a 4-2 record in the postseason and helped pull off an upset over the top-seeded Green Bay Packers at Lambeau Field last January. Yet, the 49ers are trying to trade Jimmy G because he makes too much money and it's only a matter of time before he gets injured again next season.
I feel bad for my friends who are hardcore Vikings fans. As my buddy Dusty often jokes, "Our motto is: there's always next season." So long as Cousins is their quarterback, the Vikings will never be a Super Bowl threat.
Tier 4: Journeymen, up-and-coming noobs
A reliable journeyman quarterback is essential as a backup, but you're in trouble if he's your starter. We're looking at you Mitch Trubisky, who's getting a second chance with the Pittsburgh Steelers. Speaking of second chances, the Atlanta Falcons are giving Marcus Mariota another shot at being a starter when he's solid backup material, but iffy as the main guy.
Mariota isn't the lone Hawaiian in Tier 4. The Miami Dolphins decided to stick with Tua Tagovailoa for another season and hope that new head coach Mike McDaniel can insert him into the proper scheme so he can succeed. However, health has always been Tagovailoa's main problem. If he's healthy, he could ascend to Tier 3 next season. For now, he's clustered with the two quarterbacks from New York: Zach Wilson from the LOL Jets, and Daniel "Danny Dimes" Jones from the New York Giants. Jones is a couple of bad games away from ending up a floater in the East River, while Wilson's biggest claim to fame is that he got busted sleeping with his mother's best friend.
Meanwhile, the Seattle Seahawks are doomed with Drew Lock. It's safe to say the Seahawks will try to tank for the #1 pick by leaving Lock in as the starter. If he truly sucks, there's always Geno Smith (the lone Tier-5 QB in The Athletic rankings) ready to come in as a relief pitcher.
The San Francisco 49ers leveraged their future on Trey Lance. They didn't throw him into the fire last season and wisely had him hold the clipboard and wait until this season to take over as the everyday starter. His future is yet to be determined.