Thanksgiving is as much about football and gambling as it is about turkey and dressing. Family dinners are now scheduled around game time. If you grew up in Dallas (or Detroit), football on Thanksgiving Thursday was a rite of passage and way of life — one in which Thanksgiving dinner consisted of a Coke and a hot dog. Still, those Thanksgiving afternoons at Texas Stadium during the 1970's spawned many fond memories.
Memories of Thanksgiving Day typically include families gathered around the dinner table feasting on turkey and dressing. My memories of this holiday festival are quite different.
Football as a Family Affair
During the 1970's, I spent most of my Thanksgivings at Texas Stadium rooting for the Dallas Cowboys. My mom and dad had season tickets for years. That meant I got spoiled rotten, and was lucky to see just about every Cowboys' home game during the 1970's, in person, which were the glory years of greatness. If you were a football fan, especially as a teenager, I can't imagine a better time, place, or football team to cheer for than those great Dallas teams coached by legendary Tom Landry.
Now, some four decades later, I recall here some of my fondest memories of those unforgettable Thanksgiving games played at Texas Stadium, which was demolished in 2011.
The Easiest "Under" in NFL Playoff History
The first pro football game I attended was the 1970 playoff showdown between Dallas and the Detroit Lions. I was eight-years-old. Maybe it's because kids are impressionable, but I remember everything like it was yesterday. Memories can be so vivid. Colors seemed brighter. Every sound was a symphony.
That was the last NFL playoff game ever played at the Cotton Bowl in Fair Park. Dallas won the game 5-0. That's right, 5-0! The Cowboys scored only a field goal and a safety. After that defensive struggle, Dallas went on to beat San Francisco in the NFC Championship in the last professional football game ever played at Kezar Stadium, before the 49ers moved to Candlestick Park.
Dallas' good fortune would run dry when they lost in Super Bowl V to the underdog Baltimore Colts, 16-13… on a fluke play and last-second field goal. It was a disgraceful game. Dallas was so much better than Baltimore, it was ridiculous. It was also the first NFL game that I ever bet on.
I had Dallas at even money for $1. After losing that buck, I've been trying to get "even" ever since.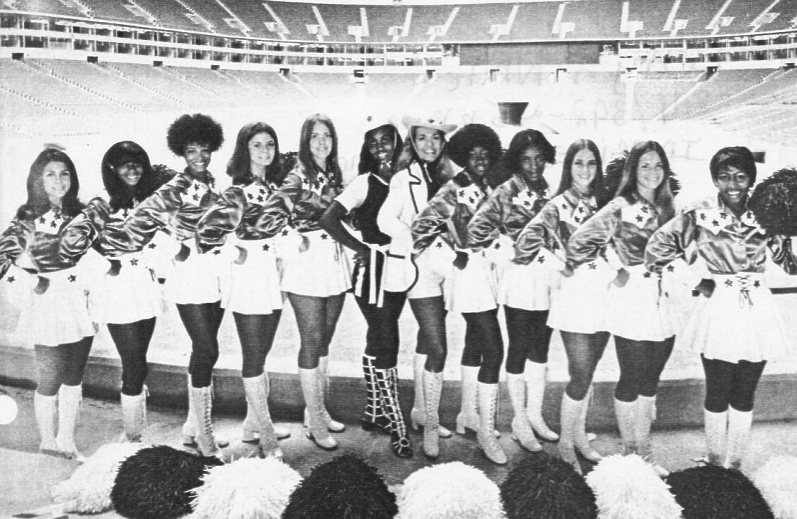 Legendary Lineups
The 1971 Cowboys were one of the greatest NFL teams of all-time, certainly in terms of talent. Look at this incredible roster:
Quarterbacks: Roger Staubach, Craig Morton, Jerry Rhome
Running Backs: Calvin Hill, Duane Thomas, Walt Garrison, Dan Reeves
Tight Ends: Mike Ditka and Billy Truax
Offensive Linemen: John Niland, Dave Manders, Rayfield Wright, Ralph Neely, Forrest Gregg
Wide Receivers: Bob Hayes and Lance Alworth
For those counting, that's seven future Hall of Famers.
The defense was equally astounding. Consider that the Dallas defense gave up in six NFL playoff games from 1970-1971: 0, 10, 16, 12, 3, and 3 points — that's an average of just more than 7 points  per game, against playoff teams, no less.
Those numbers are even better than the 1985-86 Chicago Bears or the 1978-79 Pittsburgh Steelers, which are widely regarded as the best defenses in NFL history.
Defensive Line: Bob Lilly, Jethro Pugh, Larry Cole, George Andrie
Linebackers: Lee Roy Jordan, Chuck Howley, DD Lewis
Defensive Backs: Mel Renfro, Herb Adderley, Cornell Green, Charlie Waters, Cliff Harris.
Two more future Hall of Famers.  Add two Hall of Fame coaches — Tom Landry and Ernie Stautner — and the '71 Cowboys produced a whopping 11 Hall of Famers.
Tom Landry constantly tinkered with his offensive and defensive schemes. The legendary Vince Lombardi may have been the greatest coach in NFL history. Tom Landry had the best football mind of anyone who ever coached, right there along with Paul Brown and Bill Belichick. When Landry and Lombardi departed as assistant coaches of the NY Giants in the late 1950's, Lombadi even adopted Landry's famed 3-4 defense, and won five NFL championships.
If You Build It, They Will Come
I witnessed my first Thanksgiving Day game in 1971. Seeing the glistening, new Texas Stadium in person was like walking on the moon. To a nine-year-old kid, the place was a temple. Years later, I would eventually grow to despise Texas Stadium for many reasons. But, when the new palace first opened, it was a football wonderland.
Dallas beat the Los Angeles Rams that day 28-21. I don't even have to look up the score to be certain.
One peculiar Texas Stadium memory that sticks with me was Cowboys management, led by crusty old Tex Schramm, prohibiting any banners from being hung up at Texas Stadium. If any fan tried to hang a banner, it was removed instantly, and the fan was ejected.
The Cowboys wanted a pristine atmosphere for their martini-sipping fans from the Park Cities, and thus, wouldn't allow anyone to hang signs over the balconies. So, if you look back at old clips of those games, you never see banners in Texas Stadium at least until the late 1970s when the real fans returned and pushed the North Dallas money elites back to SMU, where they eventually got too greedy and ruined that football program — but that's another story for a different day.
If you think Cowboys fans are obnoxious now, back then they were worse. I can say this with complete honesty, because I was one of them.
You're looking at the great defensive lineman Cedrick Hardman of the San Francisco 49ers. I actually met him a few years ago before he passed away at age 70. He's one of my favorite players of all time. Believe it or not, Hardman is still the 49ers all-time team sack leader. He was the NFL Defensive Player of the Year in 1970.
Hardman and the 49ers destroyed the Cowboys in the 1972 Thanksgiving Day game. My mom and I sat freezing in the end zone. It was a humiliation. Again, I remember the exact score — 31-10. We had season tickets on the fourth row. Hardman ran back a Craig Morton fumble and also had an interception for a touchdown.
This game left me in tears. I cried after Dallas lost.
Holiday Emotions
The history of that game was interesting. Dallas beat the 49ers in the 1970 NFC Championship. Then, Dallas dominated the 49ers again in the 1971 NFC Championship game, played at home. Dallas seem to have the 49ers number. So, it was a shock to see San Francisco come into the new home of the defending Super Bowl champions (the Cowboys won the 1971 Super Bowl) and win by three touchdowns.
The biggest reason Dallas had an off year in 1972 was due to Roger Staubach being out the entire regular season. He has been knocked unconscious in a preseason game at the L.A. Coliseum, and was out every game with a separated shoulder. So, the lackluster Cal Bear quarterback, Craig Morton (who would later end up in Denver where he enjoyed some success) took over the starting job. Dallas would get its revenge against the 49ers a few months later in the playoff game at San Francisco.
Staubach, who hadn't played a game in a year, came off the bench like a hero and threw two touchdown passes in the last two minutes of the game to pull off a stunning comeback (that was the same day as the famed "Immaculate Reception" happened in Pittsburgh, which is why it's largely forgotten — but Staubach's comeback off the bench in that game was every bit as amazing).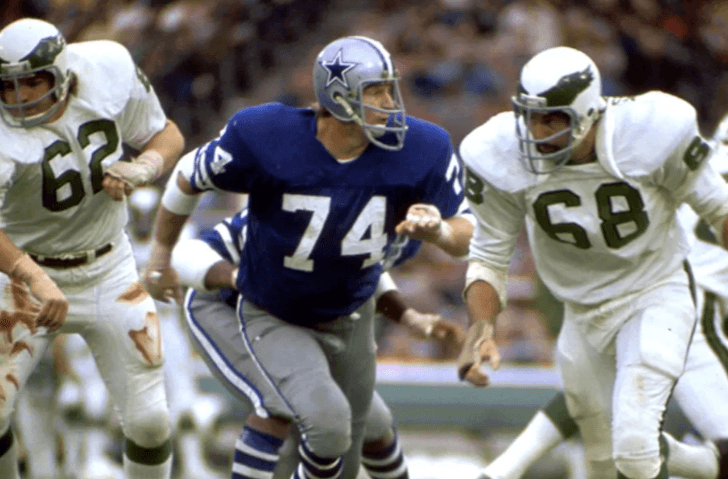 Lilly:  Don't Be Fooled by the Name
You're looking at one of the best defensive linemen of all time — Bob Lilly. He was the Cowboys first draft pick ever, in 1960. Lilly came up along with Tom Landry during the painful early years, and blossomed into one of the NFL's most dominant players for more than a decade. He was a Pro-Bowler just about every year he played, and was the first Cowboy to be inducted into the Hall of Fame.
I saw Lilly play in the 1973 Thanksgiving Day game — which was to be his last game as a healthy and feared All-Pro lineman. He spent is final season riding the bench with devastating and career-ending a knee injury.
I got to meet Bob Lilly once when I was 12-years-old. When he shook my hand, I told my mother that I would not ever wash my hand again because I got to touch Bob Lilly.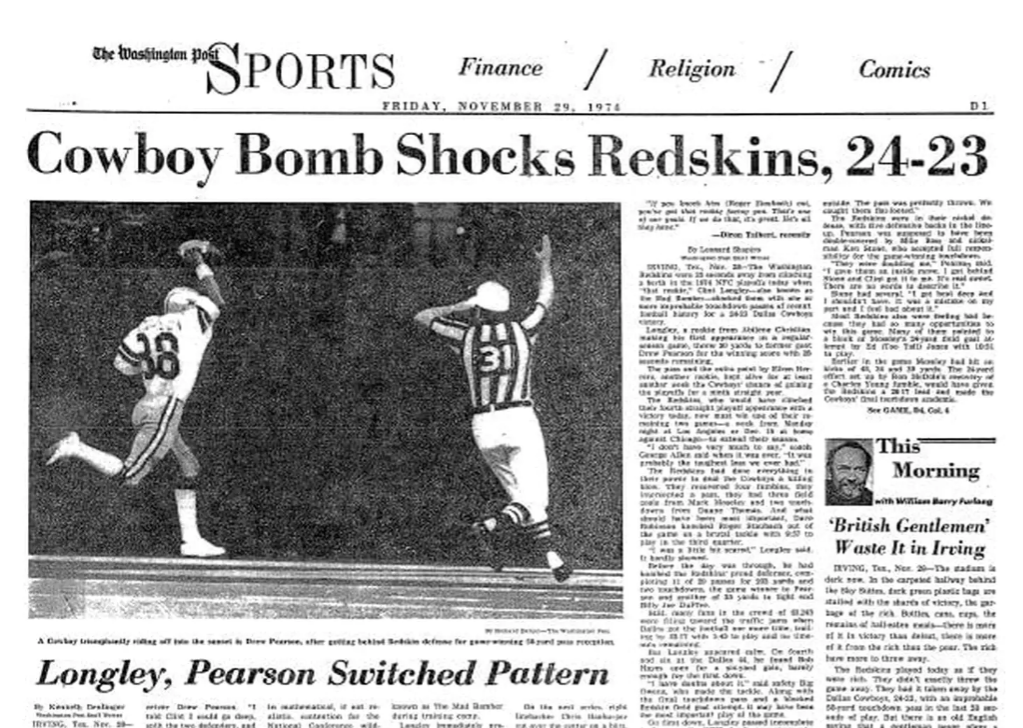 The 1974 Thanksgiving Day game was one of the most memorable in Cowboys history, and certainly one of the greatest comebacks in the storied Dallas-Washington rivalry.
Fierce Rivalries, Happy Remembrance
The Redskins were coached by the great George Allen, who was pretty much the exact opposite of Tom Landry in every way. Allen was emotional. Landry was stone-faced. Allen was a players coach. Landry was a "system" coach. Allen loved rejected veteran players who were cut by other teams. Landry cut players and replaced them like spark plugs in an engine. They were like night and day. Oil and water. They were natural rivals.
Just before that 1974 game, Redskins defensive tackle Diron Talbert made a bold prediction in the media — something that would never happen today. Talbert said his mission was to knock Roger Staubach out of the game. Imagine today, a player saying he wanted to knock the opposing quarterback unconscious. The NFL would levy heavy fines and suspensions for that. But 40 years ago, the NFL was different.
Talbert was a graduate of the University of Texas. For whatever reason, he absolutely hated the Cowboys. So, he wanted to knock out Staubach, the Cowboys' team leader.
Well, that's precisely what happened. Talbert knocked Staubach silly late in the third quarter. There's a famous film clip of Staubach leaning over the Dallas bench being revived with smelling salts. He suffered a concussion, and later, said he didn't even know where he was while the rest of the game was being played.
Talbert figured that if they could knock out Staubach, Dallas would essentially be finished. Mission accomplished. The Redskins were ahead 16-3, and Staubach was on the Dallas bench seeing purple elephants. Then, off the bench comes some couch potato-looking rookie who who had never taken an NFL snap before. The kid even had braces on his teeth. Braces! The quarterback's name was — Clint Longley.
This game was right out of a fairy tale.
My dad took me to this game. We had great seats near the field on about the 10-yard line in the first deck. Dallas played a horrible game and was still down 27-14 with about 5:00 left to play. I remember my dad saying, "let's leave." Fans began streaming for the exits in swarms.
Fortunately, there was a long line of fans heading to the exit to get into the tunnel. You had to walk up a long stairway to the top of the first deck, which was quite a hike. Just when it looked like Dallas was finished, Longley took a snap and threw a long touchdown pass with just a few minutes left in the game. We weren't in our seats anymore. We were in the middle of the aisle. I remember standing there right at the exit with my dad. We stood and watched.
Dallas was behind 27-21 with two minutes remaining. Next, we watched the Doomsday Defense rise to the occasion and force Washington to go three-and-out. Dallas had zero timeouts left and got the ball back at midfield. A few seconds remained.
Even under these circumstances, Dallas was still a huge underdog. 50-yards away. No timeouts. A rookie quarterback. No chance.
In one of the most amazing plays I've ever seen, wide receiver Drew Pearson shook off the defensive back and caught a perfect 50-yard strike at the goal line, just as the final few seconds were ticking off the clock. The crowd went wild. Strangers were hugging each other. The stadium, perhaps half full by that time, went wild.
What a happy Thanksgiving.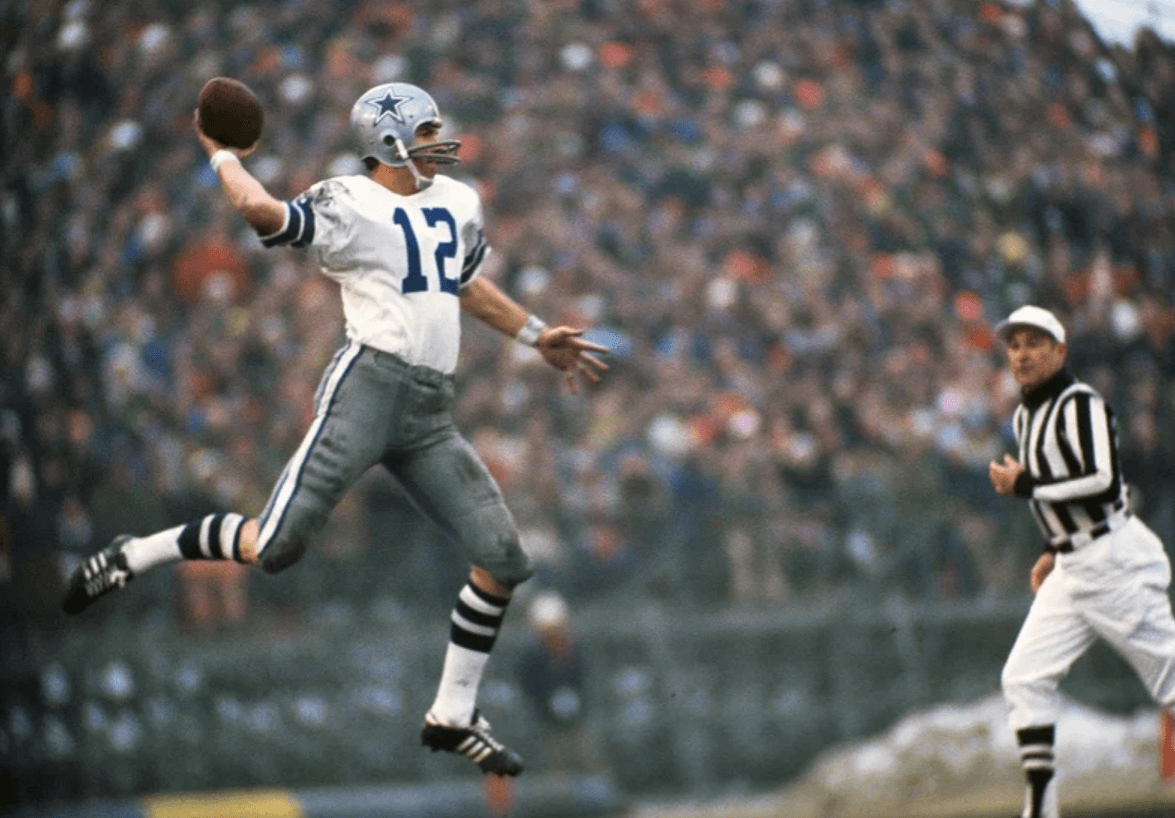 Boyhood Heroes
My favorite NFL player of all time is Roger Staubach. Three things impressed me most about him — his character, his leadership, and his toughness. Let me tell you a little bit more about each.
Staubach was college football's best player in 1963, the year after I was born. He led the last really super Navy team to a major bowl game. Staubach won college football's Heisman Trophy that year.
Instead of taking a draft deferment like so many athletes did during that era, Staubach served four years in the US Navy. He didn't fight in combat, but was stationed for a time in Vietnam. Because NFL teams knew Staubach was going to Vietnam and would be out of football for at least four years, no team was interested in "wasting" a draft pick on him — except one team who did things a bit differently.
Dallas took Staubach in the 1964 draft, with a 10th-round draft choice. Little did anyone know he would become one of the top-10 NFL quarterbacks of all-time. Talk about a steal.
It's pretty amazing to think that some of the Cowboys training camps in the 1960's had Don Meredith, Craig Morton, and Roger Staubach in camp. Imagine that lineup. Staubach was allowed to come back to the US for a few weeks every summer to stay in football shape.
SIDE NOTE: One of the ESPN cameramen I met a few years ago played for UCLA during the 1960's, and was drafted as a center for the Cowboys. He told some great stories about how Staubach would come into camp and everyone on the team knew he was the leader of the future. It was just a magical quality he had, that no one else could match.
Staubach ended his career as the highest-rated NFL passer of all time. His lofty mark has since been eclipsed by many players in what's now a pass-happy league with easy rules for offenses. It wasn't so easy for quarterbacks back in those days. Staubach also led the Cowboys to two Super Bowl wins. Even the losses Dallas suffered — losing in nail-biting heart-breakers to Pittsburgh twice — were close winnable games in the closing seconds. Even in defeat, he was a gallant warrior.
Staubach was also one of the toughest players to ever wear a uniform. He never slid to the turf or ran out of bounds. Staubach was known for lowering his shoulder and plowing head-first into defensive linemen. That's how he suffered a separated shoulder, which cost him the entire 1972 season. Staubach also suffered five concussions during his career, the major reason he retired early after the 1979 season. Had Staubach come straight out of Navy in 1964 and taken over for Don Meredith after he retired in 1968, I'm convinced Dallas would have won at least two, and perhaps three, more championships had Staubach been able to lead all the Dallas teams 1968-1983 (for up to 15 productive seasons). Staubach's numbers would have been monstrous — let's even say Tom Brady-like.
Courageous. A true leader. And, as tough as they come — that was Roger Staubach.
I saw many Dallas games during the 1970's and 1980;s. But, it's the earlier games I remember most. Those games from 1970-1979 were a golden age for a football fan.
A New Era Dawns?
By December of 1988, the Cowboys were in the midst of a rebuilding phase. The glory days were over. The team was terrible. Since owner Clint Murchison had died a few years earlier, there were rumors that the Cowboys were going to be sold. An Arkansas oil man no one in Dallas had ever heard of — Jerry Jones — was waiting in the wings. The end was just weeks away.
A few weeks after seeing the Cowboys shut out on Thanksgiving Day, I reluctantly went to a late December game played at Texas Stadium — the final game of a long and losing season. I got my ticket from a scalper for 10 bucks. The dismal Cowboys were playing the NFC East-leading Philadelphia Eagles, coached by fiery Buddy Ryan. It was cold and raining that day. Half the stadium was drinking out of open liquor bottles. Fist-fights broke out in the stands. This was not the Texas Stadium I remembered from many years earlier.
Dallas lost that game, too. I don't remember the score. It doesn't matter, now. All I remember was the cold. The drinking. The fights.
I was sitting on the 30-yard line across the field, sitting near the Eagles bench. Philadelphia's win gave them the NFC East division title, and the team was celebrating wildly.
Meanwhile, way across the field Tom Landry and the Cowboys were walking slowly toward the tunnel. Their season was over. But, something far more meaningful to those who grew up with the Cowboys was about to come to an end.
At the time, I don't think anyone realized what a special moment in history that would be. Certainly, the players didn't know. None of the coaching staff knew. None of the fans ware aware. The media didn't know.
As the man in the funny hat walked into the tunnel on the final day of the 1988 NFL season, we were witnessing the very last game Tom Landry would walk the sidelines as a coach. The magical 29-year run as the only head coach in Dallas Cowboys history was over. The former World War II bomber pilot who returned home to star at the University of Texas, and player and the coach for the New York Giants before taking over the expansion team called the Dallas Cowboys, had completed his final mission.
Landry would be fired by new owner Jerry Jones as his first executive decision.
Texas Stadium is now gone. So too, is Tom Landry.
Gone, but never forgotten.
To Cedric Hardman, Bob Lilly, Roger Staubach, Tom Landry, and all the rest — thank you. Thanks for the memories on this special day of remembrance and gratitude.