Two nationally ranked college football teams in the American Conference square off on Saturday, with the #15 SMU Mustangs (8-0) visiting the #24 Memphis Tigers (7-1) who are set on spoiling the Mustangs' march toward a perfect record.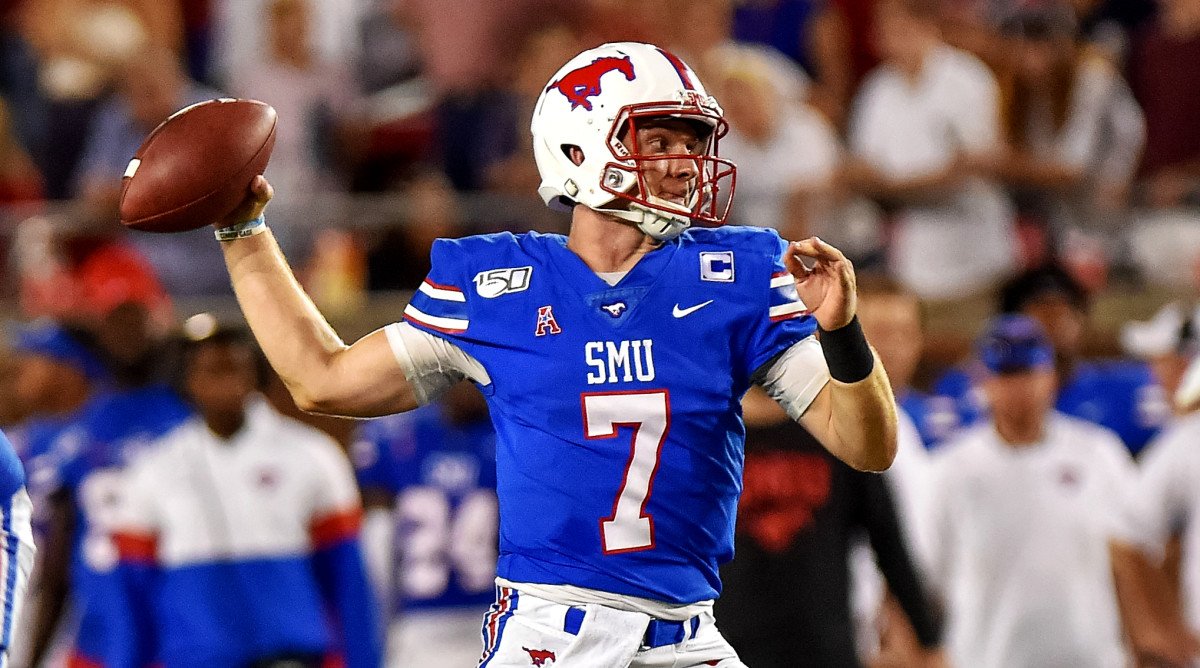 SMU is having its best season since the infamous Pony Express days when Eric Dickerson dominated the college football gridiron in the early 1980s.
SMU comes into this American conference game with the best record in the American West division at 4-0. Memphis is 3-1 after losing to Temple, and were lucky to win last week against Tulsa (2-6, 0-4). Somehow, the Tigers are a 6-point favorite at home.
#15 SMU Mustangs (8-0) vs. #24 Memphis Tigers (7-1)
Kickoff: 4:30pm PT
Location: Liberty Bowl in Memphis, TN
Point Spread: Memphis -6
Over/Under: 72
Money Line: -230 MEM / +190 SMU
SMU is the sixth-best scoring football team in the nation, averaging 43.0 points per game. Memphis is ranked #9 in scoring with 39.5 points per game. The bookies assigned this highly anticipated SMU and Memphis matchup with total of 72 points, so they're expecting a classic shootout between two of the best offenses in college football.
Memphis lost to Temple, and they should have lost last weekend against Tulsa after blowing a huge lead. If Tulsa didn't miss a field goal as time expired, Memphis never would have gotten a #24 ranking in the latest college football AP Top-25 Poll. Despite their near loss against Tulsa, they still come in as favorites against a team that has yet to lose a game.
No Love for the AAC
SMU, at 8-0, has national championship aspirations that will not get met. They definitely have a good shot at a high-profile bowl appearance (e.g. Cotton Bowl), but the Mustangs are gunning for a perfect season with four games remaining.
In the last two seasons, UCF got snubbed by the college football playoff committee for their lack of non-conference scheduling and the committee's overall low opinion of the American Athletic Conference (AAC). This season, the American has several decent teams, including UCF (6-2, 3-1), #17 Cincinnati (6-1, 3-0), Navy (6-1, 4-1), Memphis (7-1, 3-1), and Tulane (5-3, 2-2). But it's SMU and not UCF that's knocking on the playoff committee's door.
How good is the American this season? Ask Houston. They decided to become the first noteworthy collegiate school to openly tank on purpose so they could redshirt their best players and have them come back next year when the Cougars have a better chance at a winning squad.
Bouncing Back from the Death Penalty
SMU is off to the team's best start since 1982, and is having the school's best season since the NCAA slapped them with the so-called "Death Penalty" in 1987 when SMU lost its football program for two years.
If you saw the ESPN 30 for 30 documentary, "Pony Express", then you're familiar with a long list of recruiting infractions the school broke, including paying players in an attempt to field the best football team in Texas.
Since SMU started rebuilding its tainted program from scratch, the school struggled to field a competitive team. SMU is on track to procure double-digit wins this season, which is something it hasn't achieved in nearly 40 years.
SMU's current squad has zero connections to the old days. None of them were even born when the Pony Express was running at full steam. If anything, they have the same knowledge as you do from watching the 30 for 30 doc.
"It's not really discussed," said star QB Shane Buechele. "We don't really care much about it."
The new transfer portal policy helped SMU field an undefeated team this season with 16 new faces on the roster. Quarterback Shane Buechele transferred from Texas after he lost his starting job.
Shane and Xavier Pony Show
Junior QB Shane Buechele leads the 17th-best passing attack in the nation that averages 301.4 yards per game. He tossed 20 touchdowns and seven picks thus far. He also rushed for a pair of scores this season. During a 45-21 drubbing against Temple, Buechele passed for a career-high 457 yards with six touchdowns.
SMU has a well-balanced ground attack led by senior RB Xavier Jones. Jones averages 5.4 yards per carry, and he's scored 14 rushing touchdowns and two more receiving scores. Jones posted six, 100-plus yard rushing games through eight games this season, including a dominating 155-yard, two touchdown performance against USF.
SMU boasts a good running back, but Memphis has a budding star of their own with a baby tiger ready to burst onto the national scene.
Baby Tiger Gainwell
The Memphis Tigers can score points with the best of them in college football, but their defense took a hit over the last four games, giving up approximately 30 points per game. During that stretch, they lost to Temple and nearly lost to Tulsa. Last week, Tulsa put up 41 points against the Tigers, including 17 points in the second quarter, and 24 points in the second half.
Junior QB Brady White threw 20 touchdowns this season with only four interceptions. He leads a double-pronged offense that can beat you on the ground and in the air.
Freshman RB Kenneth Gainwell has stolen the show in Memphis with 14 touchdowns (including 11 rushing), and an impressive 7.1 yards per carry. He's rushed for 100-plus in his last six games, including 209 yards against ULM.
Gainwell scored a touchdown in each of his last seven games. He's scored three touchdowns in his last two games, including three rushing scores against Tulsa.