Five of seven games provided decisive results on Saturday in a bloody seventh round of play at the Tata Steel Chess Tournament.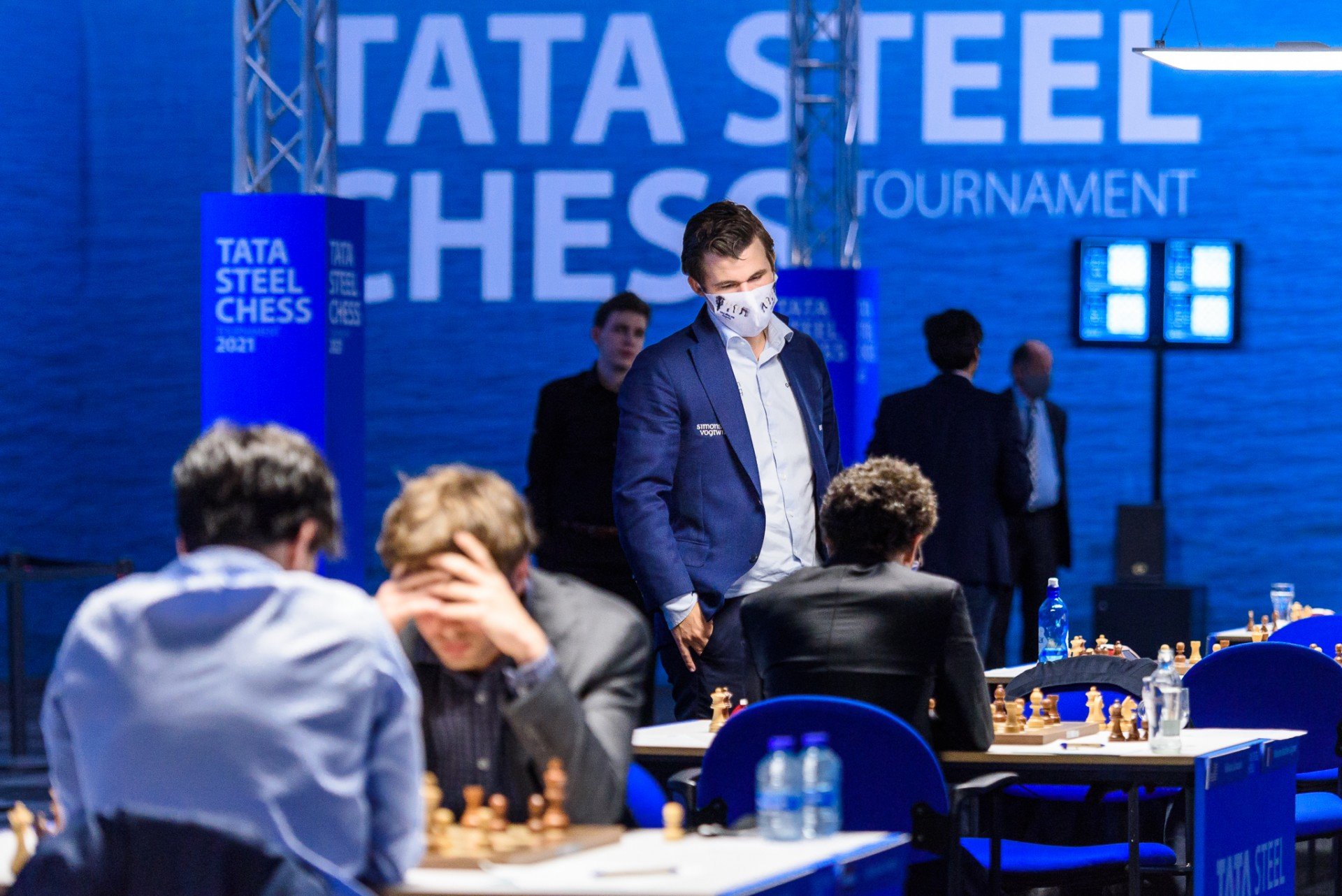 The results knocked Nils Grandelius out of the lead and left four players tied for first, while World Chess Champion Magnus Carlsen continues to struggle to find points in Wijk aan Zee.
Wins Hard to Find for Carlsen
Carlsen opened the tournament by defeating Alireza Firouzja in the first round. Since then, he's drawn in six consecutive games, including his Round 7 matchup against Pentala Harikrishna on Saturday. The World Champion took the White side of a Sicilian Defense, but failed to achieve much, and the two agreed to a draw after just 30 moves.
"Actually I prepared something, and I played something else," Harikrishna said afterward. "I do not know if 13 … c4 is the right way, but I believe that it should be equal because almost any rook endgame with one pawn down should not be very difficult to hold."
---
Tata Steel Masters Odds – Winner (via Bwin)
Magnus Carlsen: +175
Fabiano Caruana: +200
Anish Giri: +500
Alireza Firouzja: +700
Jorden Van Foreest: +1000
Pentala Harikrishna: +2500
Andrey Esipenko: +3300
Nils Grandelius: +3300
Maxime Vachier-Lagrave: +10000
Radoslaw Wojtaszek: +10000
Jan-Krzysztof Duda: +50000
David Anton-Guijarro: +100000
Aryan Tari: +500000
Alexander Donchenko: +500000
---
Meanwhile, Firouzja bounced back and leapfrogged Carlsen to join the lead pack at 4.5/7. Firouzja outplayed Jan-Krzysztof Duda throughout their game, then played a beautiful endgame to convert the full point.
"It was a very difficult endgame to convert," Firouzja said after his win. "I think he had chances to make a draw, but it was very difficult, at least in a practical game."
Both Dutch players also won to take a share of the lead. Anish Giri took down previous tournament leader Grandelius with White, while Jorden Van Foreest earned a victory with Black over Aryan Tari.
♟💙 | Standings after Round 7! 👇#TataSteelChess pic.twitter.com/NmDLfzCyKQ

— Tata Steel Chess (@tatasteelchess) January 23, 2021
"In this tournament, no win comes easily, but especially with the black pieces, it's very hard to win a game," Van Foreest said. "I'm feeling very happy and very satisfied with my play."
Dutch Treat at Tata Steel Masters
While Giri came into the event as one of the second-tier contenders behind Carlsen, Van Foreest entered as one of the lowest-rated players in the field. While oddsmakers aren't completely convinced that Van Foreest is a threat just yet, his odds of winning the Tata Steel Masters have shortened to just +1000 at Bwin.
American grandmaster Fabiano Caruana also claimed a share of the lead after defeating Maxime Vachier-Lagrave. Caruana played an old-line in the Sicilian Najdorf, and Vachier-Lagrave failed to find the right plan, losing for the second side this event as Black in that opening.
---
Tata Steel Masters – Round 8 Odds (via Bwin)
Alexander Donchenko: +230
Draw: -200
Aryan Tari: +800
Andrey Esipenko: +900
Draw: -115
Magnus Carlsen: +125
Fabiano Caruana: +300
Draw: -275
Anish Giri: +1000
Jan-Krzysztof Duda: +230
Draw: -225
David Anton Guijarro: +1000
Maxime Vachier-Lagrave: +220
Draw: -200
Jorden Van Foreest: +900
Nils Grandelius: +400
Draw: -250
Radoslaw Wojtaszek: +500
Pentala Harikrishna: +350
Draw: -225
Alireza Firouzja: +475
---
The Tata Steel Chess Tournament continues on Sunday with Round 8 before the players take a day off on Monday. The marquee game of the Sunday slate pits Caruana against Giri in a battle between two of the tournament leaders. Caruana enters as a +300 pick to win with the white pieces against Giri (+1000).
While Carlsen hasn't won since the first round, and now sits a half-point back of the leaders, he remains a slight favorite to win the tournament. Bwin rates Carlsen as a +175 pick to win the Tata Steel Masters, just ahead of Caruana (+200). Carlsen will play Andrey Espienko with Black on Sunday, and is listed as a +125 pick to grab a much-needed win.