Just when you thought it was a wrap at Val d'Iser, here comes 27-year-old Martin Čater skiing with bib 41 and from off the board for the win. The Slovenian had the second-highest bib number to win a World Cup downhill in Val d'Isère after Josef Strobl (#61) in 1994.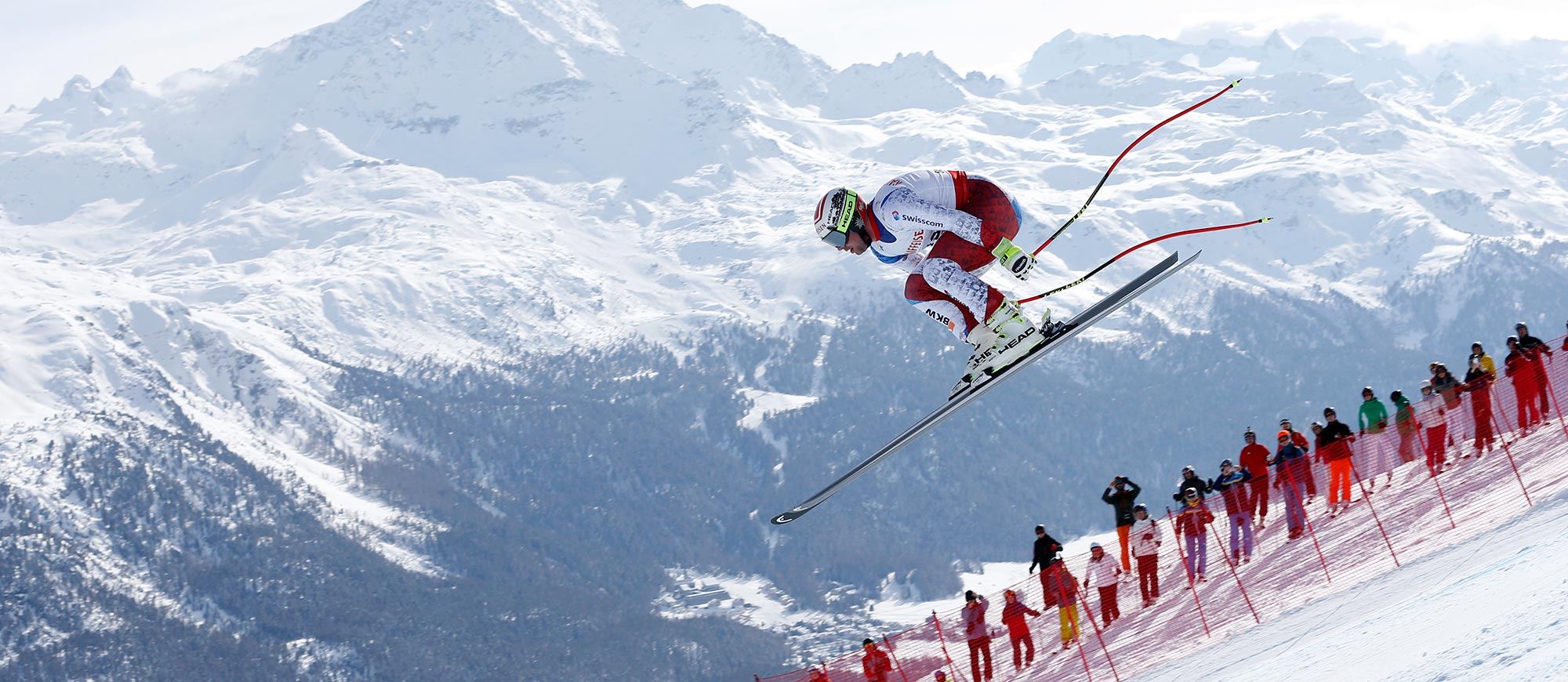 It was Čater's first career World Cup win. His previous best result in a World Cup downhill race was eight place in Wengen in January 2019. Čater took a perfect line and improved in every section, notching an incredibly determined yet-smooth run that's worth a second look.
Austrian Otmar Striedinger, sitting pretty atop the podium while awaiting his first World Cup victory, settled for second. Twenty-nine-year-old Striedinger said he was satisfied with his result and in returning to the podium for the first time after almost 20 months.
Third place went to Swiss skier Urs Kryenbuehl, who finished 0.27 seconds behind Čater for his career's second World Cup podium. Kryenbuehl's Swiss teammate and event favorite, Beat Feuz, finished a season-worst sixth in France.
The tour heads to the tranquil, yet imposing Val Gardena on Friday and Saturday for a pair of speed races. Val Gardena is a valley in the northern Italian Dolomites, and is part of the Sellaronda circuit, the ski route through Selva di Val Gardena.
Swiss Speedster Looks to Top Podium in Val Gardena Super-G
The super-G kicks off Friday with attention turned toward Swiss speed specialist Mauro Caviezel, currently at +400 on BetMGM. Caviezel won the super-G last week in Val d'Isère for his first World Cup victory in the discipline.
Last season, Caviezel won the super-G crystal globe without winning a single race. He's looking to become the first man to win the opening two super-G events of a World Cup season since Kjetil Jansrud won the first three in the 2016-17 season. Caviezel comes in with the hot hand as he's the only men's alpine skier to finish in the top five of the previous eight super-G races in the World Cup.
The last man to win successive World Cup super-G events was Dominik Paris (+1600) in March 2019. The last Swiss man to win back-to-back World Cup races in this discipline was Paul Accola in February-March 1992. And, the last Swiss man to win the Val Gardena super-G in the World Cup was Beat Feuz (+2200), who did it nine years ago this weekend.
Don't Count Out Kriechmayr
Austrian Alpine speed specialist Vincent Kriechmayr (+600) is also in the hunt to podium on Friday, as he was the only man to win multiple super-G races last World Cup season. Kriechmayr skis the Dolomites well, finishing with a pair of super-G wins last season, including at Val Gardena. He finished second in the overall standings, just three points shy of Caviezel.
Should Kriechmayr win on Friday, he'll join Aksel Lund Svindal (5), Kjetil Jansrud (2), and Michael Walchhofer (2) as men who topped the podium at the Val Gardena super-G multiple times.
Norwegian legend Kjetil Jansrud (+500) has 13 World Cup super-G wins, and is third on the all-time men's list behind Hermann Maier (24) and Aksel Lund Svindal (17). Jansrud is the only man who won a super-G race in each of the previous seven World Cup seasons, and is looking for an eighth. He also loves Val Gardenia, reaching the podium six times during his storied career, including five of his last six races there.
Twenty-Somethings Look to Podium Again in Italy
Also burning up the snow are a pair of 20-something members of the circuit. Twenty-six-year-old Norwegian Adrian Smiseth Sejersted (2nd) and 29-year-old Austrian Christian Walder (3rd) claimed their first career World Cup podium in Val d'Isère last week. Sejersted (+2000) can become the third Norwegian to win a World Cup super-G race in 2020, after Kjetil Jansrud and Aleksander Aamodt Kilde.
The Norwegians completed the near-impossible feat during the 2016 World Cup season. Walder (+2000) is blistering the snow right now, recording the two best World Cup super-G results of his career in his last three appearances.
Downhill Features a Swiss Racer Who Looks to Join the All-Time Greats
On Saturday's downhill, Feuz (+1000) looks to notch one of two more downhill victories to reach the men's all-time top-10 in the discipline. Among active alpine skiers, only Dominik Paris with 14 has won more men's downhill events in the World Cup than Feuz.
Feuz reached the podium in 18 of the last 23 downhill races in the World Cup, including five wins. The only exceptions during this stretch being four sixth-place finishes (including last weekend), and one fourth-place.
Swiss men traditionally love the Dolomites, but that love has gone cold. They've won the Val Gardena downhill 14 times, but only once in the last 28 years when Swiss legend Silvan Zurbriggen took the race 10 years ago this weekend. Look For Feuz to amend that with a podium finish Saturday.
Will the Italians Show on Their Home Snow?
Paris (+1200) continues to have a strong season, finishing in the top two in seven of his last nine World Cup downhill contests—including five wins. The exceptions being a 10th-place finish at Val d'Isère last week, and an 11th-place in Beaver Creek in December 2019.
Paris can become the third Italian man to win the Val Gardena downhill in the World Cup, after Kristian Ghedina, who won in his backyard four times, and Herbert Plank. Ghedina was the last Italian to win the World Cup at Val Gardena in 2001.
Paris has a chance to reclaim Val Gardena for his home country. In the past, the Italian speed-race specialist has done well on his home turf, sharing a record five men's World Cup downhill races in Italy, claiming all five of those wins in Bormio.
Watch for an almost guaranteed podium for favorite Aleksander Aamodt Kilde (+200), who finished fourth in the Val d'Isère downhill last week for his ninth top-10 finish in a row in downhill. The Norwegian technician also won the Val Gardena downhill last season, and can become the first man to win successive World Cup downhills there since Michael Walchhofer in the 2007-2009 seasons.