Proponents of sportsbetting had their day in court on Monday as lawyers presented their case to the Supreme Court in the hopes of having the federal law banning the activity struck down. The case pits the state of New Jersey and Governor Chris Christie against the NCAA and the four major professional sports organizations.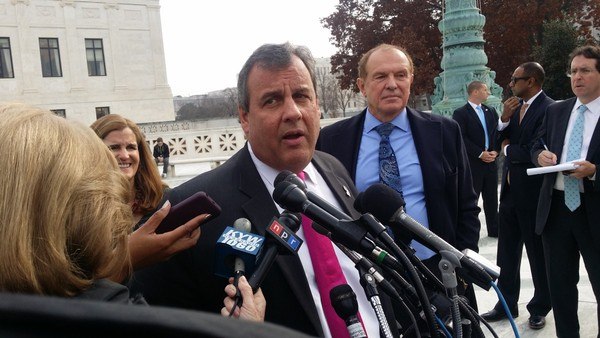 If the comments by the court are any indication, they might be ruling in the favor of New Jersey. Several of the nine justices expressed doubts on the 1992 law that bans all but four states in wagering on sporting events.
The fight centers around the Professional and Amateur Sports Protection Act (PASPA) that was passed by Congress 25 years ago. Representatives from the Garden State have argued the law violates the 10th Amendment.
Afterwards Christie was optimistic when he addressed reporters on the steps of the Supreme Court building.
"I thought the hearing went great," he said. "This is the fear of every governor, that we'll be at the mercy of the federal government and that they'll make us pay for it. It's not right and I believe here that it's very clear that the federal government overstepped its bounds."
Convincing Argument Presented
Litigator Ted Olson told the high court that PASPA was outdated and not uniform for all 50 states.
"(They) are addressing themselves to what kind of law a state may have without a clear federal policy," he said.
Justice Anthony Kennedy seemed to agree, saying: "This blurs political accountability. The citizens of the State of New Jersey are bound to obey a law that the state doesn't want but the federal government compels the state to have."
The leagues were represented by Paul Clement who told the court that the federal measure was a "comprehensive scheme," and should be upheld.
What Happens Next
It will take the court at least three months to make their ruling and it could be June before a verdict is announced. Christie, who leaves office in January, said his state will be ready and that casinos and racetracks could begin taking bets two weeks after a favorable court ruling.
"We're like Boy Scouts," Christie said. "We're prepared."
So apparently are up to 20 other states. A report by GamblingCompliance, a leading provider of business intelligence to the global gambling industry, predicted that many could approve wagering on sports by 2025.
Even if the Supreme Court did not rule in New Jersey's favor, the report surmised that Congress would act on repealing PASPA and allowing states to determine if they want sports gambling in their casinos and racetracks.
The professional sports leagues look to be softening their position on the subject. NBA Commissioner Adam Silver said that he wouldn't object to sportsbetting as long as it was regulated.
The NFL and NHL have already shown a tepid approval of the matter by approving franchises in Las Vegas, the only state that currently allows sportsbetting.