The British Champions Long Distance Cup is where dominance ended for Stradivarius last year. And after his seventh-place finish in the Prix de l'Arc de Triomphe, the British Champions Long Distance Cup is where Stradivarius seeks to regain it this year.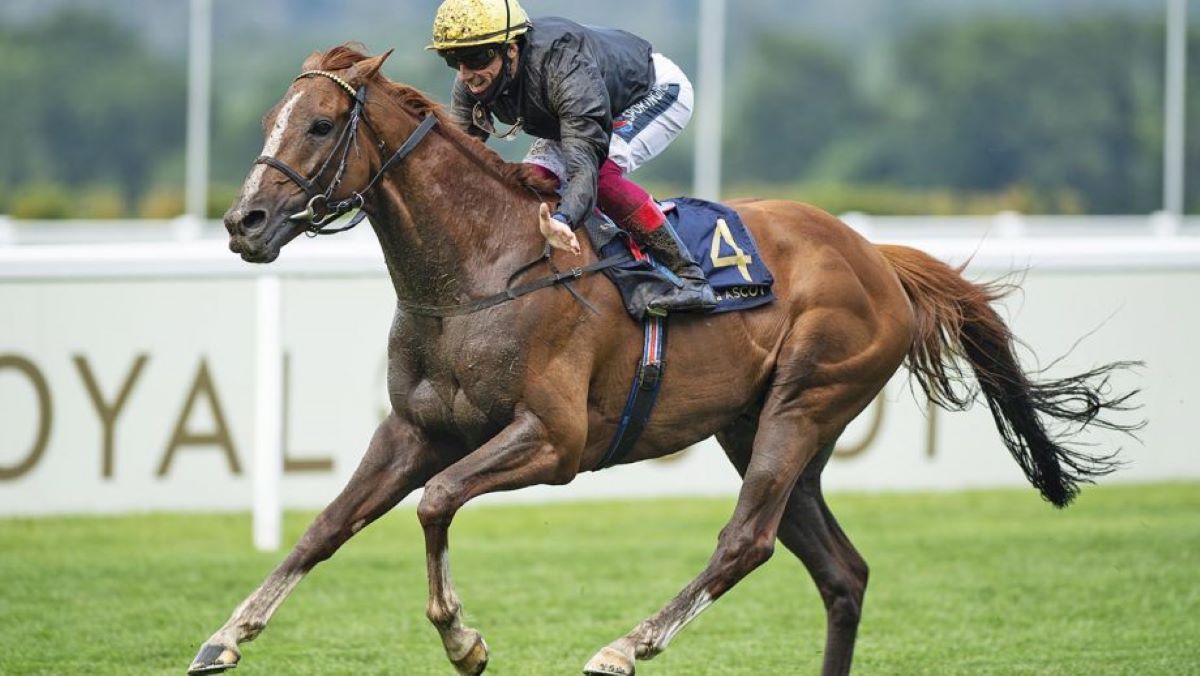 And bettors think he will. The standout Irish stayer is odds-on at every overseas book for Saturday's two-mile Long Distance Cup, with best odds of 5/6. To compare, second favorite Search for a Song is 5/1 at multiple books, according to Oddschecker.
Held at Ascot, Saturday's Group 2 Long Distance Cup is one of six races serving as the season finale of British flat racing. It wraps up the British Champions Series in five divisions: Long Distance, Sprints, Fillies and Mares, the Queen Elizabeth II Stakes for 3-year-olds and the Champions Stakes. Think of the latter as a Breeders' Cup Classic – English version. Along with that is the Balmoral Handicap, a mile-long handicap for 3-year-olds.
Each of those divisions, in turn, includes seven series races leading into Saturday's Champions Day. Due to the COVID-19 pandemic scrubbing the Yorkshire Cup, the Long Distance Division consists of six this year. And – not surprisingly – Stradivarius won two of the previous five: June's Gold Cup at Royal Ascot and July's Goodwood Cup at Goodwood.
These 13 Wins Are Far From Lucky
That marked Stradivarius' record-tying third consecutive Gold Cup and his unprecedented fourth Goodwood Cup. Those mark seven of his record 13 victories at British Champions Series races. In 13 treks of two miles or longer, the 6-year-old lost just twice.
The first came as a 3-year-old in the 2017 Long Distance Cup, when Stradivarius finished third by a length. The second came in last year's Long Distance Cup, when Aidan O'Brien's Kew Gardens beat him by a nose on soggy turf. Trainer John Gosden told reporters afterward that Stradivarius found the ground too soft.
Gosden said afterward he was close to pulling his star stayer out, "but it's Champions Day and we would have let the day down a bit if we didn't run Stradivarius."
His Heart is His Loudest Instrument
Running him snapped Stradivarius' 10-race, 17-month winning streak and the aura of invincibility that went with the grinding chestnut, who was named the Champion Stayer the past two years. Looking at Stradivarius reveals a horse missing the large, powerful build typically associated with stayers. But as his jockey Frankie Dettori said numerous times, "His heart is bigger than his body."
This explains why – as dominant as Stradivarius is – his races aren't boat races. Rarely does he destroy fields by eight, 10, 12 lengths. Often, Stradivarius runs just fast enough to get the job done, which he often does because of that tenacity and a deceptively fast kick. He simply has a gear few of his counterparts possess.
This year, Stradivarius hasn't been as overwhelmingly dominant. That Gold Cup and Goodwood Cup are his only two victories in five races. He owns a second in the Group 2 Prix Foy at ParisLongchamp last month, a third in June's Coronation Cup at Newmarket and the aforementioned seventh in the Arc a mere two weeks ago.
The More Distance, the More Merrier Stradivarius Becomes
But the Arc's 1 ½-mile distance literally sells Stradivarius short, even if he's turning around on two weeks rest for a two-mile race. Distance isn't a problem for the son of Sea the Stars, who owns 16 victories and 22 in-the-money finishes in his 25 career starts.
No. We've heard this tune before. The longer the race, the better the chances for Stradivarius to play another victorious note.