If you're ever fortunate enough to gain entrance to the Royal enclosure at Ascot, you'll see a statue of jockey Frankie Dettori, who rides Stradivarius in Thursday's Gold Cup at Royal Ascot. The monument commemorates his "Magnificent Seven" victory performance at Royal Ascot in 1996 when he took a multi-million-pound chunk out of the bookmakers.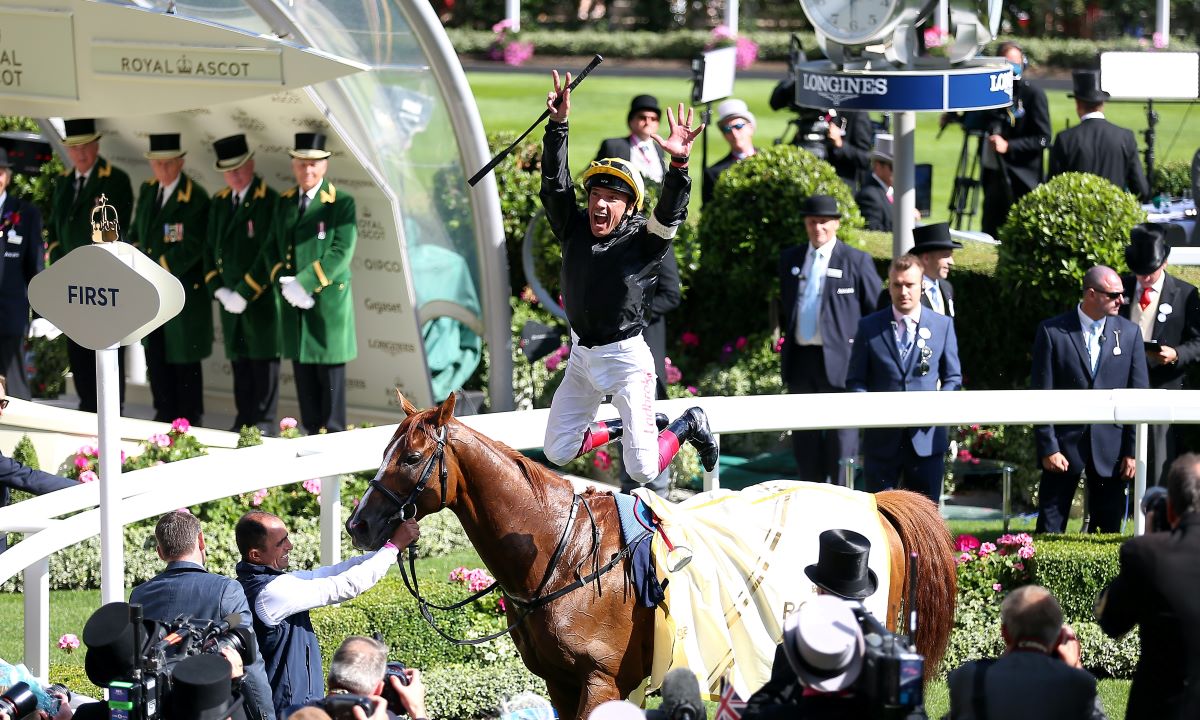 At last year's Royal Ascot meet, Dettori capped a four-victory day by piloting Stradivarius to his second consecutive Gold Cup victory. In so doing, Dettori wreaked further havoc on the books, who put odds on how many races a certain jockey will win each day. For example, when Jim Crowley rode three winners Tuesday, Crowley fans cashed a 118/1 ticket.
Dettori's escapades last year led one bookmaker at Ladbrokes to give the Guardian this descriptive account of the carnage:
"A four-timer for the most popular jockey at the biggest meeting of the Flat season is a shocking result and can only be described as a bloodbath."
The winningest jockey in Royal Ascot history, with 67 wins entering the meet, Dettori once again takes Stradivarius' reins in the marquee event on the five-day Royal Ascot calendar. Covering 2 miles, 3 furlongs and 210 yards, the Gold Cup dates to 1807. It carries the usual assortment of dukes, earls, barons, and the random Prince of Wales on its winner's roll. Queen Elizabeth II, a noted horse lover and devotee, won the Gold Cup with Estimate in 2013.
Missing Monarch Presents Royal Gap in Winner's Circle
The Queen traditionally presents the winning connections with the Gold Cup, which is one of Royal Ascot's three perpetual trophies. The other two are the Royal Hunt Cup and the Queen's Vase. But due to the coronavirus pandemic and Royal Ascot's fan-free meet, the Queen is sitting out the first Royal Ascot meet in her 68-year reign.
Dettori, however, is present and accounted for as he attempts to play Stradivarius into some elite company. Only Sagaro (1975-77) and four-time winner Yeats (2006-09) claimed more than two Gold Cups. The 6-year-old "stayer" – a British term for long-distance horses – owns 14 wins in 21 starts, to go with more than £2.5 million in earnings and another £2 million in bonuses.
Last year, Stradivarius won the British Stayers Triple Crown, taking the Gold Cup, the Goodwood Cup, and the Doncaster Cup. He's captured six Stayers Triple Crown races, including three Goodwood Cups, two Gold Cups, and one Doncaster Cup. He was named the Champion Stayer for the past two years.
Stradivarius Odds-On to Play a Winning Note Again
This all explains why Stradivarius sits as the 8/13 favorite to three-peat. Trainer John Gosden told Sky Sports Wednesday morning that he doesn't want rain because "that dents that wonderful turn of foot of his, which is his greatest weapon." The truth, however, is Stradivarius' blend of tactical speed, stamina, and smarts – both his and Dettori's – makes him lethal anywhere.
Stradivarius doesn't win races by huge margins, but like all great horses, he possesses an innate sense of what it takes to beat the horses around him. Should the rains descend on Ascot, take a look at Technician (11/2), who loves the soft ground.
Royal Ascot
Thursday, June 18
8:15 a.m. ET — The Golden Gates Handicap
8:50 a.m. ET — The Wolferton Stakes (Listed)
9:25 a.m. ET — The Jersey Stakes (G3)
10:00 a.m. ET — The Chesham Stakes (Listed)
10:35 a.m. ET — The Gold Cup (G1)
11:10 a.m. ET — The Britannia Stakes (Heritage Handicap)
11:40 a.m. ET — The Sandringham Stakes (Handicap)
Gosden and Dettori will warm-up together two races earlier in the day at the Group 3 Jersey Stakes. That's the only other graded stakes on Royal Ascot's Thursday card. The pair send out 11/4 favorite King Leonidas in the seven-furlong race. Dettori has a reasonable shot at the hat-trick, piloting 15/8 Sandringham Stakes favorite African Dream.
Dettori opened the meet as the 10/11 favorite to be Royal Ascot's top jockey, a title he won last year with seven victories. Ladbrokes spokeswoman Nicola McGeady told The Mirror, "Frankie Dettori has the ability to move markets like no other jockey."
Dettori a 'Phenomenon' to Everyone but Bookmakers
After last year's Thursday grand slam, Gosden marveled at Dettori's ability to get the best out of his mounts.
"He is a phenomenon," Gosden told The Guardian. "Frankie is like a player who gets to the final of Wimbledon and then raises it to another level. For a kid of 48 (now 49), he is remarkable. And when he rides here, he goes to another level."