The Tampa Bay Lightning have gone 7-1 at home this postseason. They'll need to continue that form if they hope to get back into the Stanley Cup Final tonight in Game 3 against the Colorado Avalanche.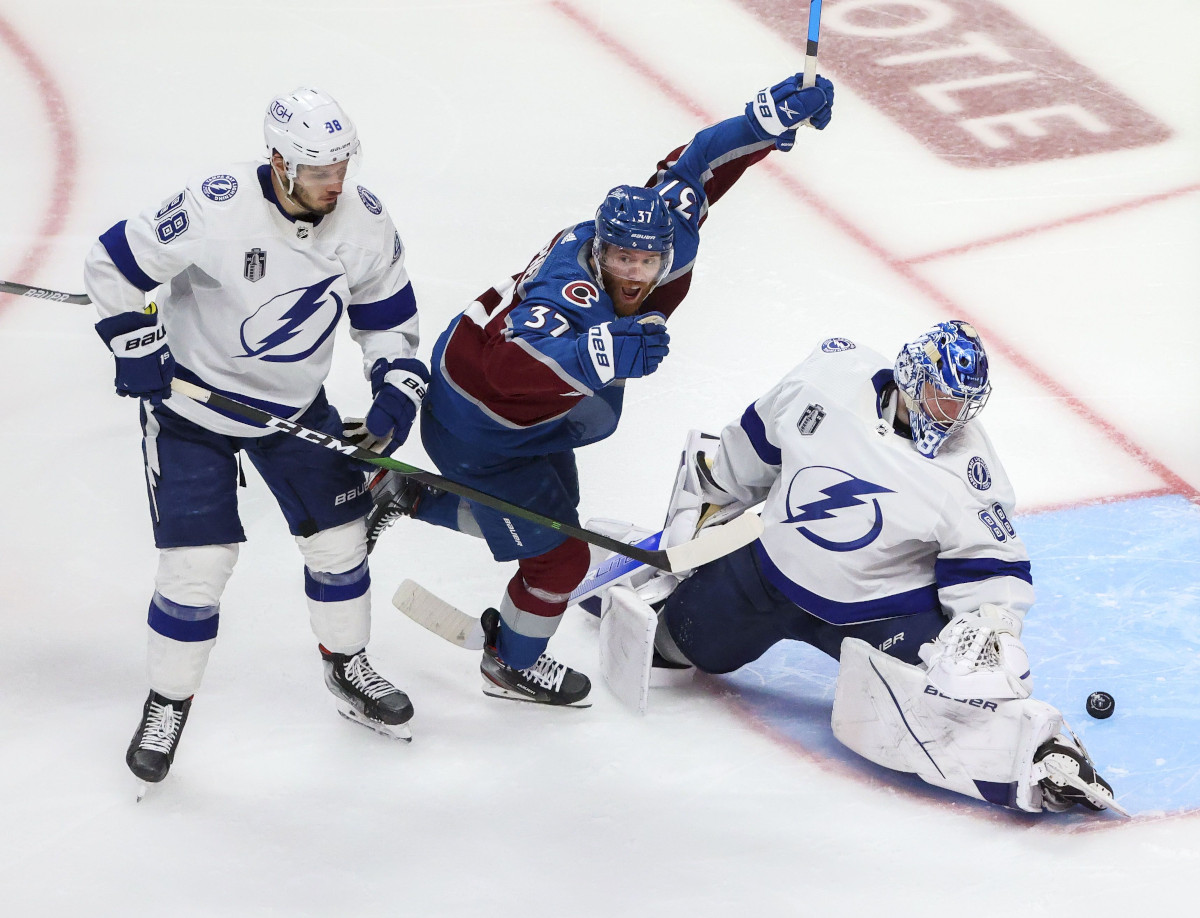 FanDuel Sportsbook sees Game 3 as a pure toss-up, offering -110 odds on both the home Lightning and visiting Avalanche on Monday night.
Lightning see no reason to panic
Colorado holds a decisive 2-0 edge in the Stanley Cup Final after crushing Tampa Bay 7-0 in Saturday's Game 2. FanDuel now lists the Avalanche as a massive -600 favorite over the Lightning (+500) in the series overall.
Tampa Bay can still get back in the series. After all, they haven't lost a home game yet, and a couple of wins at Amalie Arena would change the tenor of the series. That's why the Lightning aren't panicking – at least not yet.
"Let's just go out there and find our best game right now," Tampa Bay forward Pat Maroon told reporters. "They haven't seen our best, so we're excited. Hopefully we can show them our best tonight."
Tampa Bay played 17 playoff games heading into the Stanley Cup Final, compared to just 14 for Colorado. In the past three seasons, the Lightning have played a total of 67 postseason games on their way to winning two titles and reaching the final again this year.
That's led some to speculate that Tampa Bay might be suffering from fatigue accumulated over three deep playoff runs. Head coach Jon Cooper dismissed that as a factor.
"I'd rather be playing hockey than having a five-month summer every year," Cooper told reporters. "The toll is taken in the playoffs … the shot-blocking, the groins, the hips, the cuts, the bruises, playing every second night. That's the toll. And so when you get to the end, even though it doesn't look like they're banged up, they're missing guys, we're missing guys. We've got banged-up guys. That's what the playoff toll does. It's not what happened last year."
Avalanche rolling toward Stanley Cup title
The Avalanche can virtually put away the Stanley Cup Final if they win Game 3. Colorado has dominated all year long and throughout the playoffs. Coming off of their outstanding performance in Game 2, the Avalanche are riding a high that could carry them to a title.
The one thing coach Jared Bednar wants to ensure is that his team stays focused on the ultimate goal.
"It's one performance," Bednar said of the Game 2 blowout. "We need four or more great performances because you're going to have to have a great performance to win in the Stanley Cup Final and we're halfway there with two wins. We're going to have to play some really good hockey here going forward. We know the job's going to be that much tougher going into Tampa."
Tampa Bay might feel as though its back is against the wall, but the Lightning have been here before and know they can come back.
"We're in the same situation as we were against the Rangers, going home 0-2," Lightning forward Corey Perry told reporters. "We found a way to win Game 3 at the end of the game there. It rejuvenated us, it got us going again and now we're going home."