Andre Burakovsky scored the game-winning goal 1:23 into overtime to lift the Colorado Avalanche to a 4-3 win over the Tampa Bay Lightning in Game 1 of the Stanley Cup Final on Wednesday.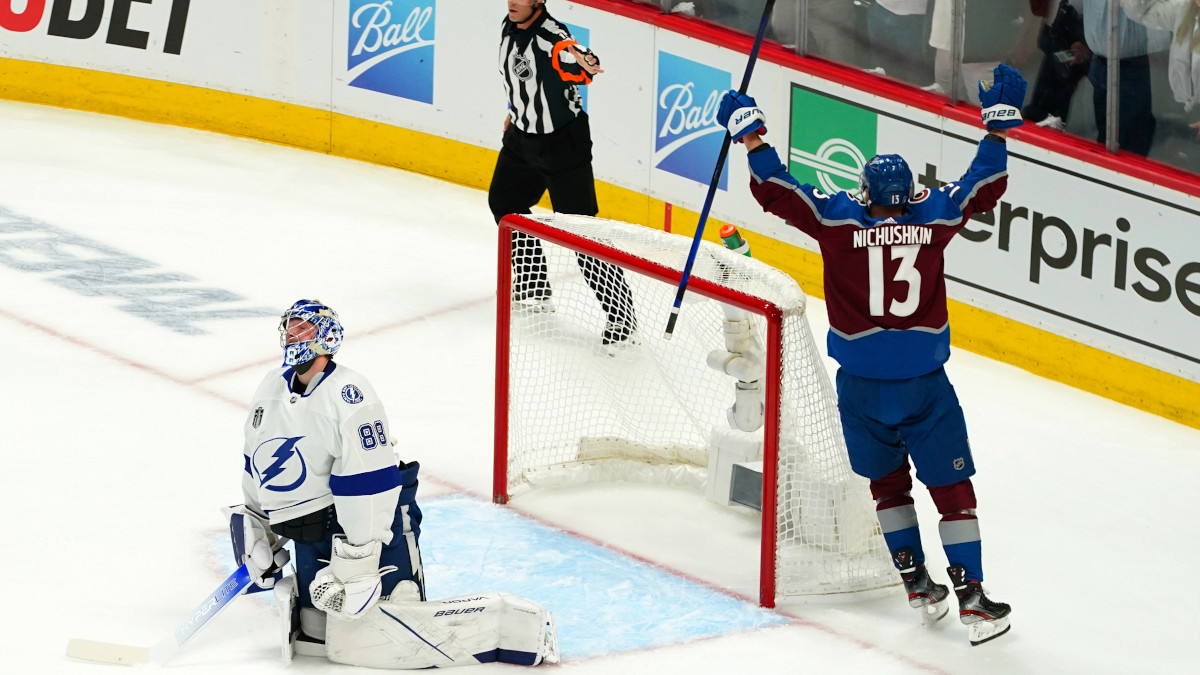 The Avalanche are now -270 favorites to win the Stanley Cup, according to FanDuel Sportsbook.
Burakovsky nets second postseaon goal
Colorado jumped out to a 3-1 lead after the first period. It was the first time that Lightning goaltender Andrei Vasilevskiy had ever allowed more than two goals in the first period of a playoff game.
But Tampa Bay stormed back with two goals in the second period. Ondrej Palat and Mikhail Sergachev scored less than a minute apart to tie the game. After that, neither team broke through before Burakovsky's game-winner.
"I just saw [JT] Compher get the puck through the neutral zone and win battles," Burakovsky said of his goal. "I tried to get out as quick as possible and then, obviously, Val [Nichushkin] got the puck back in and made a great play to me, and it was up to me to shoot it."
The goal provided some redemption for Burakovsky, who had only scored once before in the Stanley Cup playoffs. The Avalanche even scratched Burakosky for two games during their second-round battle with the St. Louis Blues.
Tampa Bay is far from out of this Stanley Cup Final. For one, the Lightning are the two-time defending champions, so they know what it takes to win a championship. They have also shown a remarkable ability to bounce back. Over the last three seasons, Tampa Bay has only lost two straight games once: in the last round, in the first two games in New York against the Rangers.
"The mindset is we're here to win a series and you don't know when that's going to come," Lightning captain Steven Stamkos told reporters. "Four games, five, six, seven, you never know. We've done a great job of making adjustments after losses. So, we'll look to do that."
Kuemper hangs with Vasilevskiy in Game 1
Vasilevskiy hung tough after his rough first period, making 34 saves on the night. Yet it was Avalanche goalie Darcy Kuemper who grabbed the win on Wednesday, saving 20 of 23 shots in Game 1.
"He's the best goalie in the world," Kuemper said of Vasilevskiy on Wednesday. "I can't worry about trying to outplay him."
The Avalanche have now moved to 13-2 during the Stanley Cup Playoffs this postseason. Colorado has long ranked as the favorite to win the championship this year, and their dominant playoff display has only solidified that position in each round. Lightning coach Jon Cooper says his team will have to step it up to overcome those odds.
"There are some positives tonight for us in this game, but the right team won," Cooper said after Game 1. "We've got better in us, though. I don't think by a country mile we gave our best game, and we still had a chance to pull it out."