Every time the Tampa Bay Lightning have lost a playoff game since 2020, they've managed to come back with a win in their next game. The New York Rangers will try to end that incredible streak by scoring another home win in Game 2 of the Eastern Conference finals on Friday.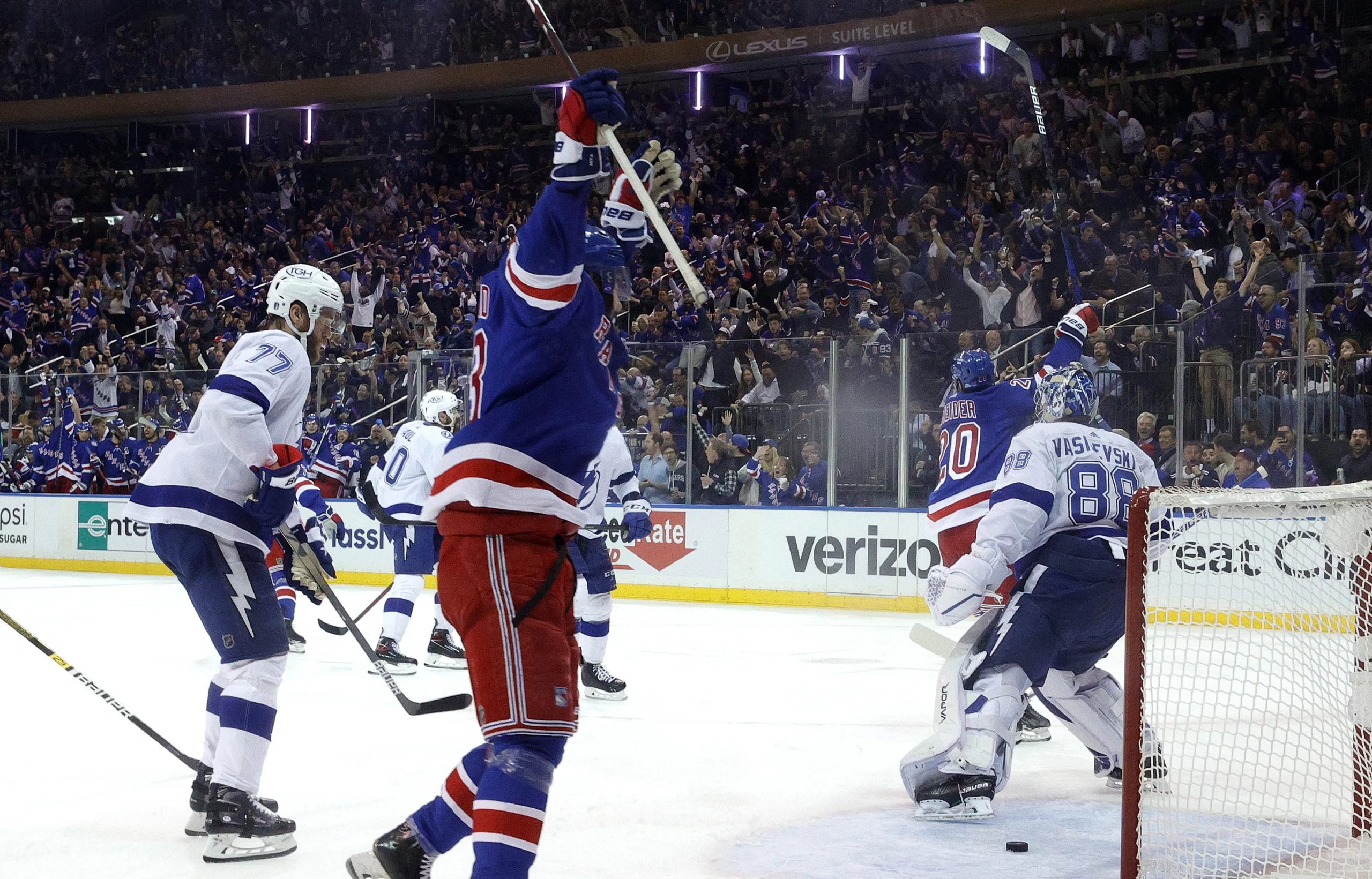 New York won Game 1 on Wednesday by a 6-2 score to take an early lead in the series.
Gallant downplays Lightning streak
The Lightning are once again favorites in Game 2, with FanDuel Sportsbook pegging Tampa Bay as the -130 pick to even up the series with the Rangers (+108).
Lightning coach Jon Cooper attributes the bounce-back streak to his team's mentality following defeat.
"We as a group are pretty good at self-correcting and guys, they take losses personal," Cooper told reporters. "[Wednesday] night especially, as deep as we are right now and kind of the way the score got out of hand, it affects the guys. But I give them credit, they self-correct. They know what works for us and what doesn't and clearly saw what didn't work for us [in Game 1]."
As for the Rangers, they're not concerning themselves with Tampa Bay's past – only what they want to do in Game 2.
"They didn't beat us 17 times," Rangers coach Gerard Gallant told reporters on Thursday. "It doesn't affect what we will do tomorrow."
The Rangers find themselves in an unfamiliar position for the playoffs. New York had to come from behind against both the Pittsburgh Penguins and Carolina Hurricanes. This is the first time that they're ahead in a playoff series this postseason.
Shesterkin takes first round vs. Vasilevskiy
After surviving two seven-game battles to get this far, Gallant isn't putting too much stock in taking an early lead, however.
"We're up 1-0 in the series, but it doesn't make a difference," Gallant said. "It doesn't matter how you get to seven games or whatever it's going to be You just worry about the next game. You move on."
This series features a battle between perhaps the top two goaltenders in the world. The Rangers' Igor Shesterkin got the better of the battle with Lightning goalie Andrei Vasilevskiy in Game 1, but the two Russians will match up again in Game 2 on Friday.
"The next generation of young, Russian goalies, are they going to be Shesterkin fans or Vasilevskiy fans? I think a lot of it will depend on this series," MSG analyst Steve Valiquette told The Athletic. "I'd imagine Igor knows how big this is back home. Same with Vassy. Igor's the underdog, and he's trying to knock the big guy off the mantel."
Of course, Vasilevskiy will try to hold on to that title for as long as possible.
"Our team, they take losses personal," Cooper said. "But I would say the goalie really takes it personal."