The Carolina Hurricanes and the New York Rangers both had to battle through seven-game series to get out of the first round of the Stanley Cup playoffs. Now, they'll face each other in an effort to get to the Eastern Conference finals.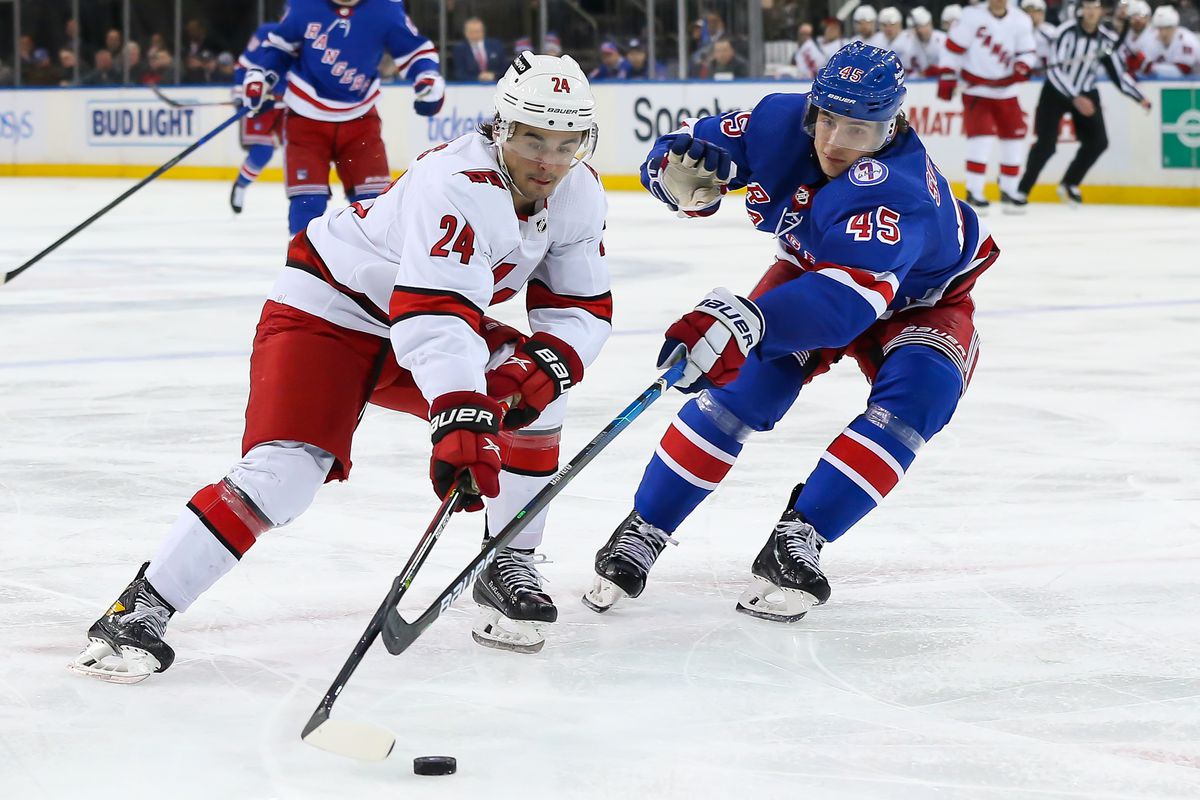 The Hurricanes will host Game 1 of the series on Wednesday and enter as a -210 favorite to advance past the Rangers (+172), according to FanDuel Sportsbook.
Shesterkin earns trust of teammates, coaches
Neither team had an easy time of it in the first round. The Rangers fell behind 3-1 to the Pittsburgh Penguins before rallying to win three straight and keep their Stanley Cup dreams alive. Igor Shesterkin struggled early in the series, prompting Pittsburgh fans to shower him with "Igor" chants. But he recovered to make 99 saves while allowing just nine goals over the final three games to help New York get past the Penguins.
"It's good when the coach trusts the goalie and the whole team trusts me," Shesterkin, who starred for the Rangers during the regular season, told reporters. "I just tried to find my game and help my partners and try to win every game."
The Hurricanes won all four home games against the Boston Bruins in the first round. Carolina managed to hold off the Rangers for the Metropolitan Division crown in the regular season, meaning the Hurricanes will have home-ice advantage against New York. If the team continues to defend its arena as it has so far, that could be a decisive edge in the series.
"I guess I always wondered what does home ice really mean," Hurricanes coach Ron Brind'Amour told reporters. "Well, I think it did mean something last series for sure, so I guess we'll see."
Hurricanes feel comfortable on home ice
Carolina won three of the four regular-season meetings between the two squads, but the Rangers aren't coming into the series feeling like a huge underdog.
"People weren't expecting us to maybe get this far or have a shot against this team, but we're a confident group," Rangers defenseman Adam Fox told reporters. "We've said it all year, the belief in that locker room is high. I think we know what we're capable of."
The Hurricanes rate as a -170 favorite in Game 1, a nod to their success on their home ice. Even the Carolina players admit that there's been something special about playing at home this year.
"We've had a great home record the whole year and being in this environment, PNC [Arena], with the fans we have of course this gives us a little extra jump in our step," Hurricanes forward Jesper Fast told reporters. "I know we try to play the same way home and away, but being here gives us a little more confidence and a little more boost having the fans behind us."