There it sits, like a glaring black mark on No Parole's otherwise pristine record. The "8" under "results" standing out among the five "1s." The horse racing definition of a burp in No Parole's otherwise stellar universe, which he'll put to the test in Saturday's H. Allen Jerkens Memorial Stakes at Saratoga.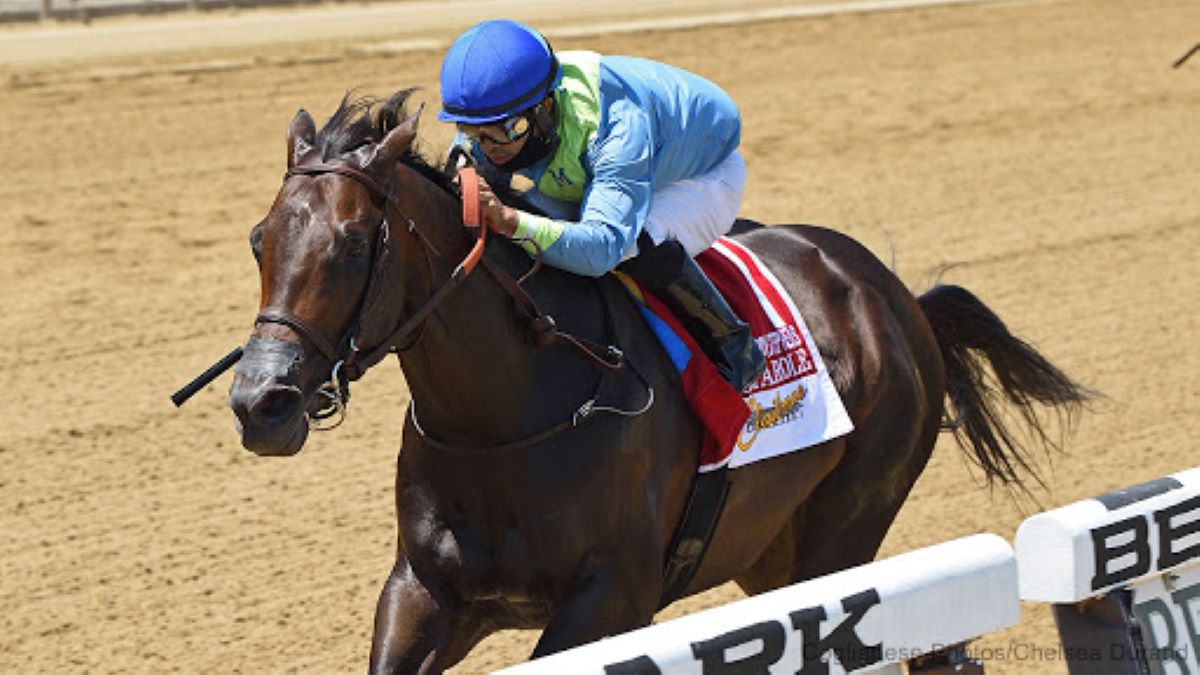 The seven-furlong Jerkens, named after the longtime New York trainer, is one of three Grade 1 stakes and five stakes races on Saturday's Saratoga card. It features an 11-horse field of 3-year-olds with names that may resonate with even casual racing fans who follow 3-year-old would-be Kentucky Derby hopefuls.
There's No Parole, your 9/5 favorite. Mischevious Alex (8/1), who won two Grade 3 stakes, the Swale and the Gotham to dance on the fringes of Derby contenders. Eight Rings (8/1), a Bob Baffert product who burst on the scene winning last year's Grade 1 American Pharoah Stakes, then quickly receded into the background — finishing fifth and sixth his next two races.
Allen Jerkens Memorial Handicap
Morning Line, Weight (Jockey)
Hopeful Treasure, 50/1, 118 (Manuel Franco)
Eight Rings, 8/1, 122, (Joel Rosario)
Sonneman, 50/1, 118, (Jose Lezcano)
Echo Town, 9/2, 118, (Ricardo Santana Jr.)
Mischievous Alex, 8/1, 120, (Irad Ortiz Jr.)
No Parole, 9/5, 124, (Luis Saez)
Shoplifted, 12/1, 118, (Tyler Gaffalione)
Three Technique, 6/1, 118, (Jose Ortiz)
Liam's Pride, 20/1, 118, (Dylan Davis)
Captain Bombastic, 15/1, 118, (Javier Castellano)
Tap It to Win, 5/1, 118, (John Velazquez)
There's Tap It to Win (5/1), who was a trendy Belmont Stakes upset contender who took the early lead in that Triple Crown race. Then, reality hit, his speed receded, and he finished fifth – 14 lengths back. Shoplifted (12/1) missed the board in both the Southwest Stakes and Oaklawn Stakes before turning into a sprinter. And there's Echo Town (9/2), who has three wins and two seconds, but only one stakes race.
Imagine the Equine Trash Talk in This Race
These Derby hopefuls turned into never-weres. But the Jerkens field features good, B-plus/A-minus-on-their-best-days 3-year olds who not only seek their class and distance level, but who have the ability to beat No Parole. Echo Town, Shoplifted and Mischievous Alex seek revenge for the 3 ¾-length beating No Parole inflicted on them in last month's Grade 1 Woody Stephens at Belmont Park. Those three finished 2-3-4 respectively.
It won't be easy. No Parole owns five wins in six races, including that gate-to-wire Woody Stephens thrashing. That came with a 100 Beyer Speed Figure and a 93 Equibase Speed Figure score that was 15 points lower than the 108 he clocked en route to winning an April allowance.
Take No Parole back one more race and there's that "8." That's when No Parole's trainer, Tom Amoss, sent him into the two-turn, 1 1/16-mile Rebel Stakes. As experiments go, this one didn't end well. No Parole's dismal eighth – complete with a glacial 24 Equibase Speed Figure – marked the only time he didn't cross the finish line first.
Unleashing No Parole's Inner Sprinter
"I think what you're seeing is just a typical development of a talented horse, if you take away the experiment of going two turns," Amoss told the New York Racing Association.
When it comes to sophomores, this is not uncommon. Like water, horses seek their level, whether its route, sprint, dirt, or turf. Horses like McKinzie, who won races at distances from seven furlongs to 1 1/8 miles, and War of Will, who won Grade 1s on both dirt and turf, are the black pearls of racing.
Now that No Parole, the son of Violence, found his level, he's excelled. He's unbeaten at one-turn races and his four 2020 wins came at four different tracks: Fair Grounds, Delta Downs, Oaklawn, and Belmont Park. No Parole's opening quarter in the Woody Stephens was 22.2 seconds, and he's twice run sub-22-second opening quarter-miles. Both times, No Parole sustained that speed well enough to win allowances.
Catch Him If You Can
No Parole's final workout was a bullet-like 46.42-second half-mile breeze last Friday. Based on what happened in the Woody Stephens, when No Parole controlled the pace at every point of call, expect Tap It to Win – who is unbeaten in two sprints himself – and others to push the pace from the outset.
Amoss welcomes the challenge. Where No Parole is now, Amoss knows one "8" is enough.
The pick: No Parole. He has this one-turn sprint thing down.