Curious about 3-year-old colts? Saratoga has a stakes for that. How about fillies and mares? It has a race for them as well, including the best mare in the world. Older, accomplished horses? Well, they have not one, but two stakes races for them, too.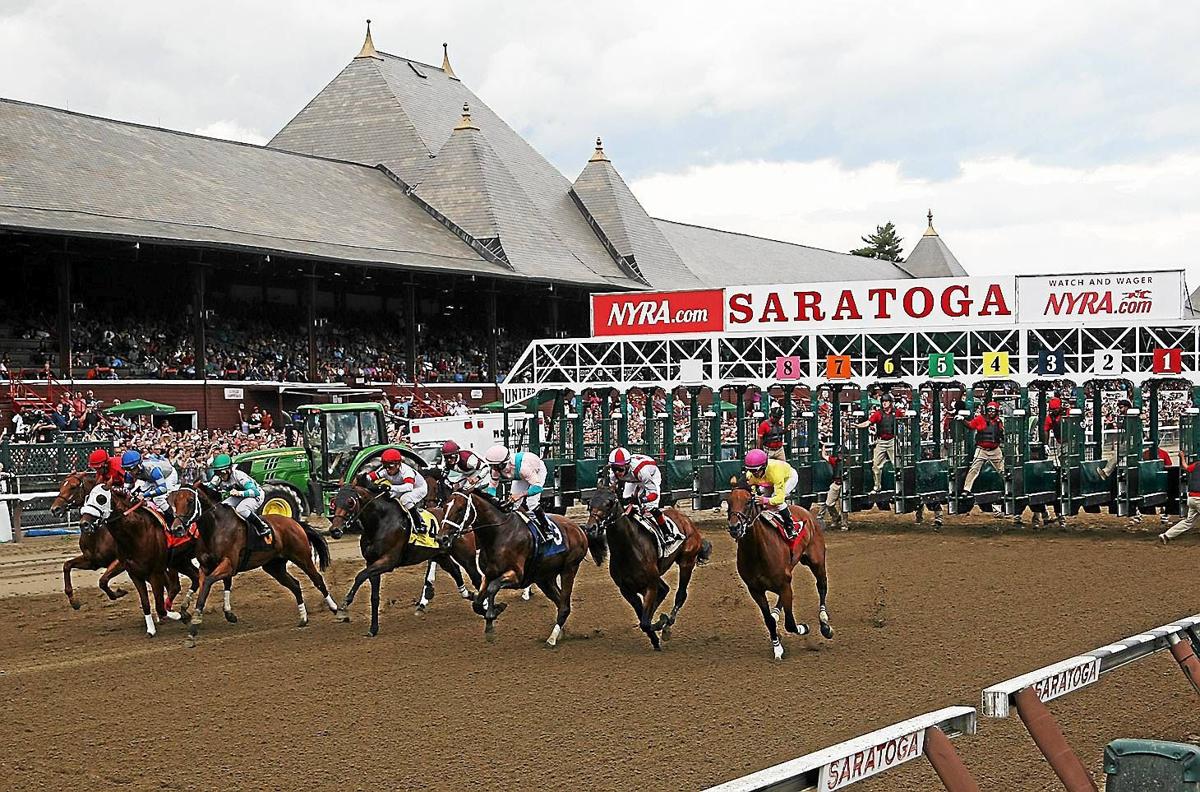 Saturday at Saratoga is Mecca for horseplayers and horse racing fans. It's the kind of day where – in a normal year – New York's sporting epicenter moves from New York City (population: 8.39 million) to Saratoga Springs (population: 28,005). Saratoga's Saturday card features a bettor's feast of five stakes races: four of them graded stakes and three of those Grade 1s.
In a normal year, Saratoga Springs' charm and the Spa's history would showcase itself to tourists and locals alike. Instead, in the coronavirus era, Saratoga must content itself with showcasing one of the best racing cards outside of the Breeders' Cup in front of no fans and an eerily quiet downtown.
The headline event is the $1.2 million Grade 1 Whitney Stakes, named for one of America's most prominent families – one that dates to 1635, when John Whitney arrived in Massachusetts. The Whitney line includes Eli Whitney, inventor of the cotton gin, former ambassador to the UK and New York Herald-Tribune publisher John Hay Whitney and Joan Whitney Payson, the original owner of the New York Mets.
Whitneys and Devotion to Horses Began in the 19th Century
It also included William Collins Whitney, President Grover Cleveland's Secretary of the Navy, and the late Marylou Whitney, who were prominent figures in horse racing and breeding for more than a century. Marylou Whitney, who died last July, was a major figure in racing and breeding horses for two generations. This is the blue-blood pedigree giving its name to a race with major blue-blood talent.
The 1 1/8-mile Whitney's field includes Grade 1 winners Tom's d'Etat (the 6/5 morning line favorite), Code of Honor (5/2) and Improbable (5/2) and Grade 2 winner By My Standards (9/2). By any standard, this is a standout field of older horses.
Speaking of blue-blood horses, there's the $500,000 Grade 1 Personal Ensign. The 1 1/8-mile race is named for the champion filly who won all 13 of her races – including a come-from-behind victory over Kentucky Derby champion Winning Colors in the 1988 Breeders' Cup Distaff. At the time, that was the longest win streak at the elite level for an American horse in 80 years.
Midnight Bisou's Best Win Streak Still Six Shy
To put that mark into perspective, the prohibitive favorite for this year's Personal Ensign title – last year's champion – Midnight Bisou, won seven consecutive races in 2019. Had she won her next three — instead of going 1-for-3 with a pair of seconds — Midnight Bisou would still be three short of Personal Ensign's mark.
Midnight Bisou started a new streak of one, winning the Grade 2 Fleur de Lis at Churchill Downs. Angling to stop that streak are Point of Honor, who finished second in the race named after Personal Ensign's owner – Ogden Phipps – Motion Emotion and Vexatious. Motion Emotion finished second to Midnight Bisou in the Fleur de Lis – by 8 ¼ lengths.
Then, there's the $500,000 Grade 1 H. Allen Jerkens Memorial, named after the Hall of Fame trainer who dominated New York racing for 40 years. Jerkens won 3,853 races and more than 200 stakes races. Jerkens built a well-earned reputation for springing upsets, most notably his Onion beating a horse named Secretariat in the 1973 Whitney.
Remember These Guys?
Run at seven furlongs for 3-year-olds, the Jerkens reintroduces you to some of the names you may recognize from early on the Kentucky Derby Trail: Mischevious Alex, Shoplifted, Eight Rings, Liam's Map and Three Technique. They've all dropped off the trail and are chasing pace-maker and likely favorite No Parole, last seen winning the Woody Stephens at Belmont Park last month.
There, No Parole took no prisoners, leaving Echo Town, Shoplifted and Mischevious Alex fighting for 2-3-4, respectively. All three return, along with new face Tap It to Win, who finished a disappointing fifth in the Belmont Stakes.
Saturday's other graded stakes at Saratoga is the $250,000 Grade 2 Bowling Green, for older males going 1 3/8 miles on turf.