Yes, it's condensed to 1 1/8 miles, instead of its typical hearty 1 ½ miles, meaning the Belmont Stakes goes from the longest Triple Crown race to the shortest. Yes, the Belmont Stakes leads off the Triple Crown season, rather than batting in the power-hitting three-hole.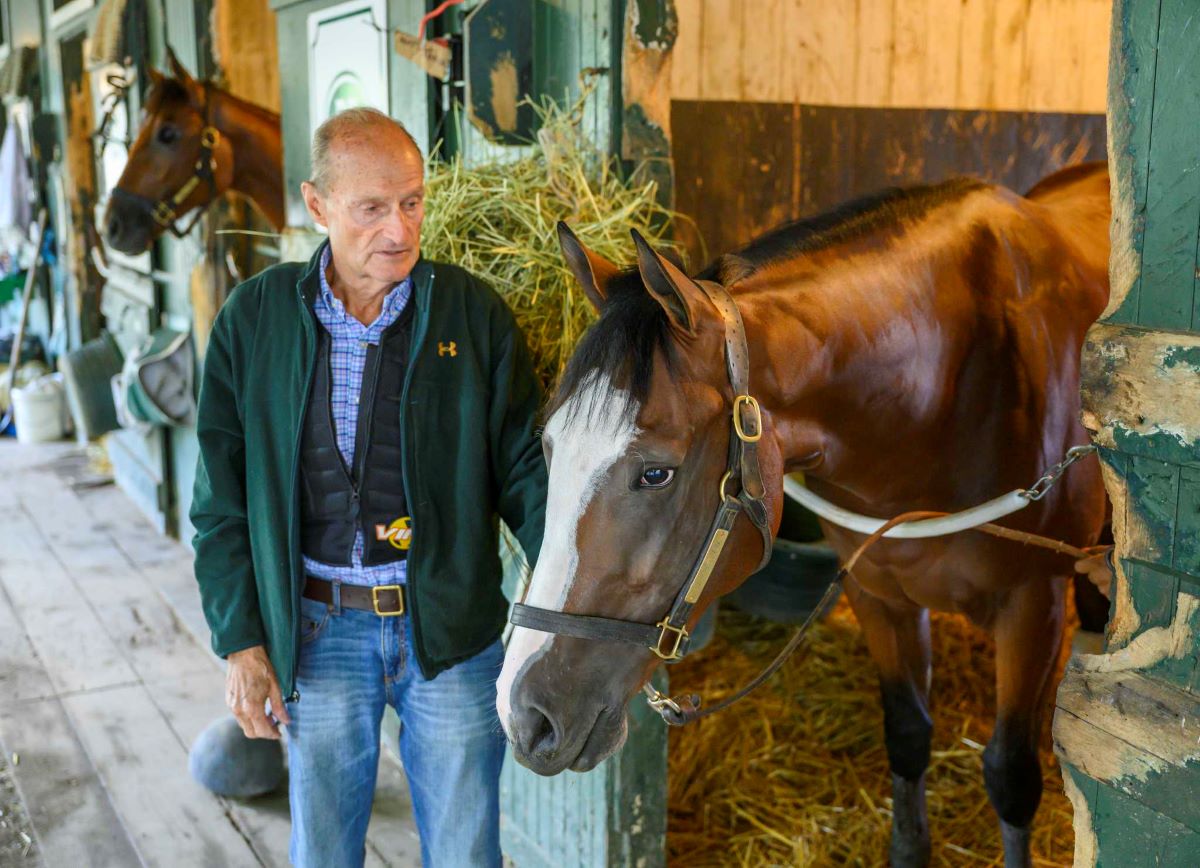 And yes, even in an early, slimmed-down version, the Belmont Stakes remains the "Test of a Champion." After all, every Triple Crown test has to start somewhere. That somewhere – even at a Belmont Stakes distance not raced at since 1893-94 at Morris Park – is Belmont Park on Saturday.
Belmont Stakes Opens 'A Non-Traditional Triple Crown Series'
"I don't think there's any question that at the end of 2020, you can put a big asterisk by the whole year and the Triple Crown is certainly part of that," said trainer and three-time Belmont winner Todd Pletcher, who brings Farmington Road and Dr Post into Saturday's proceedings. "It's not going to be the same. It's going to be spread out over a much different timeframe and at different distances, different orders. So I think it goes without saying it's a non-traditional Triple Crown series."
Asterisks, COVID-19 pandemics and all, someone will win a Triple Crown race that guarantees equine immortality and a healthy betting handle — including on the futures market. OG breaks down our field for Saturday's race in categories, worst to first.
Why Are You Here?
Jungle Runner (Post 7-50/1): There are some wonderful allowance races at Belmont Park, which is where this son of Candy Ride belongs. Last seen finishing eighth — 22 ½ lengths behind Charlatan in the weaker first division of the Arkansas Derby — Jungle Runner lost his three 2020 races by a combined 63 ¼ lengths. His best Beyer Speed Figure (66) is 17 points below the next-worst in the field (Fore Left) and his two wins came at Remington Park. This excursion is akin to dominating A-ball in the provinces and thinking that plays in Yankee Stadium. It doesn't.
Fore Left (Post 6-30/1): Speaking of Fore Left, trainer Doug O'Neill made an abrupt left turn when he shifted the winner of the UAE Two Thousand Guineas from the seven-furlong Woody Stephens to the Belmont earlier this week. That the Woody Stephens was even on the table tells you plenty — none of it good. Fore Left's only calling card is the early speed he brings to the field, which figures to challenge Tap It To Win out of the gate. Otherwise, Fore Left's distance and top-shelf stakes credentials – he lost his two mile-plus races in the US by a combined 37 lengths — are lacking. So is his overall speed. The only thing not lacking here is his pure disruptor role.
Just Not Quite There
Modernist (Post 4-15/1): I've read a few analyses this week that illustrate how Modernist can spring the upset. Despite him winning two of three starts at 1 1/8 miles – including the Risen Star second division – I'm not seeing it. His pace-pressing style can factor early or midway, but he doesn't have the speed of other pressers/stalkers. Modernist's speed numbers lack when compared to his counterparts with similar running styles, such as Tiz the Law, Dr Post or his most-similar comparison – Pneumatic. Trainer Bill Mott hit the Belmont board the last two years with Hofburg and Tacitus, but this would be his best Belmont coup yet.
Farmington Road (Post 5-15/1): The lesser of two closers in the field and the "Lesser Pletcher," this Pletcher-trained horse drives bettors nuts. Farmington Road is one of those horses who always appears to be in the mix, but when you look up, he's finishing fourth. Like he did at the Risen Star's first division and the second division of the Arkansas Derby. In between, Farmington Road somehow rushed to a second-place finish in April's Oaklawn Stakes. Pletcher himself said Farmington Road would have benefited from a normal, two-turn Belmont. But this race doesn't have the speed Farmington Road's closer style needs and he's not as fast as the other closer – Sole Volante. If you use him, stuff him underneath in trifectas or superfectas.
152nd Belmont Stakes
Morning Line (jockey)
Tap It To Win, 6/1 (John Velasquez)
Sole Volante, 9/2 (Luca Panici)
Max Player, 15/1 (Joel Rosario)
Modernist, 15/1 (Junior Alvarado)
Farmington Road, 15/1 (Javier Castellano)
Fore Left, 30/1 (Jose Ortiz)
Jungle Runner, 50/1 (Reylu Gutierrez)
Tiz the Law, 6/5 (Manny Franco)
Dr Post, 5/1 (Irad Ortiz Jr.)
Pneumatic, 8/1 (Ricardo Santana Jr.)
Max Player (Post 3-15/1): It would be a wonderful story if hard-working trainer Linda Rice could become the first woman to train a Triple Crown winner. For that to happen, Joel Rosario would have to clone his masterful, ground-saving trip he employed in last year's Belmont with Sir Winston and Max Player has to get faster. Much faster. His career-best 86 Beyer came in his last race – a Feb. 1 3 ½-length victory in the Withers Stakes at Belmont Park. While that came at this distance and at this track, every other horse in that race vanished in 2020. Rice probably has to wait for a better race later this year for Max Player to run to his name.
If Everything Breaks Right …
Pneumatic (Post 10-8/1): The "P" may be silent in his name, but there's plenty of loud potential in Pneumatic. Those needing proof can point to his past outing at the Matt Winn Stakes, where Pneumatic powered his way to a solid third behind Maxfield and Ny Traffic. The latter passed him in deep stretch because Pneumatic's inside post mandated a premature pop of speed. This time, Pneumatic's outside post puts him in much better position to stalk front-runners and push when he wants. Pneumatic's pronounced potential for exotic payoffs could pay off as you project his potential going forward.
Dr Post (Post 9-5/1): Say "hello" to the "Better Pletcher:" the Pletcher who won both his 3-year-old starts after a nine-month layoff and the Pletcher with the more versatile running style. Dr Post is also the Pletcher with more speed, which he displayed winning a seven-furlong maiden race in March and the 1 1/16-mile Unbridled Stakes in April. Like the "Other Pletcher," Farmington Road, Dr Post is a Quality Road sire. But this stalker inherited more speed (a 97 career-best Beyer is tied for second in this field) and more upside on your tickets.
They Should Be There
Sole Volante (Post 2-9/2): Contrary to conventional wisdom, closers can win the Belmont Stakes. Really. That said, only one in the last decade (Creator in 2016) did win and in Sole Volante, you have the prototypical deep closer. And you have one with credible speed figures as good as anyone not named Tiz the Law. In his last race, an allowance win 10 days ago at Gulfstream Park, Sole Volante came from 23 lengths back to win. He turned on another rally to finish a credible second to King Guillermo in the Tampa Bay Derby. Sole Volante's problem here is more than history. It's a field with not a lot of early speed, meaning barring a crazy early pace, he's going to have to stay closer to the proceedings than he's comfortable doing.
Tap It To Win (Post 1-6/1): Trainer Mark Casse, who's looking for his third consecutive Triple Crown race and second consecutive Belmont Stakes, threw down the gauntlet earlier this week on a conference call: "If you come with us, you're in trouble, and if you don't, you're also in trouble." You trade speed with this late-blooming 3-year-old Tapit progeny at your peril, especially after he won both his 2020 starts after a rocky 2019 fall. That latter win came barely two weeks ago at Belmont Park, where he destroyed an allowance field by five lengths. His speed figures are the equal or better of everyone in the field save Tiz the Law, the class vault shouldn't matter here, and you'll be in trouble if you don't come with him on your exotics.
The Pick
Tiz the Law (Post 8-6/5): Yeah, we know. Chalk is rarely sexy, especially at the beginning of the Triple Crown season and especially on a horse who will go off at odds-on. And yes, while Belmont Stakes favorites have won 42% of the 151 previous Belmont Stakes, they're just 2-for the-last-14 (take a bow, Triple Crown winners American Pharoah and Justify). But you know what is sexy? Speed. And this New York-bred is the fastest horse in the field. He's the only one with a triple-digit Beyer Speed Figure (100) and only two horses have beaten him in five races: both at last fall's Kentucky Jockey Club Stakes on a sloppy Churchill Downs track. There is no category in which Tiz the Law surrenders an advantage to anyone else in the field: speed, pedigree, connections, past performances and comfort at Belmont Park, where he's already won a one-turn graded stakes. Barring any missteps akin to what befell counterparts like Nadal, Charlatan and Maxfield, this could be the first step to a Triple Crown for this classic stalker.