The concept that speed wins horse races is elemental to the sport. And when you look at the various speed figures for the 10 horses in the 152nd Belmont Stakes, Tiz the Law's 6/5 favored status seems elementary.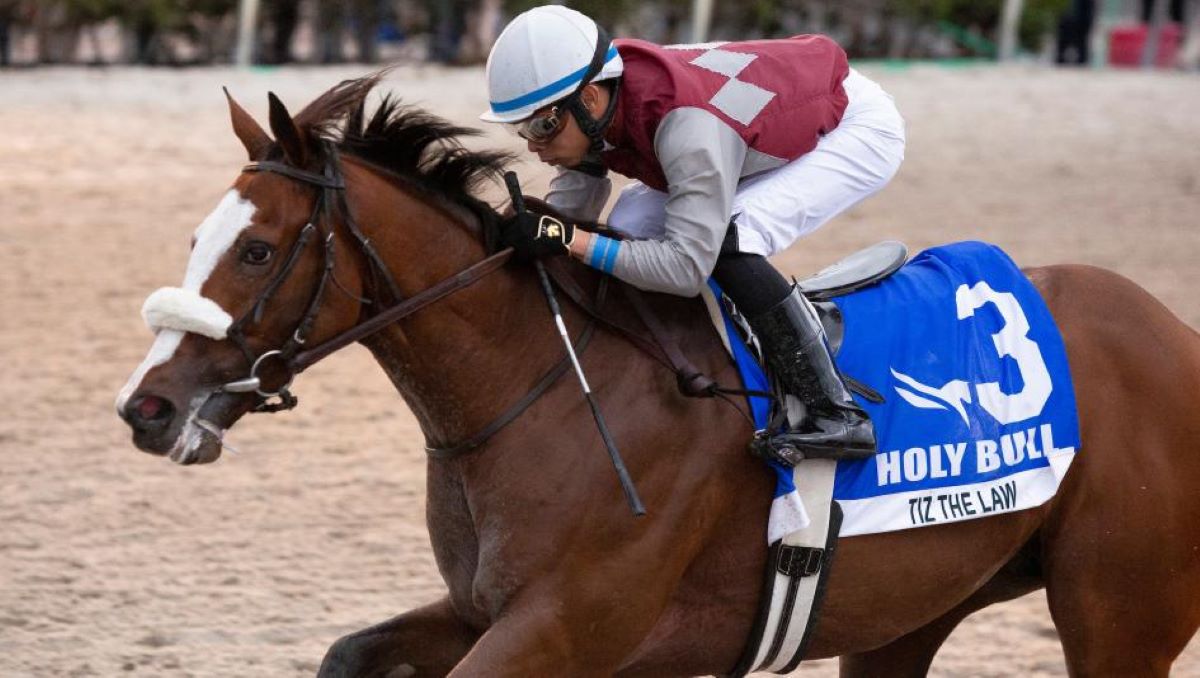 Tiz the Law's January victory in the Holy Bull Stakes at Gulfstream Park produced the highest speed figure for all three scales: Equibase, the DRF Beyer Speed Figure, and TimeformUS. He clocked a 117 Equibase, a 100 Beyer Speed Figure, and a 121 TimeformUS number. Tiz the Law's 100 Beyer is the only triple-digit Beyer in the field.
There's your starting point for the first jewel in 2020's Triple Crown. Via the comparable speed figures, you can see how much pure and tactical speed Tiz the Law has compared to his counterparts.
Belmont Stakes Speed Figures
| | | | |
| --- | --- | --- | --- |
| Horse | Equibase | DRF Beyer | TimeformUS |
| Tiz the Law |    117 |     100 |       121 |
| Dr Post |    101 |      97 |       112 |
| Sole Volante |    109 |      96 |       113 |
| Tap It To Win |    108 |      97 |       115 |
| Fore Left |    100 |      83 |       N/A |
| Farmington Road |    100 |      87 |       113 |
| Pneumatic |      98 |      94 |       114 |
| Max Player |    103 |      86 |       114 |
| Modernist |      94 |      85 |       109 |
| Jungle Runner |      85 |      66 |         91 |
A few other figures bear mentioning for context. Currently at 6/1 on the morning line, Tap It To Win's 97 Beyer Speed Figure and 115 TimeformUS number came earlier this month in a Belmont Park allowance race. Second-favorite (9/2) Sole Volante's 96 Beyer Speed Figure came in February's Sam F. Davis Stakes at Tampa Bay Downs. His 109 Equibase Speed Figure came last November in the ungraded Pulpit Stakes.
Third-favorite Dr Post (5/1) earned his 101 Equibase in an April ungraded stakes race at Gulfstream, his most recent race. But his body of work consists of only three races.
Going Beyond the Numbers With Andy Beyer
What does this all mean? Let's break down speed handicapping using the Beyer Speed Figures, which became part of the Daily Racing Form's past performance figures in 1992.
Speed handicapping gained prominence in the 1970s through the pioneering work of former Washington Post turf writer and noted handicapper, Andrew Beyer. He didn't invent speed handicapping, but he popularized it when he broke down the riddle of comparing how fast a horse ran over six furlongs at Fonner Park vs. a miler at Santa Anita Park. Through his work, Beyer created a formula that accurately reflects a horse's speed performance on a given day.
Beyer broke down his process in his 1975 landmark book, "Picking Winners." Suffice it to say, the process involves more than a bit of math and a monstrous amount of time spent researching races at different tracks over different distances and classes. But the brilliance of Beyer's figures is their portability and adaptability from track to track, and class to class.
A horse running a 90 in an allowance at Gulfstream Park turned in the same quality effort as a horse clocking a 90 breaking his maiden in a $15,000 claimer at Golden Gate Fields.
Beyer's Process Starts With a Speed Rating
Likewise, a horse running six furlongs in 1:10.6 earns the same 98 figure as a horse going seven furlongs in 1:23.4 and a horse going 1 1/8 miles in 1:50.25. That 98 figure, however, is the starting point, otherwise known as a Speed Rating.
From there, Beyer and his eight-person team factor in "par" times they created for different class levels and distances. Then, they average final times for a track's card to determine how much faster or slower a track was compared to par.
That number, the Track Variant, is either added or subtracted to the preliminary number to get the final Beyer Speed Figure. So if the track is deemed particularly slow that day, it could have a Track Variant of plus-9. You then add the 9 to the preliminary 98 to get your final Beyer Speed Figure of 107. Conversely, if the track is faster than par, the Variant may be a minus-7. In that case, our horse ran a 91 Beyer.
Speed Isn't the Final Handicapping Factor
"Our figures do not purport to tell everything about a horse. They really only tell one thing, which is the most important thing in the game, and that is how fast the horse ran," Beyer told the Paulick Report. "The components of our calculations, it's simply the time of the race, the distance, and the inherent speed of the racetrack."
Speed figures in any format, however, are just a tool. Savvy handicappers will pair Beyers, Equibases, and other speed figures with information on a horse's trip, known as trip handicapping. How much traffic did he face? How wide was his trip? Did the jockey screw up the trip by putting his horse in a bad position? Did he turn him loose too early or too late?
None of that shows up in a raw speed figure, which Beyer addressed in his 1993 book "Beyer on Speed."
Regardless, speed in a sport that rewards the first creature across a finish line is never a bad place to start. And in Saturday's Belmont Stakes, Tiz the Law seems to have a head start on this front.