Illustrating another example of the precarious nature of Thoroughbred horse racing, Kentucky Derby contender Maxfield injured his front right leg during a routine workout on Wednesday. He will miss the Sept. 5 Kentucky Derby after suffering a condylar fracture in his leg.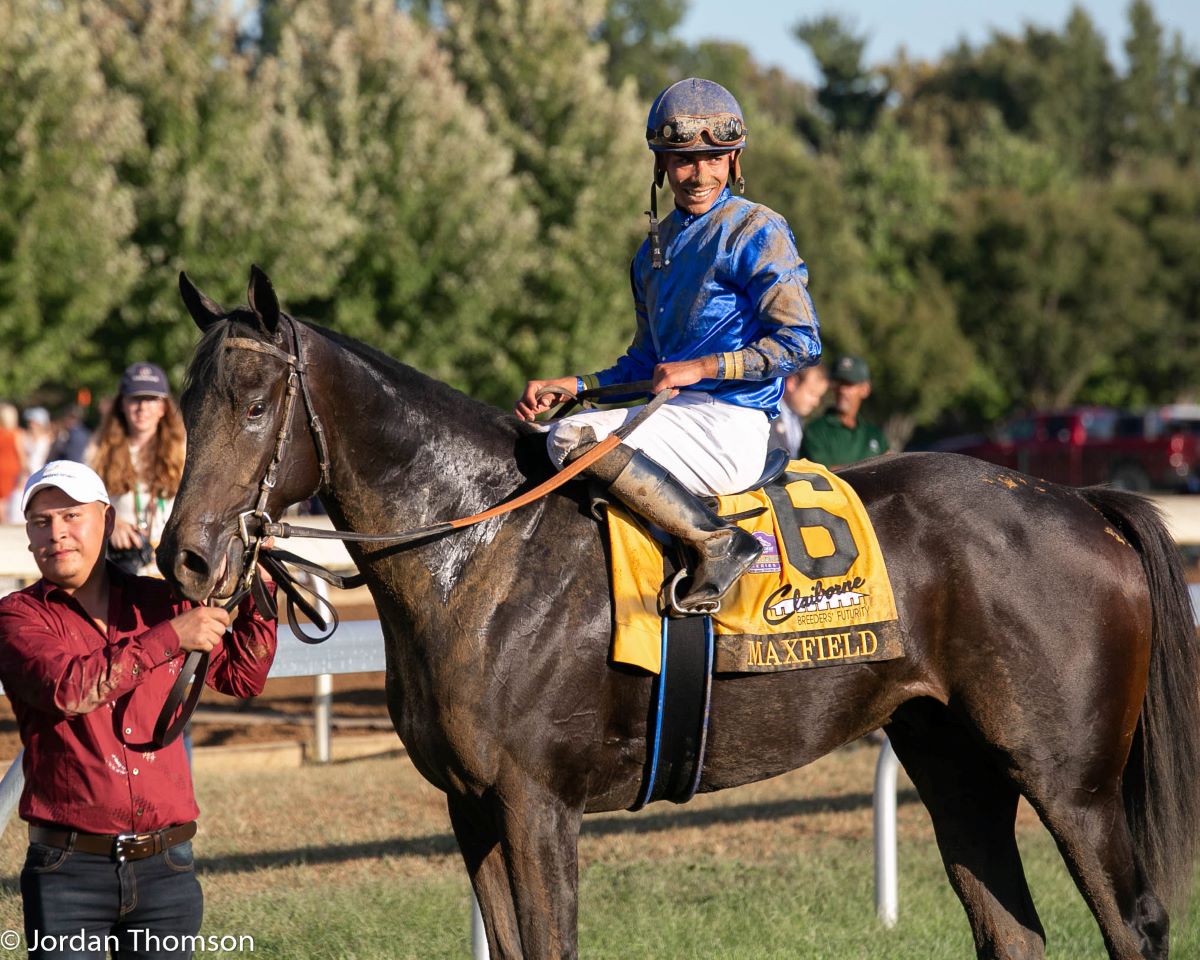 If this sounds eerily familiar, it should. This is the same injury that knocked one-time Derby favorite Nadal off the Derby Trail two weeks ago. In Maxfield's case, the injury came after his first workout since he won the Grade 3 Matt Winn Stakes at Churchill Downs May 23.
The Goldolphin-owned son of 2007 Kentucky Derby champion Street Sense had just finished a 49-second half-mile breeze at his Keeneland base. Nothing untoward there, until trainer Brendan Walsh noticed Maxfield wasn't moving right while walking back to his barn.
X-rays revealed a non-displaced lateral condylar fracture on his right front leg. Like in Nadal's case, the injury is not life-threatening and Maxfield was immediately taken to a local equine hospital for surgery.
Injury Isn't Career-Ending
Jimmy Bell, the head of Godolphin's US operations, told reporters the workout was "as nice as you'd want to see it" and that racing is still in the mix once Maxfield recovers.
"It could be an awful lot worse. It could have been catastrophic, which would have been devastating," Walsh told Bloodhorse. "I think the horse is OK."
The injury was particularly gut-wrenching for Maxfield's connections. They had just welcomed him back in May after a 7 ½-month layoff he endured while recovering from an ankle chip. That kept him out of the Breeders' Cup Juvenile, but Maxfield picked up where he left off last October, taking command down the stretch and winning the Matt Winn by a length over Ny Traffic.
That win followed his 5 ½-length romp in last October's Breeders' Futurity and stamped Maxfield as a 6/1 second-favorite in Circa Sports' Kentucky Derby Futures. Those bearish bettors fading him at -1,000 on Circa Sports' yes/no Derby prop may collect after the Sept. 5 Derby. He was 7/1 at William Hill and owned 60 Derby qualifying points.
Picking and Choosing His Races Carefully
Because of his history, Walsh plotted a careful path to Churchill Downs for Maxfield. On Monday, he announced Maxfield would bypass the Belmont Stakes and run the July 11 Blue Grass Stakes. His reasoning was two-fold: Maxfield would stay home in Kentucky and he would run a two-turn race. This year's Belmont Stakes is 1 1/8 miles, meaning it covers only one turn on Belmont Park's massive track.
In the long run, Walsh's planning gave way to bad luck and another example of how fragile Thoroughbreds truly are. This has been a wild two weeks for bookmakers and horseplayers who are following horses on the elongated Derby Trail, which turned into a minefield for several of the favorites. In just the past two weeks, previously unbeaten Nadal, his fellow undefeated Bob Baffert stablemate, Charlatan, and Wells Bayou all suffered various injuries knocking them out of the Derby.
Nadal was the points leader (150). Charlatan, sidelined with an ankle injury, had 100. Wells Bayou was fourth with 104. The Louisiana Derby champion exited the trail on Wednesday with bone bruising, according to his trainer, Brad Cox.
"These things can always be worse," Bell said. "We're grateful we've got the horse we have, and we can overcome this and still have the opportunity. We all understand these things and it's an unfortunate part of the game. The good news is everybody is going to be OK."