Despite a shooting slump from the Golden State's best shooters, Steph Curry and Klay Thompson (aka the Splash Brothers), the Warriors hold a 2-1 series lead over James Harden and the Houston Rockets.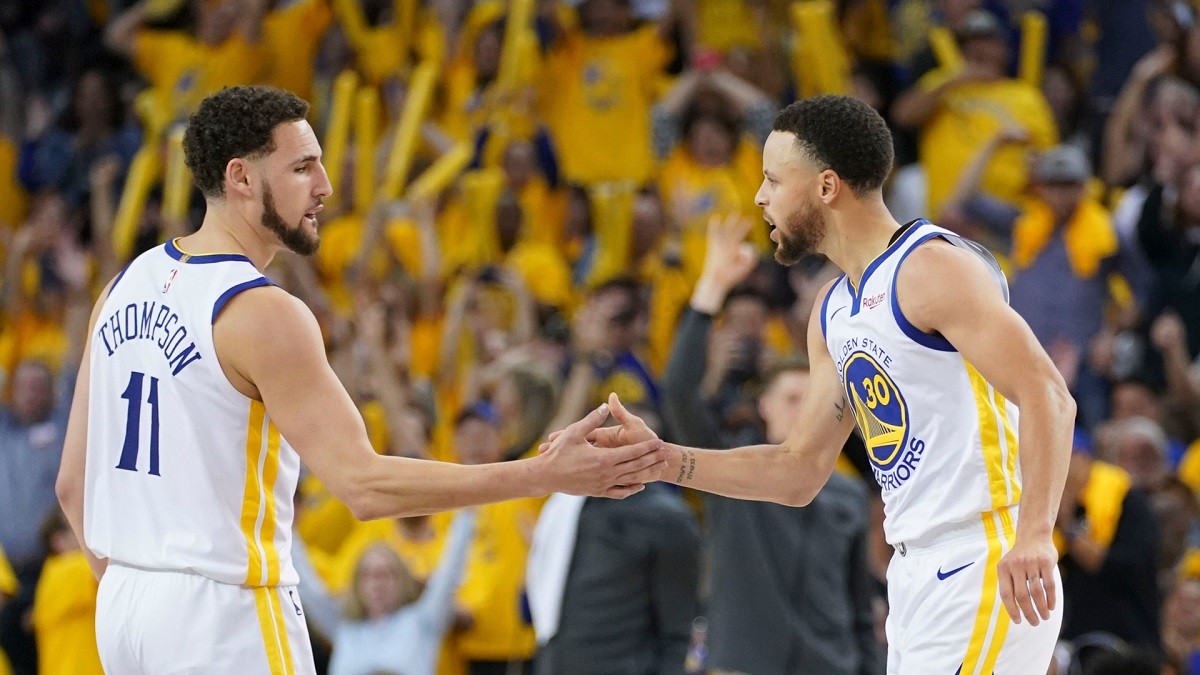 If you are a Golden State fan, then the good news is that as bad as their shooters shot from three-point land, they're still the team to beat out West. It took a nearly perfect game from James Harden, blurry vision in all, to win Game 3 with a 41-point outburst.
Although Klay Thompson has been super streaky over his career, Curry doesn't stay in a slump for extended periods of time.
"Steph responds to a bad game by usually having a good game," said head coach Steve Kerr. "He gets real competitive and real angry. He comes out with a lot of focus and fight, so that's what we're expecting."
During the first-round series against the LA Clippers, Thompson jumped into the Pacific Ocean in hopes of washing away a sluggish postseason start. The quick swim worked and Thompson had his best game of the postseason afterwards with a 32-point performance. However, he got back into a bad funk at the start of the Houston series.
In the Western Conference Semifinals against Houston, Curry is only 8-for-32 from downtown with a 25 percent success rate. In three games against the Rockets, Thompson is only 7-for-20 for 33.7 percent. Thompson hits approximately 42 percent of his treys for his career. The Splash Brothers are off, indeed.
Missed Dunks
Steph Curry dislocated his left ring finger in Game 2. The team doc popped it back it. Curry taped two fingers together and returned to action. However, he missed a lot of shots in the 6-point victory over the Rockets. Curry missed 10 shots, all of them from beyond the arc.
In Game 3, Curry scored only 17 points in the Warriors 5-point loss. Curry missed 16 shots including six three-pointers. He missed two free throws, which was rare. Curry also missed a wide-open dunk late in the game that could have changed the outcome.
Curry insists the dislocated finger is not the reason he's shooting poorly. Curry averaged 27.3 points per season for the Warriors with a 43.7 percent clip from three-point land. Curry has now gone 2-for-9, 3-for-10, and 3-for-13 in the first three games against the Rockets.
According to Kerr and Curry's teammates, he's due for a big game against the Rockets in Game 4.
Swimming with Klay
Klay Thompson set an NBA record earlier this season with 14 three-pointers in a game against the Chicago Bulls. The Warriors scored 149 points that night and Thompson dropped 52 points.
Thompson is streaky and he's been known to go cold for several games at a time. In nine playoff games, Thompson scored 13 or fewer points at least four times.
The Rockets are holding Thompson to 13.3 points per game. Over this past season, Thompson averaged 21.5 points per game. He's averaged 20 or more points the previous five seasons with the Warriors.
Thompson has not hit more than three treys in a game against the Rockets. Sure, Thompson knows he's the third option on the Warriors. Durant has been taking games over in the second half and Curry has been shooting a little bit more in hopes of shooting his way out of a slump. Thompson also desperately needs a slump buster, but he's more focused on winning the next game.
"We have an opportunity on Monday to take a commanding lead and we will if we do what we're supposed to do," said Thompson.
The Warriors would love for either of the Splash Brothers to bust out of their slump in Game 4.The bookies in Vegas still see the Warriors as the squad to beat with only eight teams remaining in the NBA Playoffs.