Sorare launched its previously announced Major League Baseball NFT-based fantasy game on Tuesday, allowing users to start collecting cards representing MLB players ahead of its first contests later in the week.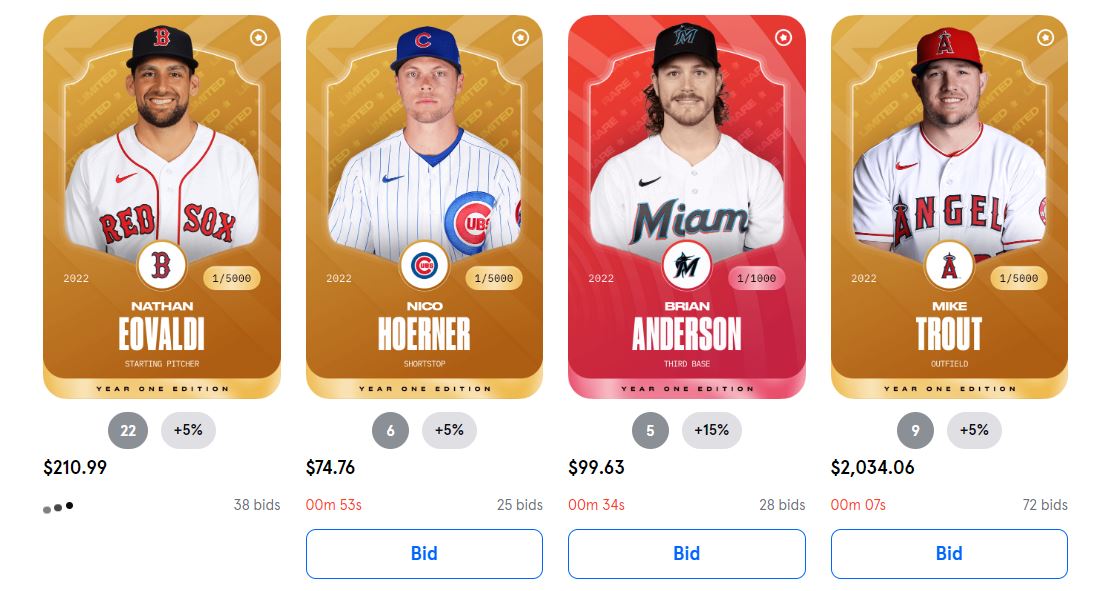 Players earn their first free player cards upon signing up for an account, all of which can be used in the initial fantasy contest starting on Friday.
Fantasy baseball with an NFT twist
All 13 free cards belong to the unlimited common tier – the only tier of cards eligible for the first fantasy contest, which runs from July 22-25. Users make lineups featuring two pitchers (a starter and a reliever), four hitters (a corner infielder, middle infielder, outfielder, and any one additional batter), and one flex position.
Points are earned similarly to other fantasy games, based on performance in real games. All users who submit a team for this first contest will earn at least another common card, with the top 750 users adding random limited cards to their collection.
That limited tier is where Sorare begins to generate revenue from its user base. When the Sorare MLB platform launched on Tuesday, the site began auctioning off additional copies of players throughout the league.
There are four additional tiers, beginning with Limited, which are minted to 5,000 of each player. Sorare MLB began by auctioning off the No. 1 serial of each player in alphabetical order by first name. While complete sales figures aren't available from the site, some Limited cards, including those of Mike Trout and Vladimir Guerrero Jr., fetched well over $2,000 at auction.
Sorare MLB auctions attract high prices for No. 1 serials
Additionally, 1,000 of each player are available at a Rare tier, with 100 at the Super Rare level. Sorare is also auctioning off 1-of-1 "Unique" NFTs, beginning with legends Albert Pujols and Miguel Cabrera.
While these NFTs may be collectable, Sorare designed them to be used for their games first and foremost. Cards at higher tiers earn more points than more common versions, and NFTs from the current season also earn a small bonus. Players can also "train" their cards to earn more points by using them in their lineups.
For the moment, at least, Sorare MLB is only offering additional cards as rewards for winners in its weekly tournaments. While NFTs that help users win will certainly add value, without cash rewards or other valuable prizes, collectability will ultimately be key to sustaining a strong secondary marketplace for users.
That hasn't stopped baseball fans from jumping on board. Auctions for individual cards are ending every few seconds, and throughout the day, prices have remained high, though the No. 1 serials sold for premium amounts. As of Tuesday evening, even most Limited cards of lightly regarded players were selling for $10 or more, with values for stars into the hundreds of dollars.
Sorare previously made a name for itself with its soccer (or football) NFT game. The company holds licenses with over 250 soccer clubs worldwide.