Slow Down Andy put two-time Kentucky Derby-winning trainer Doug O'Neill on a faster track for his third Derby title, capturing Sunday's Grade 3 Sunland Park Derby and taking the 50 qualifying points that go with it.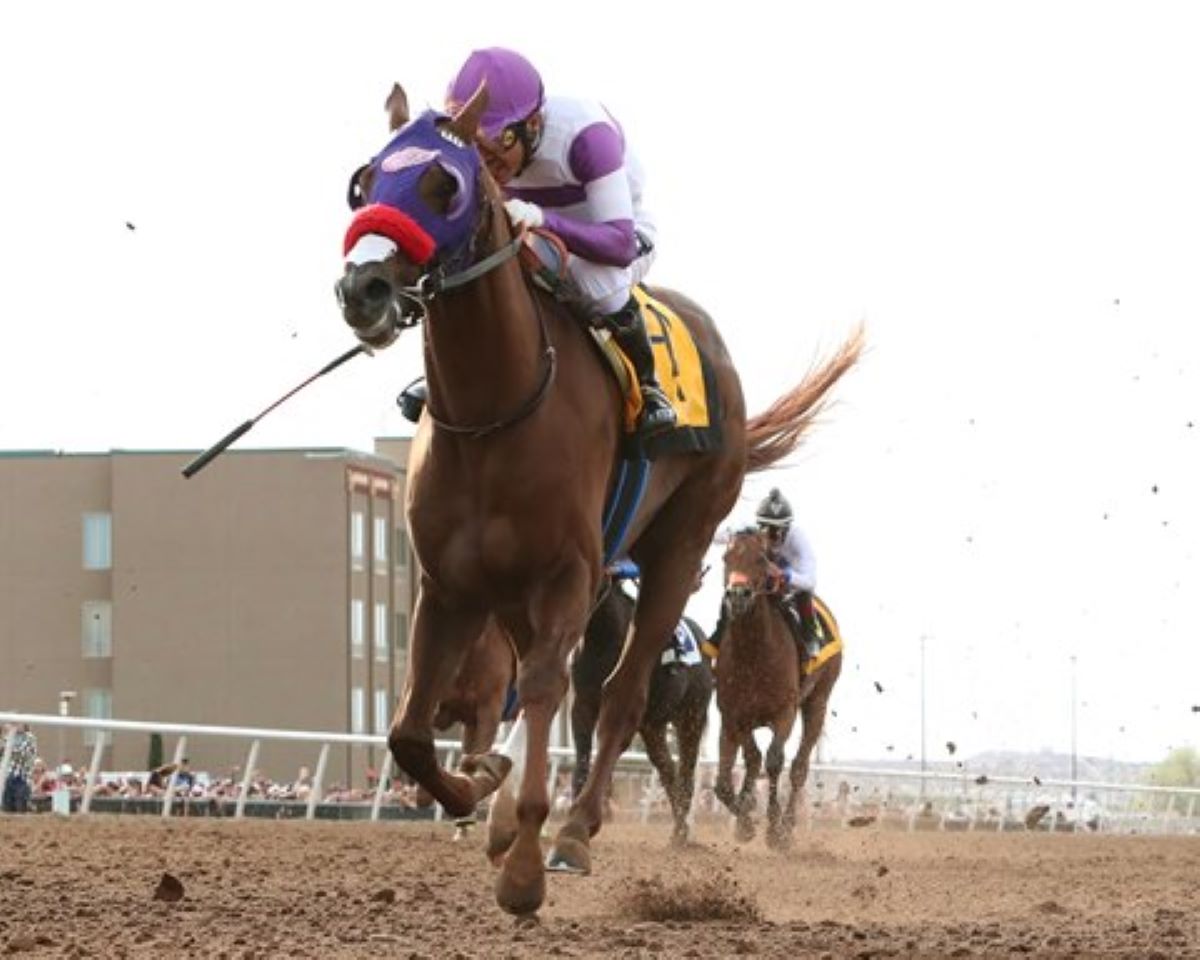 The half-length, come-from-behind victory over stretch leader Bye Bye Bobby brought 6/5 favorite Slow Down Andy to fourth on the Derby points ladder with 60 points. That's comfortably inside the unofficial 40-point threshold that often signals the cutoff for the 20-horse field.
Expect that field to shake up this weekend with three 170-point preps: the Florida Derby, Arkansas Derby, and the Jeff Ruby Stakes on Saturday's schedule.
In the meantime, Slow Down Andy won the first Sunland Derby since 2019. The southern New Mexico track canceled its previous two flagship events due to the COVID 19 pandemic. He did so wearing blinkers for the first time and, initially, dueling with Straight Up G, the colt owned by sports talk personality Jim Rome.
Straight Up G got straight up tired
That pair opened the first quarter in a quick 22.30 seconds. Slow Down Andy took the lead at the half-mile mark in 45.35. He clocked six furlongs in 1:09.50.
At that, Straight Up G — the 8/5 second choice — departed as a threat. He'd finish a tired seventh. Enter 5/1 Bye Bye Bobby, who went five wide coming into the stretch and took a brief lead. But Mario Gutierrez, aboard Slow Down Andy, pushed the Nyquist colt in mid-stretch. He responded with a rally that produced a nose victory.
Speaking of Nyquist, that colt was the second of O'Neill's two Derby winners when he captured the 2016 Run for the Roses. This year marks the 10-year anniversary of O'Neill's first Derby champion, I'll Have Another. O'Neill finished second with Hot Rod Charlie in last year's Derby.
Slow Down Andy wins second race in three starts
Slow Down Andy's victory helped cleanse his connections' collective minds of his last outing where he finished a non-factor sixth in the Grade 2 Risen Star at Fair Grounds. He finished 10 lengths behind winner Epicenter, who won Saturday's Louisiana Derby in record time.
Two months earlier, Slow Down Andy announced his Derby trail presence with a length victory over Messier in the Los Alamitos Futurity. With Messier's dominance coming out of that race, that victory looms larger with every passing day. Slow Down Andy is now 3-1-0 in five career starts.