He's currently ineligible to run in the Kentucky Derby, a factor Messier remained blissfully oblivious about on Sunday, when he destroyed his four other rivals by a record 15 lengths in the Grade 3 Robert B. Lewis Stakes at Santa Anita Park.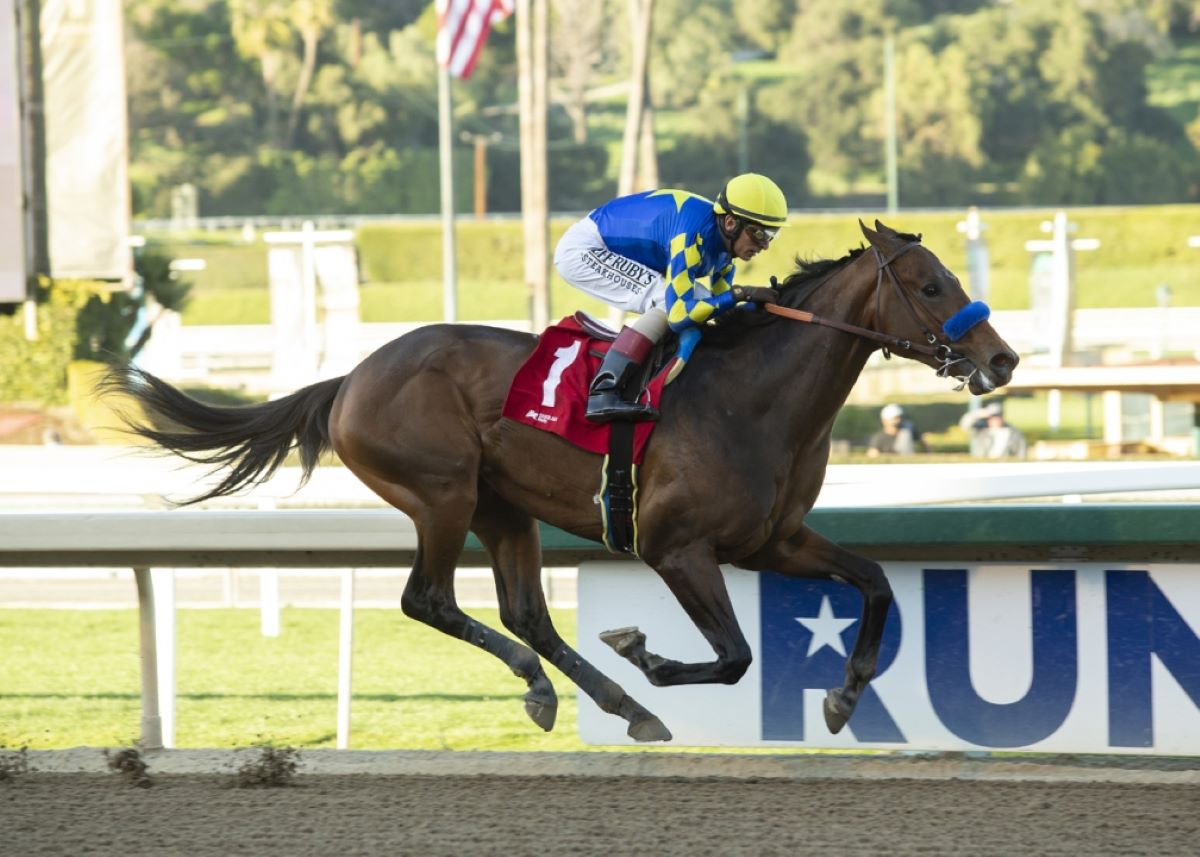 The fact the Bob Baffert-trained, Canadian-bred colt couldn't receive Derby qualifying points, courtesy of Churchill Downs' suspension of Baffert, didn't detract from one of the most dominant performances by any Derby trail contender.
Coming off a disappointing runner-up as the 1/2 favorite in the Los Alamitos Futurity, Messier shed his blinkers from that race. Then, he shed his competitors in eye-opening fashion.
"I don't think the blinkers would have hurt him or made a difference. It was just the way the race set up," jockey John Velazquez said after the race. "I'm in post one and I don't want to give the lead to them in front of me, then they slow down in front of my face and I can't get out of there, so I asked Bob, 'Bob, I'm going to come out running just to the first turn. I'm not going to chase them, but I'm going to let him get his legs underneath of him. If they want to go faster, they can go faster and I don't have to be on his mouth.' He said, 'No, do whatever you need to do.' It was a strategy that worked."
Messier teased the field until the stretch
Messier gained the lead going into the Club House turn and felt pressure from Sir London and Cabo Spirit down the backstretch of the 1 1/16-mile race. Coming into the far turn, Messier shed Sir London, but Cabo Spirit hung around within three lengths until the three-sixteenths pole. That's when Velazquez unleased gears heretofore unseen – and that was that.
That being that isn't as cut and dried as it may sound, however. Baffert's Churchill Downs suspension in the wake of the late Medina Spirit's positive drug test for betamethasone means that Messier isn't Derby eligible. Even there, as of Jan. 30, bettors have the Empire Maker colt 20/1 on Caesars-William Hill's Derby futures board. He's the fourth favorite on that board, behind Corniche (6/1), Jack Christopher (15/1), and Smile Happy (16/1).
Interestingly, Medina Spirit won this race last year in a photo finish over Roman Centurian and Hot Rod Charlie. And Baffert's 10th Lewis victory in a race named after a former owner-client of his had him grasping to comprehend what Messier did.
"Jim (assistant Jimmy Barnes) had Johnny work him for me once and he gave me some good input on him," Baffert said. "He's maturing. I could tell today that he's growing he's getting bigger. You could tell when I put the saddle on him. He looked incredible, he looked the part. There were some good horses in there, they were legitimate horses."
Not exactly a value play
Messier's legitimacy sent him off at 3/5, where he paid $3.20. It purged his runner-up finish to Slow Down Andy in the Los Alamitos Futurity. It gave him his second graded stakes victory. And it reminded observers and connections about the Messier who won the Grade 3 Bob Hope Stakes in November by seven lengths.
About the only thing it didn't do was set up Messier's next outing. Baffert said he wasn't sure where Messier and his 3-2-0 record in five races would run next.
"I don't know yet. It depends on my other horses to see how (they are)," Baffert said. "We have always gone with whoever is doing well that week (and he) gets on a plane or stays here. So right now, we will just enjoy this and I'm just happy to have a horse like this in my barn."
Cabo Spirit at 18/1 finished second and collected four Derby points. Baffert's Wharton ran a good trip for him to finish third.