What you saw at last year's Robert B. Lewis Stakes at Santa Anita Park was one of the best Kentucky Derby preps of 2021, starting with a coming-out announcement for one colt and further validation of his talent from another.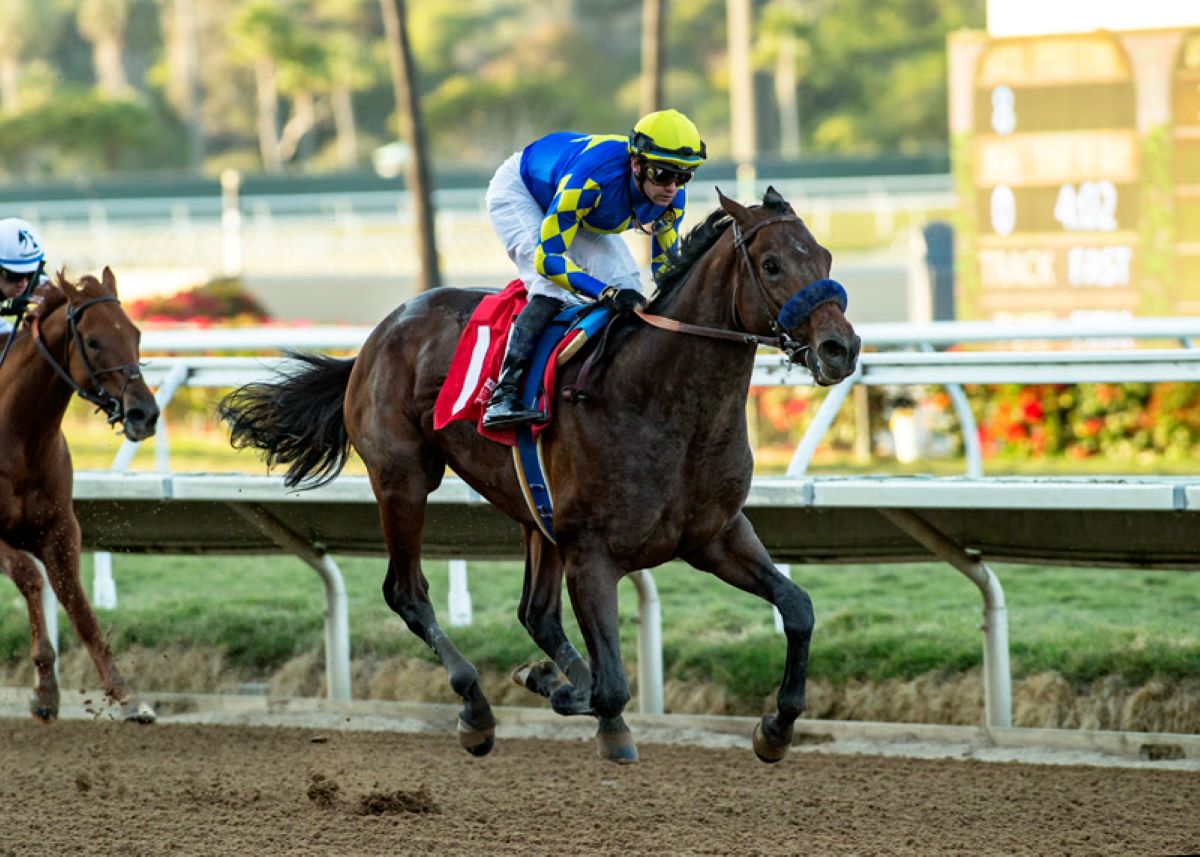 The coming-out announcement in the Grade 3 1 1/16-mile route came from Medina Spirit, who illustrated in 3D living color his simple refusal to lose once he brought a lead into the stretch. He turned back a furious charge from Roman Centurian and Hot Rod Charlie that brought the three to the wire almost simultaneously.
The photo finish revealed Medina Spirit winning by a neck over Roman Centurian, with Hot Rod Charlie sandwiched in between them. He finished a nose behind Roman Centurian, yet provided another example of why he would finish third in the Derby and second in the Belmont — along with winning the Louisiana and Pennsylvania Derbies.
That proved a nice foreshadowing into Medina Spirit's running style, a style that carried the late colt to the Kentucky Derby title. Put aside the betamethasone cloud and simply look at last year's Robert B. Lewis as an inkling into what we could see come May.
Pay attention to the Robert B. Lewis
That's because the Lewis is one of those Derby preps that does give you colts who factor into the Derby chase. Formerly the Santa Catalina Stakes before changing names to one of Southern California's most beloved horse owners, the Lewis sent three winners to the Churchill Downs winner's circle the first Saturday in May: Medina Spirit, I'll Have Another (2012) and Ferdinand (1986). Other winners of note include Pioneerof the Nile (2009), Artax (1998) and Sham (1973).
This year's Lewis gives you another Baffert Derby prospect: Messier. Your 6/5 morning-line favorite in the five-colt field, Messier is ineligible for the 10-4-2-1 Derby points at stake here due to Baffert's Churchill Downs suspension.
That, however, doesn't detract from the Empire Maker colt's considerable talent. He opened his career winning a six-furlong maiden in October, then captured the Grade 3 Bob Hope Stakes at Del Mar by 3 ½ lengths in November. That sent him to Los Alamitos as the 1/2 favorite in the Grade 3 Los Alamitos Futurity, but apparently Doug O'Neill's Slow Down Andy didn't get the memo. Slow Down Andy rallied on Messier's outside for a length victory.
Messier brings in form, an in-the-money record
With his 2-2-0 record in four starts, Messier's last three workouts have been stellar. Last time out Jan. 30, he covered five furlongs in 59.40 seconds, fastest of 72 at that distance. A week before that, came a 47.20-second four-furlong jaunt that was second of 114 at that distance. And the week before that work came a one-minute five-furlong work that was second of 50 at that distance.
Baffert's second candidate is 4/1 Wharton, who won his debut New Year's Eve at Santa Anita . But Messier's main threat figures to be Sir London (9/5). Trained by Simon Callaghan, who trained Roman Centurian, Sir London destroyed four others in a 10-length, maiden-breaking romp Dec. 4 at Los Alamitos. That came after a pair of runners-up finishes in sprints at Santa Anita and Del Mar.
The $700,000 Malibu Moon colt went off at odds-on in two of his three races, including 3/10 in his Los Alamitos win. He gets Flavien Prat back in the irons, who opted for Sir Winston ahead of Messier.
Grade 3 Robert B. Lewis Stakes/Santa Anita Park
Morning Line (Jockey/Trainer)
Messier, 6/5 (John Velazquez/Bob Baffert)
Sir London, 9/5 (Flavien Prat/Simon Callaghan)
Capo Spirit, 8/1 (Victor Espinoza/George Papaprodromou)
Wharton, 4/1 (Juan Hernandez/Bob Baffert)
Happy Jack, 6/1 (Abel Cedillo/Doug O'Neill)
Should you want to channel the O'Neill-trained Hot Rod Charlie here, the trainer offers you Happy Jack (6/1). The son of 2013 Preakness champion Oxbow, who is also Hot Rod Charlie's sire, Happy Jack broke his maiden Jan. 22 at 24/1. That six-furlong, 1 ¼-length victory came at the expense of Baffert's 7/10 favorite Bletchley Park. It also featured Happy Jack splitting two horses in mid-stretch, rolling home clear and galloping out strong.