Alabama hasn't been the underdog in a college football game since Oct. 3, 2015, but that's exactly the position the Crimson Tide will find themselves in on Saturday when they face No. 1 Georgia in the SEC Championship.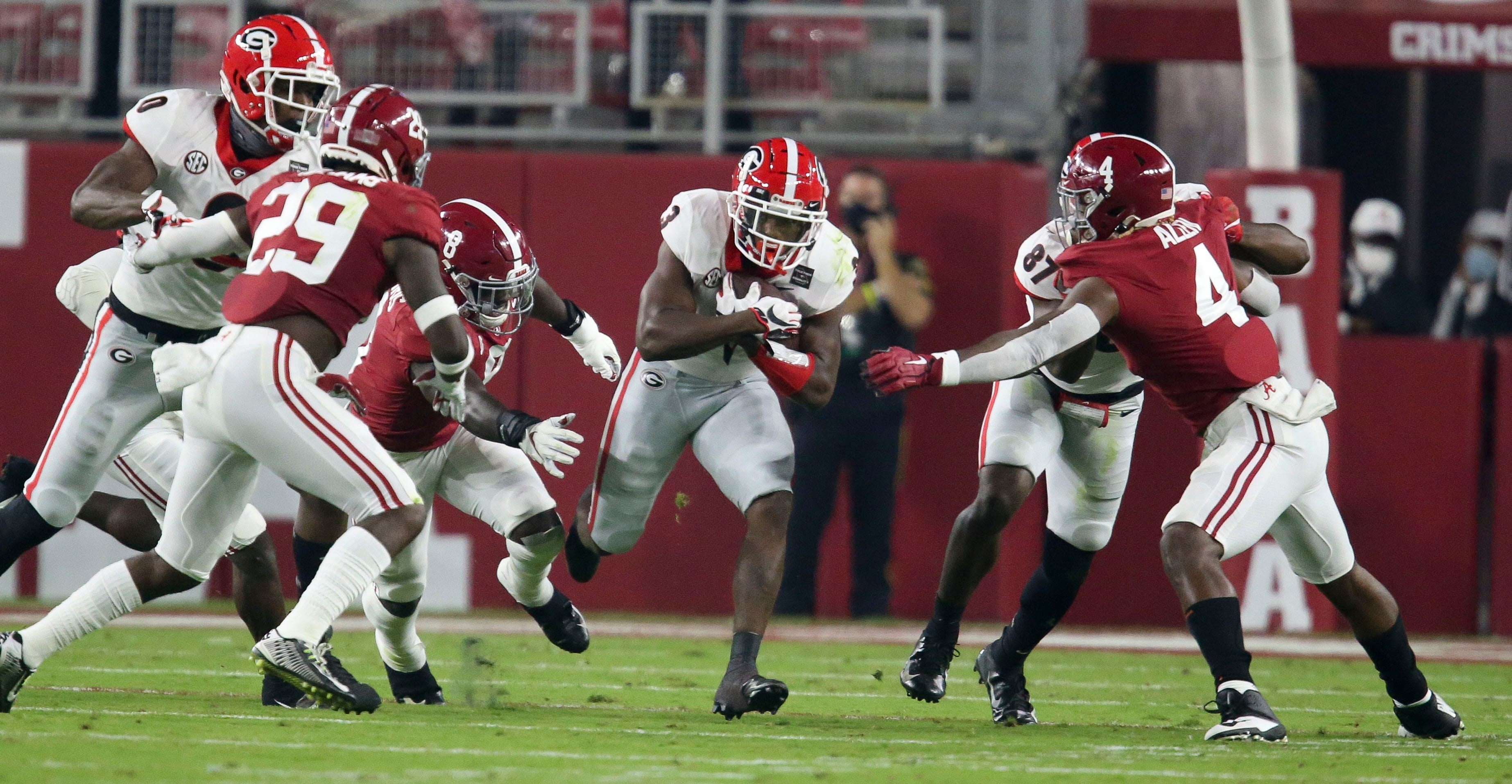 Georgia was also the last team to put Alabama in that position, as the Bulldogs were a one-point favorite over Alabama at home back in the 2015 season.
Dominant Georgia looks to remain undefeated
Alabama won that game, and then entered each of its next 92 games as the favorite. They had also come in as the favorite in their previous 72 games before that 2015 matchup.
In other words, the Crimson Tide aren't accustomed to being an underdog. And it's been a very long time since they've come into a game as such a clear underdog as they will for the SEC Championship.
While Georgia (12-0) has dominated its competition, Alabama (11-1) has barely avoided several losses this year. Most recently, the Crimson Tide needed four overtimes to beat Auburn (6-6) in the annual Iron Bowl matchup.
As a result, Georgia sits as a 6.5-point favorite over Alabama, according to FanDuel Sportsbook and most other oddsmakers. Yet, Alabama head coach Nick Saban says he didn't put his team through any extra preparation for this game, particularly not at the expense of their other opponents.
"We've had difficult games, so the only time that we've spent any time on a game like this would've been the bye week," Saban told Sports Illustrated. "Like, are we gonna take time away from preparing for the Auburn game or the LSU game or the Arkansas game – which were all tough games for us – because we're gonna play in some other game? So I've never really ever bought into that."
Saban: Must avoid negative plays in SEC Championship
Alabama may well have anticipated playing Georgia in the SEC Championship, as the matchup seemed nearly inevitable entering the season. If the Crimson Tide wants to compete with Georgia, they'll have to improve on an offense that has felt stagnant over the past few weeks.
"We need to run the ball better," Saban said. "We need to do a good job in pass protection. We can't have negative plays on offense and get behind the sticks because when you play a team like this, that's when they really can ramp it up on you because they can play the situation."
Georgia head coach Kirby Smart worked as an assistant for Saban from 2007 to 2015, spending most of that time as Alabama's defensive coordinator. Since taking over as the Georgia head coach, he's never beaten Saban – a streak he'll look to end in the SEC Championship.
While it will be all business on Saturday, Smart says he still enjoys the relationship he built with Saban.
"Coach and I are both very appreciative of our relationship," Smart told reporters. "He meant a lot in my career, as he has a lot of coaches out there. I think you appreciate the job he does more when you're gone than maybe when you were there."