Sports in 2018 was riddled with scandal in both college and professional ranks. Some of the offenders offered a mea culpa, while others denied, denied, denied.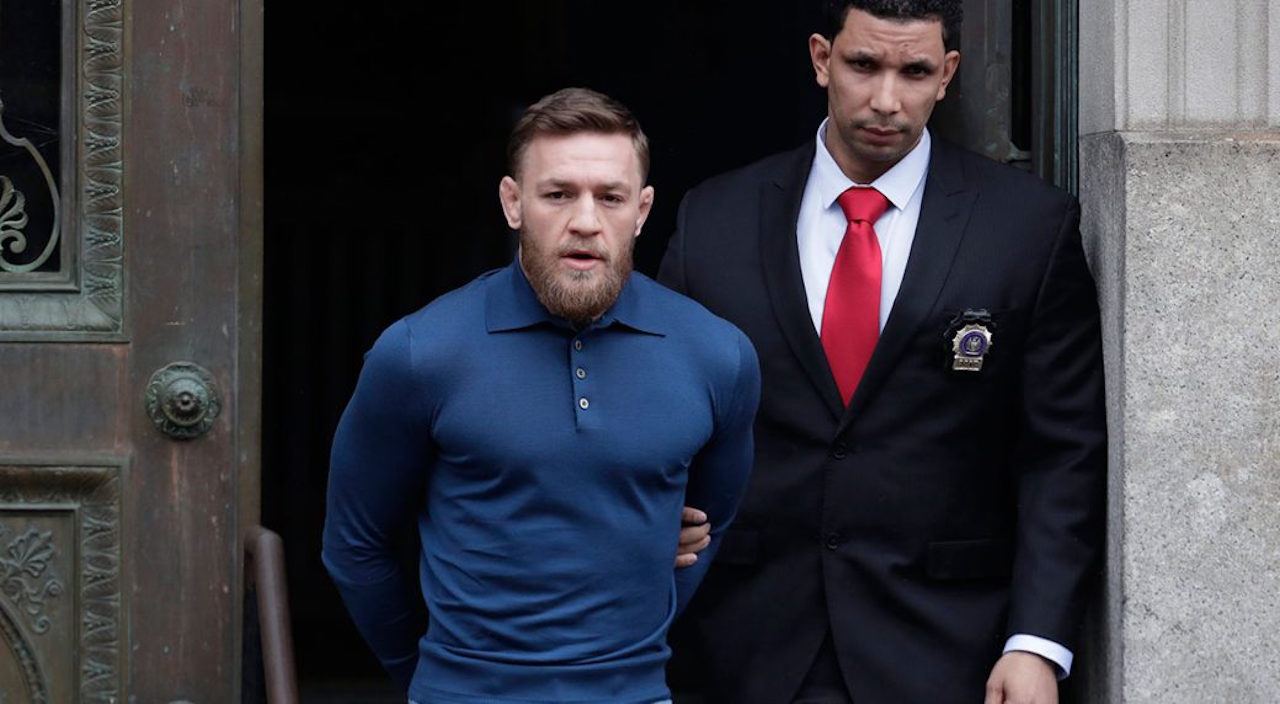 It was a year that saw one of the biggest names in fighting perp-walked in handcuffs, and a college basketball bribery scandal that will ultimately put 10 people on trial and cost a Hall of Fame coach his job. Other notable falls from grace in 2018 included an NBA executive and his wife engaged in unprofessional social media shenanigans, and a legendary head coach taking responsibility for handling domestic violence allegations less than admirably.
Read below for a recap of four sports scandals in 2018 that we all won't soon forget.
Black Eye for College Basketball
Some of the biggest college basketball universities, coaches, and blue-chip recruits were caught up in an FBI dragnet investigating possible bribery and corruption among the NCAA's ranks. The FBI announced its investigation in September of 2017, and the fallout continued into this year.
Basketball players were steered to certain schools by agents and shoe companies who paid the athletes for the commitment. Teams such as Duke, Kentucky, Michigan State, North Carolina, and Arizona, were mentioned in the FBI's report. Players identified included Michigan State's Miles Bridges, Duke's Wendell Carter, Jr., and Alabama's Collin Sexton.
Three of the 10 charged have already been found guilty of felony counts of wire fraud and conspiracy to commit wire fraud at an October trial. Adidas official James Gatto, former Adidas employee Merl Code, and Christian Dawkins, who formerly worked for NBA agent Andy Miller, were all expected to be sentenced next year.
Trials for the other seven, including former assistant coaches, Emanuel Richardson, University of Arizona, Auburn's Chuck Person, Oklahoma State's Lamont Evans and USC's Tony Bland will take place in 2019.
One person who was named, but not indicted, was Rick Pitino. Despite not being charged, he was fired from his job at Louisville and said that he has been able to find work since.
Twitter Burns Bryan Colangelo
It seemed like Philadelphia 76ers President of Basketball Operations Bryan Colangelo had a great job with an up and coming team that was poised to challenge for the Eastern Conference championship.
But the 53-year-old was caught in a social media scandal. The executive had been linked to five Twitter accounts that were used to disclose privileged information and launch disparaging attacks on Philadelphia players, coaches, and other NBA personnel.
At first he denied the accounts were his, then admitted that his wife had sent out the tweets. Bovada posted odds on whether he would be in his position by the start of next season. "No" was paying at 1/3, with "yes" checking in at 2/1.
He was forced to resign in June, and has not returned to any role in professional basketball.
Urban Meyer Suspended
Ohio State football coach Urban Meyer was readying his team for a run at a national title when he was caught in a controversy regarding one of his assistant coaches. He received a three-game suspension after an independent OSU investigation found that the second-highest-paid coach in the NCAA didn't adequately handle domestic abuse allegations against one of his assistant coaches, Zack Smith.
Meyer lied about his knowledge and then was forced to admit wrongdoing at a press conference after his suspension was announced.
"I am fully aware that I am ultimately responsible for this situation that has harmed the university as a whole and the department of athletics and our football program and Buckeye Nation," Meyer said. "I followed my heart and not my head. I fell short in pursuing full information because at each juncture I gave Zach Smith the benefit of the doubt."
The team went 3-0 in his absence, but lost its chance at a national championship when it lost to unranked Purdue.
Conor McGregor Gets Violent — Twice!
UFC's bad boy and part-time pugilist Conor McGregor had not one, but two scandals this year. The first was his participation in a April 5 melee in which he threw a metal dolly at a tour bus carrying rival UFC fighters at the Barclays Center in Brooklyn, New York.
The Irishman was charged with a felony, but lawyers worked out a plea deal with the Brooklyn district attorney's office, where he pleaded guilty to a misdemeanor charge of disorderly conduct. His agreement included five days of community service, attend anger management classes, and pay restitution to the bus company. He will not have a criminal record and his travel visa was not affected.
The second incident happened after his fight with Khabib Nurmagomedov at UFC 229 Oct. 6 in Las Vegas. Immediately after Nurmagomedov choked out McGregor to retain his lightweight belt, a brawl broke out. Both fighters received suspensions for their role, and Nurmagomedov's $2 million purse was withheld.