The 2022 Saratoga season opens Thursday with full barns, the full attention of horseplayers around North America, and a full roster of A-list trainers, jockeys, and horses. It also opens with a full level of optimism that always follows the sport to the upstate New York hamlet.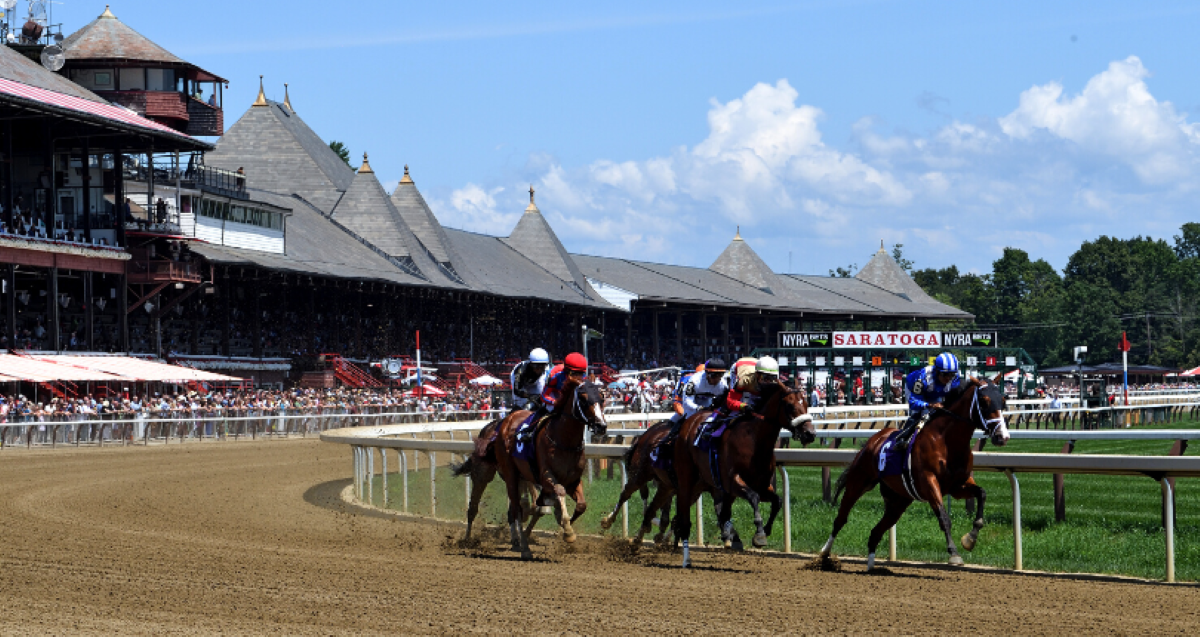 It's the New York Racing Association's showcase meet, the home of 77 stakes races worth $22.6 million over 40 days. It's also where 19 of those stakes are Grade 1s that go a long way toward defining who will win Eclipse Awards come next winter.
With numerous juvenile races, including this weekend's Grade 3 Sanford Stakes, Saratoga will also go a long way in defining who warrants Kentucky Derby 2023 attention.
This year, Saratoga's season comes down a chute. Literally. The return of the Wilson Chute, which allows the NYRA to card dirt races between seven furlongs and 1 1/8 miles. The chute, which gives jockeys and horses a straight shot before coming into the first turn, was scrapped for a parking lot after the 1972 season.
Brown, Pletcher remain the clutch conditioners
Six jockeys took the Wilson Chute on a test run Wednesday. They'll do it for real on Thursday in the inaugural Wilton Stakes, a one-mile dirt race for 3-year-old fillies. That's Saratoga's first one-mile dirt race in 30 years and one of 11, one-mile dirt races in Saratoga's first condition book.
There, you'll find three Todd Pletcher starters among the nine-filly field. Pletcher comes into the Spa looking for his 15th Saratoga training title. And you'd bet on him to do it if it wasn't for Chad Brown's barn. Brown comes into Saratoga as one of the hottest conditioners in the country. He captured Belmont Park's training crown with a record 47 victories.
He also arrives at Saratoga as the defending training king, owner of three of the last four Spa titles. The native of nearby Mechanicville, New York, may get off to a slow start given how well and how often his horses ran at Belmont Park. But Brown remains a prominent factor in his proverbial backyard.
Saratoga favorites do better than advertised
From a horseplayer's standpoint, what do you look for? Well, there's Saratoga's well-earned reputation as the "Graveyard of Champions." But according to Xpressbet's Jeremy Plonk, favorites win stakes races 38.5% of the time, well above the 33% traditional benchmark.
Plonk said they do so at average odds of 4.60/1. More than a fifth of the time (21%), Brown conditions them. And while Mike Smith doesn't often ride at Saratoga, when he does, he finds the winner's circle an amazing 40% of the time. Joel Rosario is a distant second at 20%, followed by Irad Ortiz Jr. (19%), Junior Alvarado (18%), and defending riding champion Luis Saez (17%).
Who will they be riding? Only most of the top horses in the country. Expect to see Life Is Good, Hot Rod Charlie, Olympiad, Jackie's Warrior, Bleeker Street, Jack Christopher, Early Voting, Rich Strike, Epicenter, Zandon, Charge It, Secret Oath, Letruska, Malathaat, Clairiere, Nest and Regal Glory.
We'll see the cross-breed Cross Country Pick 5 again
Horseplayers have several unique wagering opportunities awaiting them at Saratoga this year. The NYRA plans special wagers on Saratoga's big racing days.
Of course, the weekly Cross Country Pick 5 returns on most Saturdays. It will make special cameos on three Sundays: Aug. 7, Aug. 14 and Aug. 21. The Saturday, Aug. 6 Cross Country Pick 5 will be a cross-breed with the standardbred card on Hambletonian Day at Meadowlands Racetrack.
The NYRA Triple Play is also returning. That special Pick 3 wager was introduced at the just-concluded Belmont Park Spring/Summer Meet. It features a $3 minimum, a 19% takeout, and covers three specially selected races every Friday, Saturday, and Sunday at Saratoga.
Special Saratoga wagers go multi-race, multi-day
Along with those, the NYRA is introducing a Two-day Double that covers Saturday, Aug. 6, and Sunday, Aug. 7. It puts bettors to the test picking the middle legs of the Turf Triple Series: the Grade 1 Saratoga Derby Invitational on Saturday and the Grade 3 Belmont Oaks Invitational on Sunday. The bet comes with a $1 minimum and an 18.5% takeout.
The final special wager is a two-day Pick 6 that will be offered twice during the Saratoga meet on Friday, Aug. 26 through Travers Day, Saturday, Aug. 27. and Sunday, Sept. 4 through Monday, Sept. 5, Closing Day. That 20-cent minimum wager comes with a 15% takeout.
All of the special wagers come with a mandatory payout.
Last year, Saratoga set a betting record, taking in $815.5 million in all-sources handle. The optimism following fans and connections to Saratoga this year could put that in jeopardy.