Even with three Breeders' Cup "Win and You're In" Challenge Series events headlining Santa Anita Park's Autumn Meet opener, the iconic track's famous hillside turf course could seize the day's attention.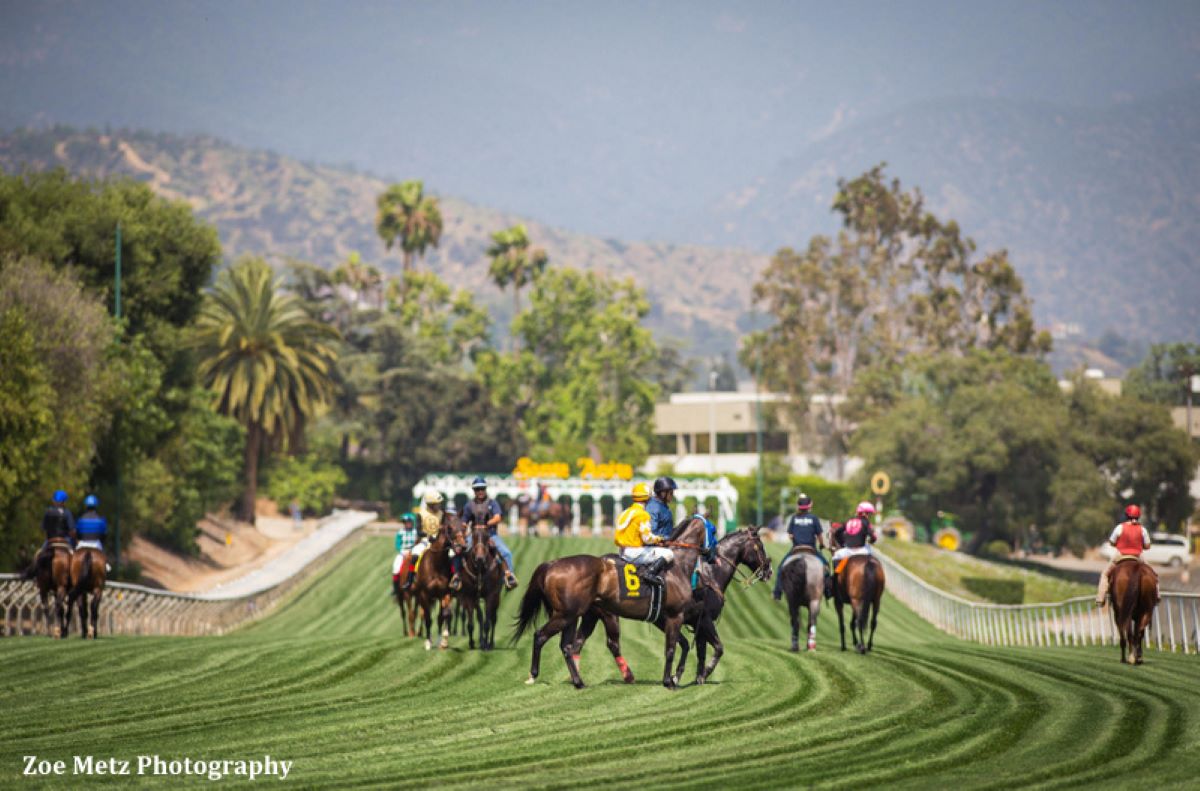 That unique and popular course returns to the forefront for the Friday, Oct. 1 opening day. It provides the picturesque venue for the $200,000 Grade 2 Eddie D Stakes, a 6 ½-furlong turf sprint honors legendary jockey Eddie Delahoussaye. The Hall of Fame rider made his riding bones at the Southern California track.
"Our fans, horsemen and Eddie Delahoussaye himself have told us they'd love to see a return to racing down this European-style course, which has been unique to Santa Anita for more than six decades," Aidan Butler, 1/ST's Racing's COO for Racing Operations told Santa Anita's Mike Willman. "The Eddie D will be one of four turf sprint stakes to be run on the Camino Real hillside turf course throughout our Autumn Meet."
Santa Anita's turf course is unique among American racetracks and a quirky feature of the track's nearly 90-year history. It takes competitors down a grassy, gradual hill — complete with both a right turn and a left turn — before sending them over an 80-foot portion of the main dirt track. Horses return to the turf at the top of the stretch.
Santa Anita hillside turf went on hiatus
Track officials closed the course after Arms Runner broke down running it during the 2019 Grade 3 San Simeon Stakes. The horse had to be euthanized. Last year, Butler intimated it could reopen for "special purposes." In the meantime, last fall, track officials unveiled a new turf chute that produced more options for racing secretary Chris Merz in terms of writing different turf sprint distances.
The Eddie D isn't the only hillside turf sprint running on opening weekend. On Sunday, Oct. 3, the $75,000 Unzip Me Stakes sends its 3-year-old fillies 6 ½ furlongs down the hill.
Phasing the unique course back into the mix
Two other stakes races, both for Cal-breds, are slated for the hillside turf course during Santa Anita's 16-day Autumn Meet. Those are the $100,000 California Distaff Handicap on Oct. 16 and the $100,000 California Flag Handicap the following day. Willman said in a statement that selected allowance races will also use the hillside turf course during the meet.
Santa Anita's Autumn Meet opening weekend (Oct. 1-3) features 14 stakes races. With opening weekend a month before the Breeders' Cup at Del Mar, seven of those stakes races are Breeders' Cup Challenge Series events. Those races give their winners all-expense-paid berths in various Breeders' Cup races.