Magnus Carlsen won all three of his games on Wednesday to grab an early lead in the Saint Louis Rapid & Blitz chess tournament.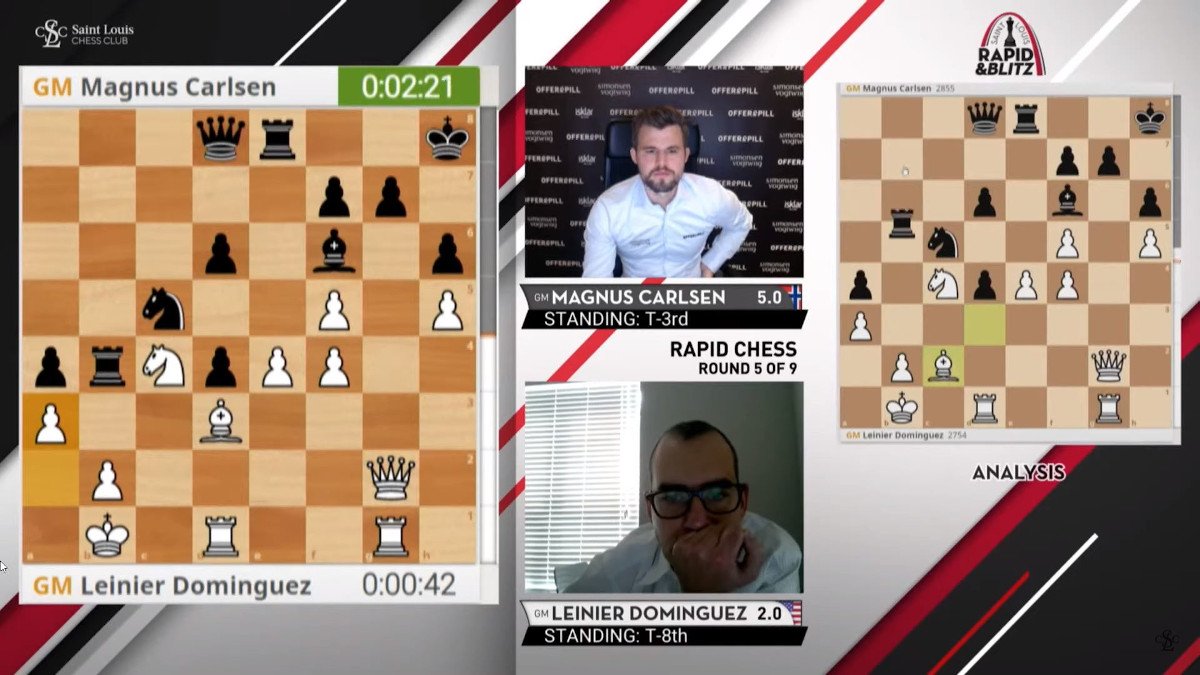 Carlsen scored nine of a possible 12 points after two days of play in the tournament, which organizers moved online due to the COVID-19 pandemic.
Carlsen Bounces Back from Disconnection
The Saint Louis Rapid & Blitz features a mixed format with a modified scoring system. The 10-player field will first compete in a round-robin of rapid chess games over three days, with a time control of 25 minutes, plus five seconds per move. That's followed by a blitz double round-robin over the final two days of the tournament, featuring five-minute games with a three-second increment.
Round 6 results and pairings. Magnus Carlsen is now the sole leader of the tournament #STLRapidBlitz pic.twitter.com/dLNz0dMLUc

— Saint Louis Chess Club (@STLChessClub) September 16, 2020
Players earn the standard one point for a win and half-point for a draw during the blitz portion. But players get double points during the rapid portion: two points for a win, and a full point for a draw.
Carlsen began the tournament on a strong note Tuesday, beating his speed chess rival Hikaru Nakamura with Black. The world champion struggled for the remainder of Day 1, losing to Ian Nepomniachtchi and drawing against Wesley So. But wins over Levon Aronian, Leinier Dominguez Perez, and Pentala Harikrishna pushed Carlsen into the lead, one point ahead of Nepomniachtchi and So.
Carlsen found the loss to Nepomniachtchi particularly hard to swallow given that it came because of an internet disconnection rather than anything that happened on the board.
Magnus Carlsen loses due to disconnection #STLRapidblitz pic.twitter.com/5r4lYA4WDD

— Saint Louis Chess Club (@STLChessClub) September 15, 2020
"I was obviously very upset yesterday," Carlsen said on Wednesday. "My main prep today was just making sure there were backups, backups, and more backups in terms of internet."
Magnus Looks to Avoid Clippers' Fate
The Day 2 results leave Carlsen in a familiar position at the top of the standings. But the 29-year-old Norwegian admitted he's still not all that comfortable out in front. When GM Maurice Ashley – serving as a commentator for the Saint Louis Rapid & Blitz – compared the situation to the Clippers' 3-1 lead over the Nuggets in the NBA playoffs, Carlsen agreed that it can be a tough spot.
"I would say I still haven't figured it out," Carlsen said. "I see a lot of other guys in tournaments that when they're way up in the standings in these rapid and blitz events, then they sort of freeze. That's about what I can say. My best advice is: just don't mess up at any point, and you will be fine. I'm telling you, as soon as you start messing up, it's a slippery slope."
Levon Aronian sits in fourth place with seven points, with Harikrishna (6/12) in fifth. Nakamura, Alexander Grischuk, and Jeffery Xiong all follow close behind with five points.
---
Saint Louis Rapid & Blitz Odds (Overall Winner)
Magnus Carlsen: -250
Ian Nepomniachtchi: +700
Hikaru Nakamura: +800
Wesley So: +900
Levon Aronian: +1100
Alexander Grischuk: +3000
Leinier Dominguez Perez: +4000
Alireza Firouzja: +5000
Pendyala Harikrishna: +5000
Jeffery Xiong: +10000
Odds via Unibet
---
Online bookmaker Unibet sees Carlsen as a -250 favorite to win the Saint Louis Rapid & Blitz, with Nepomniachtchi (+700) and Nakamura (+800) representing his most likely challengers. Unibet has also posted odds for just the blitz portion of the tournament, with Carlsen listed as a -155 favorite. Nakamura sits as the second choice with generous +400 odds, considering the American's well-known skills in blitz chess.
The 10 grandmasters are competing for $250,000 in prize money, with the overall winner taking home $50,000.