The NFL season reached its midway point, and quarterback Sam Darnold has made the biggest impact out of his rookie contemporaries by starting all eight games for the New York Jets.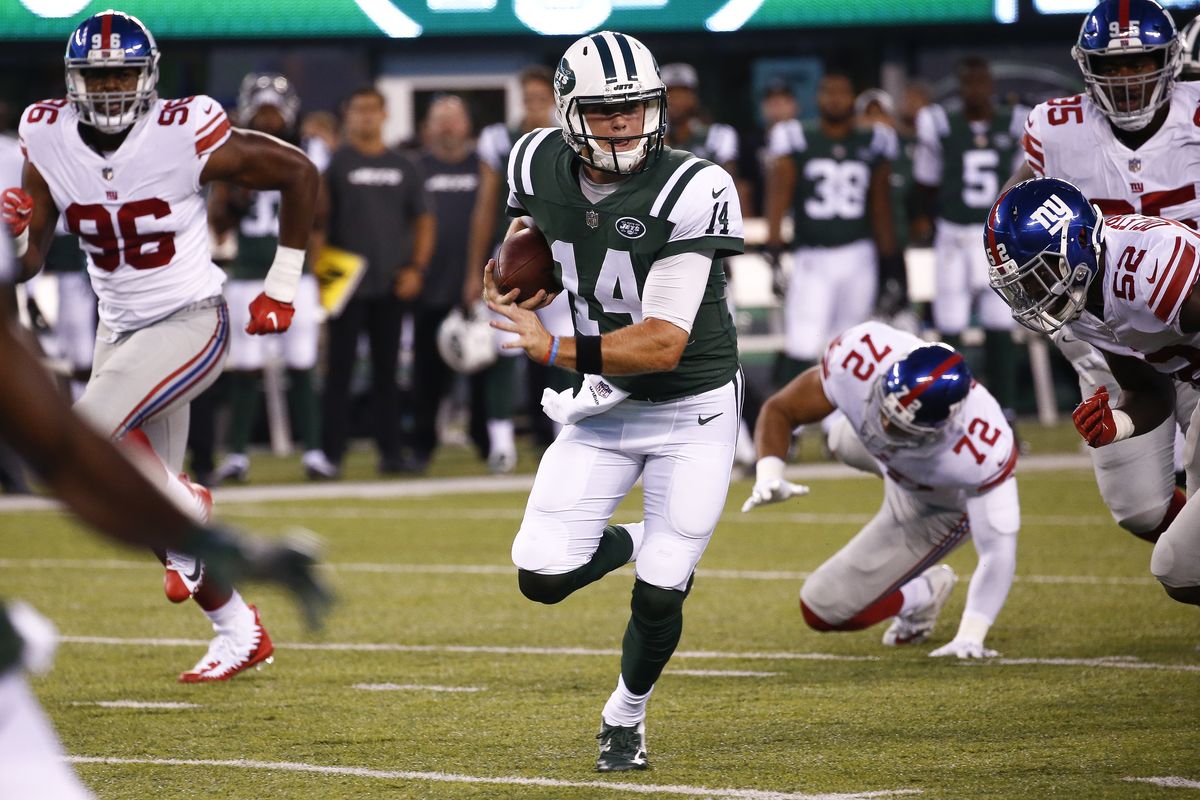 Darnold, along with Baker Mayfield from the Cleveland Browns and Josh Rosen from the Arizona Cardinals, are among the rookie quarterbacks from the 2018 NFL Draft who are currently starting for their respective teams.
Sam Darnold (NY Jets)
The New York Jets gambled when they traded up in the NFL Draft to acquire the #3 pick. The Jets drafted Sam Darnold from USC, who impressed everyone from the moment he showed up in training camp. By the end of the preseason, head coach Todd Bowles named Darnold the starting QB over Josh McNown.
Darnold is the only rookie who has started every game for his team. Through eight games, Darnold leads all rookies with 10 touchdowns but he's also thrown 11 interceptions. He has only a 55 percent completion rate but leads all rookies with 1,705 passing yards.
His best game of the season was a three-touchdown performance in a win against the Denver Broncos.
So far, Darnold's season has been riddled with up and down inconsistencies, but that might be more of a byproduct of the Jets ineptitude than his execution.
Baker Mayfield (Cleveland Browns)
The Cleveland Browns selected Oklahoma's Heisman winner with the top overall pick in the NFL Draft. Although Mayfield did not start the season, he came in a relief situation during a Monday Night Football game against the Jets, and led a Browns comeback for their first win in what seemed like forever.
Since that magical night in Cleveland, however, Mayfield struggled to stay consistent. He's only completing 58.3 percent with 6 interceptions.
Mayfield started the last five games for the Browns. Overall, Mayfield has thrown 8 touchdowns and has 1,471 passing yards.
Show up for the @bakermayfield TD dime, stay for the @David_Njoku80 stomp ??#CLEvsTB | #Browns

(via @NFL)pic.twitter.com/EjF7EhxGVM

— Yahoo Sports NFL (@YahooSportsNFL) October 21, 2018
Josh Rosen (Arizona Cardinals)
Josh Rosen threw two touchdowns including the game-winner as he led the Cardinals to a fourth quarter comeback to secure their second win of the season.
In a game that was the battle of the NFC West basement, the Cardinals hosted the San Francisco Niners. The Niners blew a lead and Josh Rosen engineered a successful two-minute drill that ended up with a touchdown. With 34 seconds remaining, Rosen hit Christian Kirk for a touchdown in the back of the end zone. That performance was the type of clutch quarterback the Cardinals hoped they drafted. They just had not seen it until Week 8.
Rosen had a chip on his shoulder when he wasn't drafted higher and he slipped to #10 overall. The UCLA QB did not hold back on his real feelings on draft day.
"Thought I should've been picked at 1, 2 or 3. But dropped, and I was pissed," said a candid Rosen. "Really, really angry. I wasn't really showing it. I was trying to keep calm, cool, composed. But I thought I was going to get picked, and I thought I was going to have to put on a face and try and fake happiness. But for some reason, right when I got that call, that's not what happened. I got really happy and really motivated."
So far this season, Rosen started in five games. He threw 5 touchdowns and 6 interceptions. He's only completing 55.6 percent of his passes.
.@Josh3Rosen to @ChristianDavon2 and the @AZCardinals have the lead! #SFvsAZ #BeRedSeeRed

?: FOX pic.twitter.com/CaNywKtDn0

— NFL (@NFL) October 28, 2018
Josh Allen (Buffalo Bills)
The Buffalo Bills selected Josh Allen from Wyoming with the seventh overall pick. Allen started a couple games when it was evident he was the best QB out of the trio of bad QBs in Buffalo.
In five games this season, Allen threw 2 touchdowns and 5 INTs. He's only completing 55 percent of his passes.
Allen led the Bills to an upset win over the Minnesota Vikings and he tossed a touchdown in that surprise blowout. Aside from that lone highlight from the season, it's been a rough ride in Buffalo for the 1-6 Bills.
Lamar Jackson (Baltimore Ravens)
Lamar Jackson from Louisville was picked in the first round with the #32 overall selection by the Baltimore Ravens. He's the only QB selected in the first round who has not started a game this season.
Jackson is a backup to Joey Flacco, but he has seen limited action in short yardage situations. Jackson tossed his first career-touchdown during garbage time in the fourth quarter of a blowout loss to the Carolina Panthers. He finished 4-of-5 for 46 yards.