If you can read John Elway's mind, then we have a quarterback prop bet for you. The SuperBook Colorado posted a prop bet, and it looks like last season's starter Drew Lock, or a soon-to-be drafted rookie, are the favorites to start at QB for the 2021 Denver Broncos.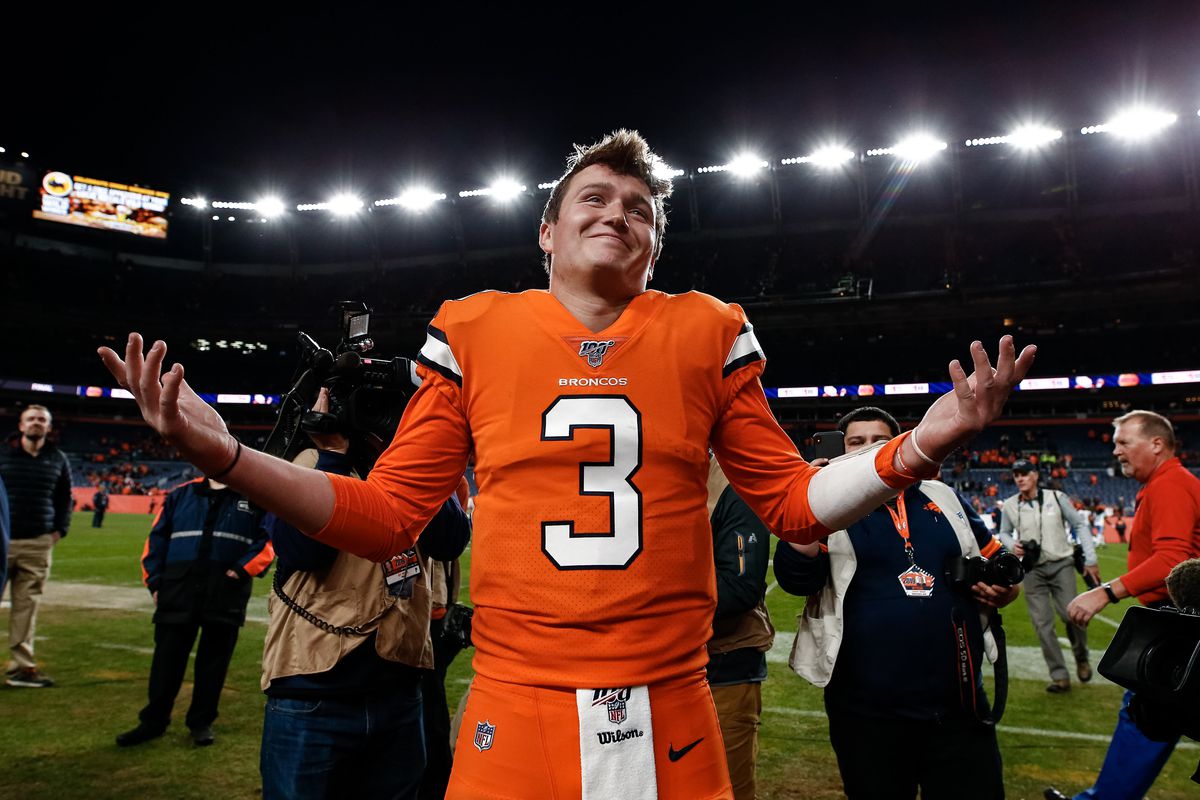 Elway, the Broncos' general manager, fielded a few calls for Lock, which means that the Broncos could trade the QB and make a move for another gunslinger. But who?
Teddy Bridgewater (Carolina Panthers), Sam Darnold (New York Jets), Deshaun Watson (Houston Texans), Cam Newton (New England Patriots), and Ryan Fitzpatrick (Miami Dolphins) were also starting quarterbacks from last season who all made it on the Denver Broncos QB prop list.
---
Prop Bet: Broncos Starting QB in 2021
Drew Lock +120
Rookie +120
Sam Danrold +2000
Teddy Bridgewater +4000
Brett Rypien +4000
Deshaun Watson +5000
Jacoby Brissett +5000
Cam Newton +10000
Ryan Fitzpatrick +30000
---
Brett Rypien started one game for the Broncos last season as an undrafted rookie out of Boise State. Rypien could win the Broncos starting job in training camp, but he's a long shot at +4000 odds.
But I know what you're thinking … where's Tim Tebow? The New York Mets recently released Tebow, so he's no longer an aspiring major league baseball player. He's out of a job. Could he be persuaded to return to the gridiron?
Who will take the first snap in Week 1 for Denver? @SuperBookCO 🤔

Now available to wager at https://t.co/DiaxTylwgT 🏈 pic.twitter.com/MjpT15fWij

— SuperBook Sports (@SuperBookSports) February 26, 2021
Darnold 2.0, Bridgewater Moves Again
The New York Jets recently hired Robert Saleh as their new head coach. Saleh is one of the reasons why Watson showed a strong interest in the Jets, who have a couple of different paths they could take with the future of the franchise. But, they'll have to make a decision before the upcoming 2021 NFL Draft.
The Jets have the #2 pick and they could pin their future on either Justin Fields or Zack Wilson. Or, they could stick with Darnold and use the pick to build a better team around him. Or, they can go all-in on Watson.
There's a good chance Darnold won't play for Gang Green next season. The New England Patriots, Washington Football Team, and Denver Broncos are all interested in Darnold. Of course, Jets fans would revolt if Bill Belichick wins a future Super Bowl with Darnold, who resurrects his career in New England after Adam Gase left him dead at the side of the road.
Right now, you can back Darnold to play for the Broncos at +2000 odds.
The Carolina Panthers would like to entertain other options at quarterback after they saw Teddy Bridgewater for a full season. That means Bridgewater will be looking for a new job, but he could find a good home in Denver if the Panthers don't trade him and a slew of draft picks to the Houston Texans for Watson. The prop bet for Bridgewater playing in Denver next season pays out +4000.
Watson in Colorado
The Broncos would love to have a shot at the Deshaun Watson sweepstakes, but they look like they're the fourth or fifth team in a long line to acquire the disgruntled Houston Texans quarterback in a trade with an organization that's hell-bent on retaining him.
Watson indicated that the New York Jets, Miami Dolphins, and Carolina Panthers are his preferred destinations next season, but the Broncos are also on his shortlist. The Broncos don't have as much draft capital to play with as do the Jets or Dolphins, but a quarterback of Watson's caliber is too good to pass up. The SuperBook Colorado listed Watson as one of the QB prop bet long shots.
Long Shots: Cam, Brissett, and FitzMagic
Cam Newton is a free agent after completing a one-year deal with the Patriots. He still has gas in the tank, and even survived a full season without any serious injuries. In 15 games, Newton threw only eight touchdowns, but he rushed for 12.
If Washington can't find a quarterback, there's a good chance that Newton links up with his former head coach. Riverboat Ron Rivera and Newton had a long history in Carolina together. Beltway insiders think Washington's next QB will be either Newton or Darnold. That's a wacky coin flip, any way you cut it.
Jacoby Brissett is also a free agent. He backed up Philip Rivers last season after he lost his starting job. Brissett started 15 games for the Colts in 2020 after Andrew Luck abruptly, and reluctantly, retired. He tossed 16 touchdowns and rushed for four more. He tossed just six interceptions, and fell just short of 3,000 passing yards.
Did someone say FItzMagic? The Miami Dolphins are #2 on the list for Watson's trade destinations. The Fins aren't completely sold on Tua Tagovailoa, who started his rookie season as the backup to Fitzpatrick before the team decided to toss Tua into the deep end of the pool. There's an outside shot Fitzpatrick stays in Miami to mentor Tua if they whiff on Watson.
But, perhaps, Elway will get a hankering for FItzMagic and decide to take a flier on the Ivy League journeyman QB.