Bob Baffert is sending three of the five starters out for Saturday's Grade 2 Chandelier Stakes at Santa Anita Park, but make no mistake as to which Baffert bears attention: precocious Princess Noor.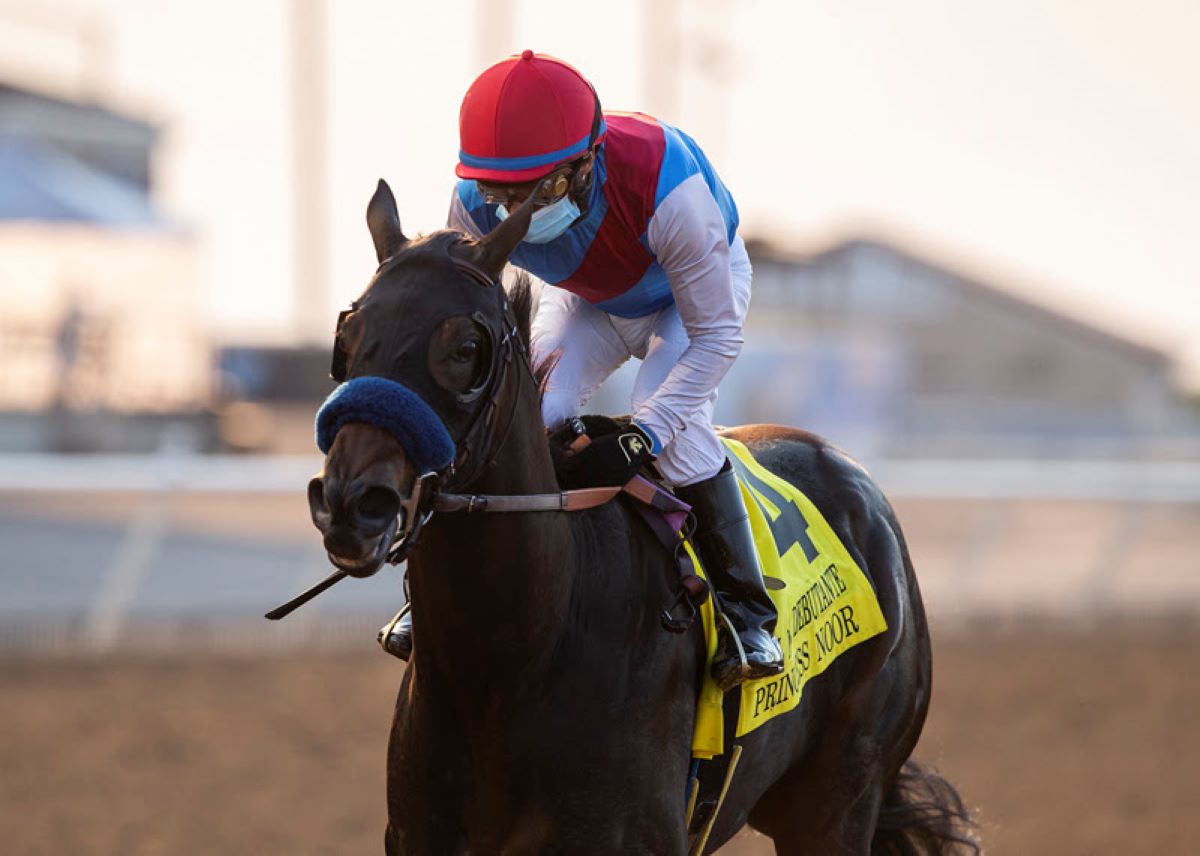 The Chandelier is one of seven stakes on Santa Anita's packed Saturday card. It sends the five 2-year-old fillies 1 1/16 miles around Santa Anita's main track with an all-fees-paid spot in the Breeders' Cup Juvenile Fillies at Keeneland awaiting the winner.
Eleven times, that's been Baffert, meaning that he's won the Chandelier more than 20% of the time it ran. And Baffert's bid for an even dozen Chandeliers in the 52nd edition of the race couldn't be stronger.
We're not talking about the proverbial "other Bafferts." Those would be Illumination and Varda. They're playing a necessary role as the lesser bulbs in this Chandelier.
Talent Abounds, Betting Value Disappears
The brightest 2-year-old bulb in Baffert's barn is Princess Noor. She captivated horse fans even as she frustrated bettors with her plunging value. This is what dominant horses do, even when they're only juveniles. They impress you with their talent as they depress you with their lack of value.
Case in point: the Sept. 6 Grade 1 Del Mar Debutante. As debutante appearances go, this one was a home run in any society. Going off as the 3/5 favorite in the seven-furlong jaunt, Princess Noor destroyed her five rivals by 6 ½ lengths. One of those hapless rivals was Illumination, who finished third by 8 ¾ lengths.
That, even as jockey Victor Espinoza pulled Princess Noor up over the last sixteenth, and even as she survived a steward's inquiry. Princess Noor and second choice My Girl Red bumped each other coming out of the gate. Nothing came of the incident and Princess Noor brought home a check for $150,000.
This Princess Came With a Royal Price Tag
Along with her first graded stakes victory in her first graded stakes outing, that kicked Princess Noor's earnings to $183,000 in two races. That's a nice opening down payment on the $1.35 million Saudi businessman Amr Zedan paid for Princess Noor in the April Ocala 2-year-old In Training Sale.
Zedan's wife, and the filly's namesake, is Princess Noor of Jordan. She is the great-granddaughter of King Abdullah I of Jordan.
"We knew going in she was a special filly," Baffert told Del Mar's media relations department over the phone from Kentucky while shepherdeding Authentic to his Kentucky Derby victory. "She showed so much brilliance at the sale – that's why she cost so much – and we got what we expected to see today."
Princess Noor Earned Her Name
That would be Baffert's ninth Debutante victory, again, illustrating his wizardry with more than 3-year-old Kentucky Derby contenders. Meanwhile, Princess Noor's 96 Equibase Speed Figure in the Debutante represented a 12-point bump from her 84 in an Aug. 22 maiden special weight at Del Mar. There, Princess Noor dismissed her rivals by 2 ½ lengths over 5 ½ furlongs – again at 3/5.
Perhaps now, the human Princess Noor is fine with the equine Princess Noor bearing her name. Zedan told the Thoroughbred Daily News that he had the name in mind before officially naming her.
"I wanted to name the filly after my wife, but she got upset. She said that was kind of tacky," Zedan told TDN.