The first round of the NBA Playoffs continues in the wooly and wild Western Conference. The #3 Denver Nuggets are on the brink of elimination and down 1-3 against the Utah Jazz. The #7 Dallas Mavericks tied up their series in Game 4 when a banged-up Luka Doncic and a Unicornless squad pulled even with the #2 LA Clippers.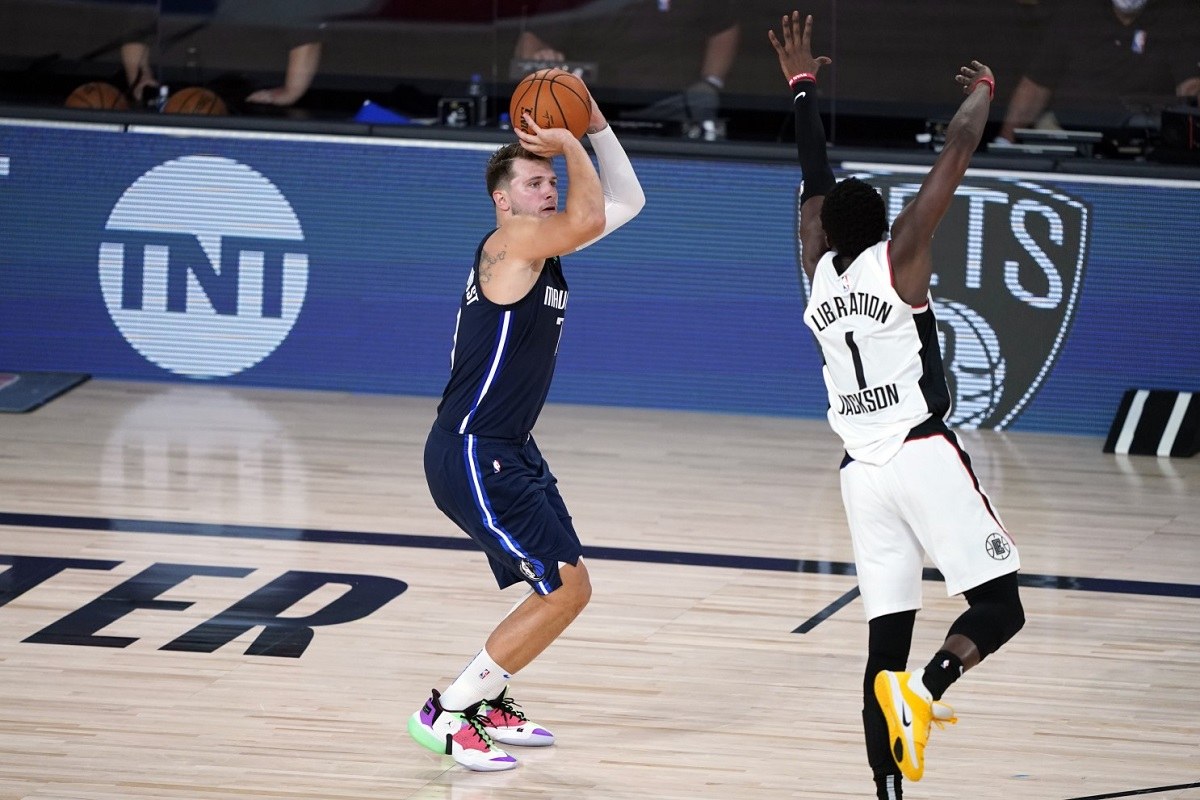 Doncic won Game 4 in overtime on a 3-point dagger that everyone has been talking about nonstop since it happened on Sunday afternoon.
With the series tied at 2-2, the Clippers seek to regain the lead heading into Game 5. Oddsmakers pegged the Clippers as a 7-point favorite.
---
NBA PLAYOFFS LINES 8/25/20
Utah Jazz -3 at Denver Nuggets (o/u 220)
LA Clippers -7 vs Dallas Mavericks (o/u 234.5)
---
After the Nuggets won Game 1 in overtime, they dropped three in a row to the Jazz. Utah now holds the upper hand in that series, and they're only one win away from advancing to the Western Conference semifinals.
The Jazz narrowly defeated the Nuggets 129-127 in Game 4. If the Nugs pulled off the comeback, this series would be tied and have a different vibe. After the 2-point loss, it's officially desperation time for Denver.
The Nugs must focus on two things to win Game 5: 1) defense and 2) someone to score aside from Nikola Jokic and Jamal Murray.
Denver Do or Die Game 5
Donovan Mitchell unleashed the "Spida" once again. The Jazz's All-Star guard tallied his second 50-plus performance of the series with 51 points in Game 4. Mitchell joined Michael Jordan, Wilt Chamberlin, and Allen Iverson as the only players to drop 50-plus in two or more playoff games in the same postseason.
"I love hearing negative things about me," said Mitchell. "The knock on me has been inefficient, not a team player. I pride myself on being a team player. People are going to say what they say. You can't please everybody. For me, it's how can I help my team win? Tonight, it was scoring 50. Some nights it's not."
Mike Conley, in only his second game back in the NBA playoffs bubble since the birth of his son, added 26 points for the Jazz.
After lackluster performances in the previous two games, Murray exploded for 50 points in a Game 4 loss, including 11 rebounds and seven assists.
"He put his fingerprints all over the game with scoring, rebounding, play-making," said Denver coach Michael Malone.
Jokic added 29 points for the Nugs, despite struggling with a 3-for-10 clip from 3-point range.
With a couple of guys still injured, Malone sticks to a short rotation in Denver. In Game 4, the bench scored just 13 points, including nine from Michael Porter, Jr.
The reserves from Utah outgunned Denver 31-13 thanks to 24 points from Jordan Clarkson.
Dallas Lukas vs LA Kawhis
It's a battle of the Alpha males in the LA Clippers and Dallas Mavericks series. For Dallas, it's been nothing but supreme love for Luka Doncic. Even hobbled with a severely sprained ankle, Doncic lit up the Clippers for 43 points, including a game-winning dagger in overtime.
"We know this kid has got a flair for the dramatic," said Dallas coach Rick Carlisle. "He's a guy that lives for these moments."
"Big-time players make big-time plays and he's a big-time player," said teammate Trey Burke. "He's proved it already in this league."
Doncic carried the Mavericks on his back because Kristaps Porzingis missed Game 4 due to knee swelling. Even without the Unicorn, Doncic pulled off the upset. Burke and Tim Hardaway, Jr. combined for 46 points for the Mavs.
Lou Williams has been Mr. Sixth Man for most of the 2010s, and he continued that role this season. Williams led the Clippers with 36 points off the bench. Kawhi Leonard added 32 points and nine rebounds in a losing effort.
Paul George's shooting woes continued with a disappointing 9-point effort. PG13 went 3-for-14 from the floor, including a cringy 1-for-7 from beyond the arc. It seems like an easy way out to scapegoat George for the Clippers' troubles, but it's hard to ignore the fact that they lose games when he has a bad night.
"If I make shots this series could be a little different," added George. "That's what it comes down to. Give them credit, they're playing well. Luka's playing phenomenal."
The Clippers still don't have Patrick Beverly, their top defender who is nursing a calf injury. Beverly could be a game-time decision.
Doncic and the Mavs come into Game 5 as a +7 underdog.