Philip Rivers will play (at least) one more season with the Indianapolis Colts, but he's already found his next gig. The longtime Chargers QB will become the head coach for Saint Michael Catholic High School in Fairhope, Alabama when he eventually retires from professional football.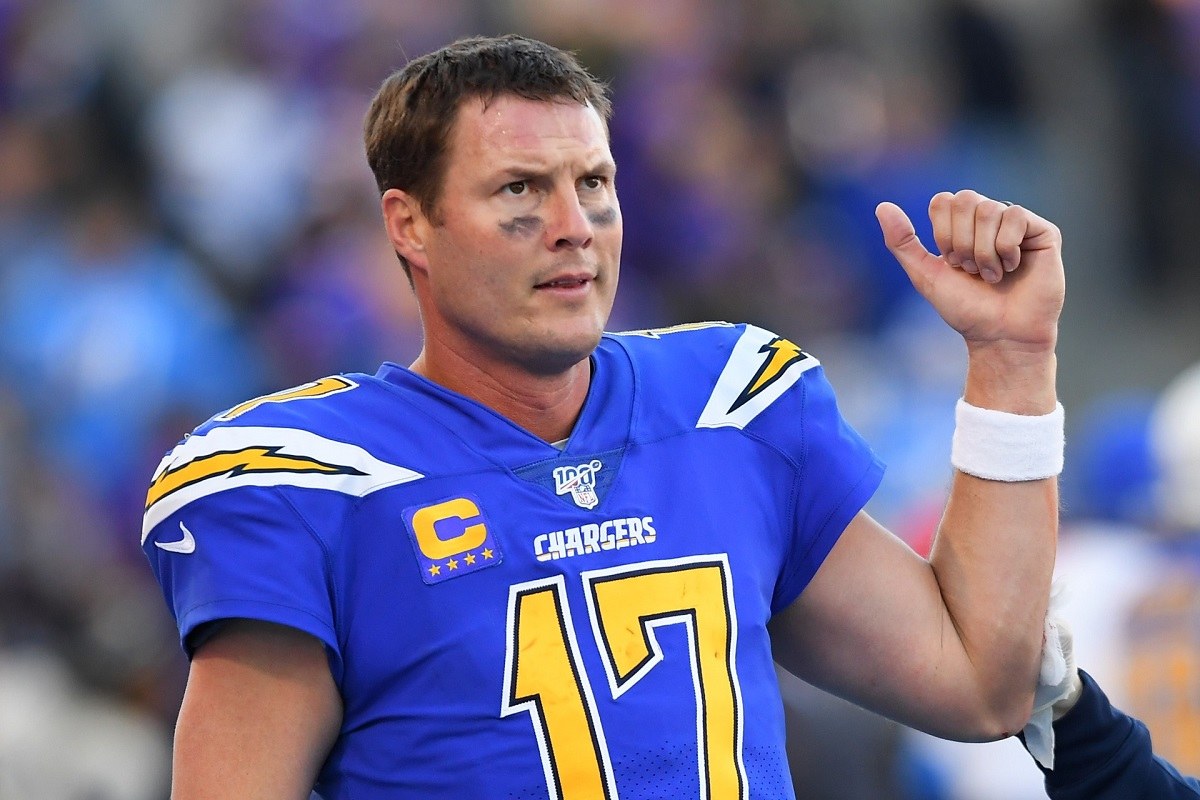 At 38-years old, Rivers signed a one-year deal (worth $25 million) to play with the Colts.
"I still love to play," Rivers told AL.com. "Certainly not coming off my best year, but in a year where I still know I can play at a high level, I did it in spurts."
Rivers admits that at his age it's "one year at a time," but the Colts would love for him to play a couple more seasons with them.
He played 16 seasons with the San Diego/Los Angeles Chargers. The San Diego Chargers selected Rivers (NC State) with the fourth overall pick the 2004 NFL Draft. Once he secured the starting quarterback job in 2006, he never looked back. He played every game over the last 14 seasons, or 224 consecutive starts with the Chargers.
The Rivers Coaching Tree
Rivers grew up in Alabama as the son of a high school football coach. He drew a lot of inspiration from his father, Steve Rivers, who coached him at Athens HS in the late 1990s. The younger Rivers evolved into an all-state QB under the elder Rivers' tutelage.
"My dad was my high school football coach, so I want to coach my boys and I want to coach young boys down the road," explained Rivers.
Rivers always wanted to follow in his father's footsteps. He just happened to have a slight detour in the NFL before he'll begin his coaching career.
"As the days went by, we felt more and more like God had a hand in this," Rivers said, explaining how divine intervention guided his post-NFL career. "And laid it in our lap from a standpoint of location, school, vision, and a young football program. It just made sense."
St. Michael's athletic director Paul Knapstein will be the interim coach until Rivers officially hangs up his helmet. The high school in southeastern Alabama, which has only been in existence for four years, announced on Friday that Rivers will eventually become their next head coach.
"It's a special day for me and my family really," said Rivers. "I will probably get a little emotional. I had two childhood dreams. One was to play in the NFL, and I'm now going into my 17th season. The other was to be a high school football coach as my dad was. How blessed am I to be able to live both of those out."
Stats and Records
Rivers tossed 397 touchdowns and racked up 59,271 yards. He's expected to pass the 400 TD and 60K passing yard marks this season. He has a legitimate shot at retiring in the top-5 all-time for touchdown passes and passing yards.
He will also join the rare 400 TD Club that has five spectacular Hall of Famers (or soon to be) with Drew Brees, Tom Brady, Brett Favre, Peyton Manning, and Dan Marino.
Rivers is currently sixth on the NFL all-time passing TD list, and is only 23 short of Dan Marino's 420 TD passes. Rivers is currently sixth on the all-time passing yardage list, and is within striking distance of Dan Marino (ranked #5).
NFL All-Time TD Passes
Drew Brees 547
Tom Brady 541
Peyton Manning 539
Brett Favre 508
Dan Marino 420
Philip Rivers 397
Rivers tossed for a minimum of 3,000 air yards in 11 seasons. He's passed for 4,000-plus yards in eight seasons. He also has eight games with 400 passing yards or more.
In 11 postseason games, Rivers threw 14 touchdown passes.
Rivers holds a couple of records. He's tied with consecutive pass completions at 25. He also secured five straight games with a passer rating above 120.
In 2018, Rivers set a single-game record for completion percentage with a stunning 28 for 29 clip (96.5%) in a game for the Chargers against the Arizona Cardinals.
With 297 consecutive regular-season starts and 321 total starts including the postseason, only Brett Favre has been more durable. Rivers has 235 consecutive starts including 11 playoff games with the Chargers.