During a 34-7 blowout against the Indianapolis Colts on Monday Night Football, New Orleans Saints quarterback Drew Brees broke the record for most career touchdowns when he tossed his 540th TD to snap Peyton Manning's mark of 539.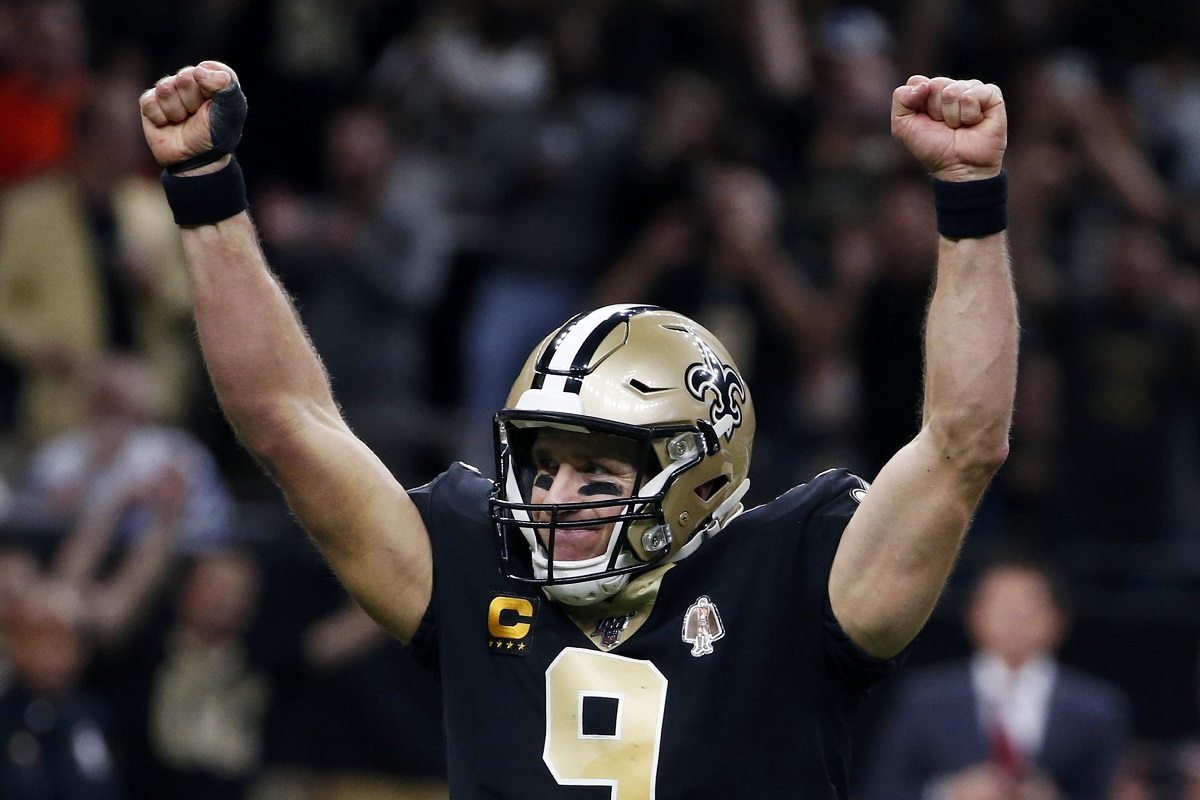 Brees finished the game with four touchdowns and currently has 541 TD passes spanning his 19-season career.
Coming into the Monday Night game, Brees found himself third on the all-time touchdown list behind Tom Brady (538) and Peyton Manning (539). Brees and Brady were neck-and-neck trying to become the first player to pass Manning. The Patriots' offense struggled immensely this season, which allowed Brees to slip by Brady and become the first player to pass Manning's mark of 539.
Most Career TD Passes
1. Drew Brees 541 *
2. Peyton Manning 539
3. Tom Brady 538 *
4. Brett Favre 504
5. Dan Marino 420
* Active Player
Not only did Brees break Manning's TD record, he finished the game with a near-perfect performance, going 29-for-30 on the night. Brees set a new NFL record for highest completion percentage (over 20 attempts) with just one incomplete pass in 30 attempts.
Last season, Brees joined the exclusive 500 TD club, which includes Brett Favre, Peyton Manning, and Tom Brady.
Brees, All-Time Passing Record Too
Brees, 40, is the second-oldest quarterback in the NFL behind Brady. Brady might end up with the most touchdowns if he continues to play for a few more seasons and Brees retries before him. But Brees might have the all-time yardage record to himself. After the victory over the Colts, Brees now has 76,884 passing yards and counting.
Last season, during a Monday Night Football game, Brees eclipsed Manning's career yardage record. Manning finished his illustrious career with 71,940 yards. Favre is currently third with 71,838.
Road to 540
Early in the second quarter against the Colts, Brees tied Brady with his 538th touchdown on a 15-yard dart to Michael Thomas.
Then, Brees tied Manning's record with a 21-yard touchdown to Tre'Quan Smith.
"Congrats Drew!!" tweeted Tom Brady. "Couldn't be more deserving. Passing Peyton in anything is an incredible achievement and your records will be tough to beat! But it's worth trying."
Midway through the third quarter, Brees set a new NFL record with a quick strike to Taysom Hill.
The atmosphere inside the Superdome was crazy after Brees broke the record 🔥🙌 pic.twitter.com/wfQcIc8df3

— The Checkdown (@thecheckdown) December 17, 2019
Hill and Brees connected a second time in the fourth quarter for Brees' fourth touchdown of the game, or the 541st of his career.
"Once the season starts, you just focus on winning games and doing what I need to do as a quarterback of this team to put us in the best position to succeed and to win," Brees said about the looming record. "And with that, I guess the statistics come, and maybe they add up. And then all of a sudden, you're close enough to be within striking distance of some of those things. But I'm really not thinking about it.
In the last two games, Brees threw nine touchdowns against zero interceptions. The Saints improved to 11-3 and currently occupy the #3 seed in the NFC playoff hunt. With 11 wins, the Saints are currently tied for the best record in the NFC with the Green Bay Packers, Seattle Seahawks, and San Francisco 49ers.