New Orleans Saints quarterback Drew Brees eclipsed Peyton Manning's record for all-time passing yards during a 43-19 victory over the Washington Redskins.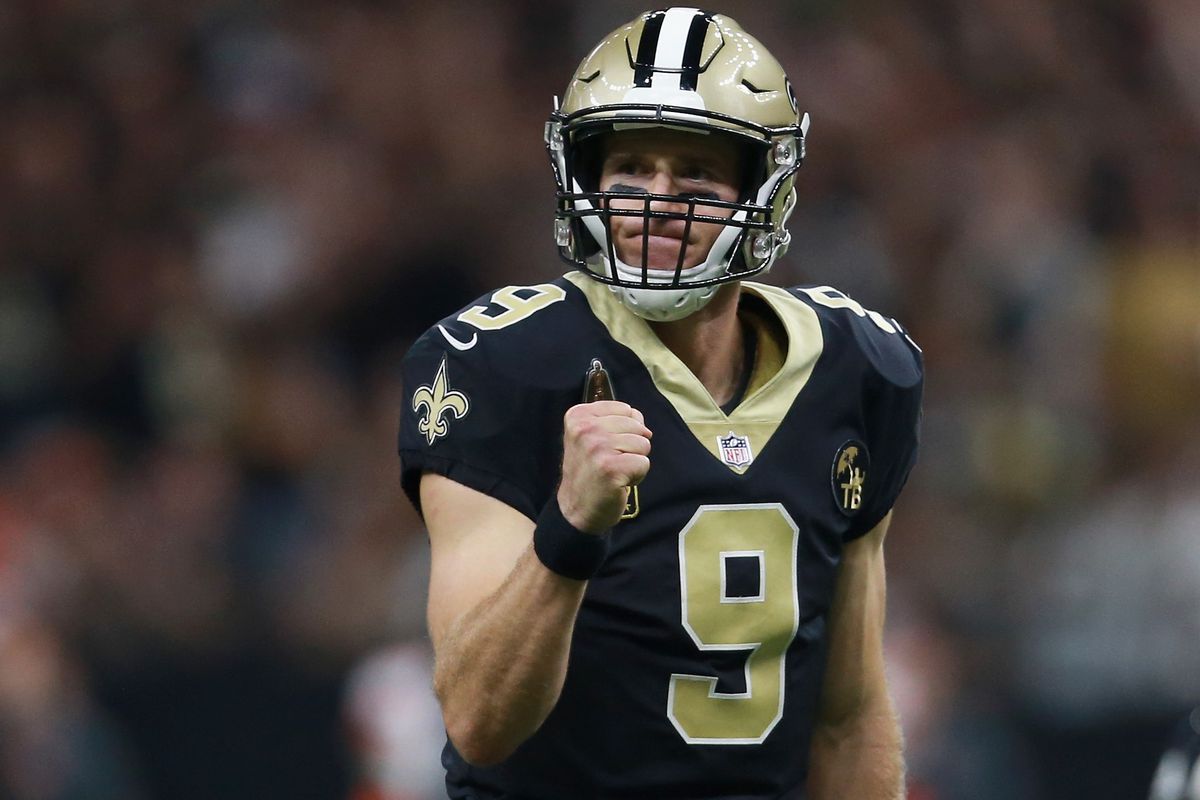 Coming into Monday Night Football in New Orleans, Brees, playing in his 18th NFL season, needed only 200 yards to tie Manning. He officially passed him in the second quarter with a 62-yard touchdown strike to rookie WR Tre'Quan Smith.
Brees would finish the night completing 26 of 29 passes for 363 yards and 3 touchdowns — ending the game with 72,103 passing yards.
With this 62-yard touchdown pass…@drewbrees is the NFL's all-time leading passer! ? #GoSaints pic.twitter.com/K6vTQVwfOe

— NFL (@NFL) October 9, 2018
Brees leads all active players in passing yards. Tom Brady is second, while Eli Manning is third among active QBs.
But for all his success, Brees still hasn't cracked his way into the 500 TD club. His three touchdowns against Washington brought his career total to 499. Tom Brady threw his 500th career touchdown five days earlier, joining Brett Favre (508) and Peyton Manning (539) as the only players in NFL history to cross the 500 barrier.
NFL All-Time Passing Yards

Drew Brees 72,103 *
Peyton Manning 71,940
Brett Favre 71,838
Tom Brady 67,418 *
Dan Marino 61,361
Eli Manning 53,063 *
Ben Roethlisberger 52,729 *
Phil Rivers 51,843 *
John Elway 51,475
Warren Moon 49,325

* Active player
Who Dat?
Drew Brees been the quarterback in New Orleans for the last 15 seasons, leading the Saints to 4 division titles and one Vince Lombardi Trophy in the 2010 Super Bowl, in which he was the game's MVP. He's been selected for the Pro Bowl 11 times.
Brees might be the best quarterback in the history of football who was never the best QB during his tenure. Earlier in his career, Brees was overshadowed by Manning, and more recently by Brady.
In 2012, Brees broke Johnny Unitas' record for 47 consecutive games with a touchdown pass. Unitas, the Hall of Fame QB from the Baltimore Colts, held the record for 52 years. Brees' streak ended at 54 games.
Brees is also tied the record for most touchdown passes in a game at seven in 2015, in a 52-49 shootout against the New York Giants in which Eli Manning threw six.
Undersized QB
Brees, listed as 6-feet tall, defied college recruiters and NFL scouts who insisted quarterbacks match a minimum height requirement.
Brees led his high school team in Austin, Texas to the state championship. He was not a highly coveted prospect and Purdue was one of two schools to offer him a scholarship.
At Purdue, Brees threw 90 touchdowns and set 13 Big Ten passing records and 3 NCAA records.
Brees was drafted as the first player in the second round of the 2001 NFL Draft by the San Diego Chargers. His lack of height was the major reason his stock dropped and he was not picked in the middle of the first round.
San Diego Cold Shoulder
In his fifth year in San Diego, Brees suffered a torn labrum during a fumble recovery. Surgery was successful, but the Chargers were hesitant to pay Brees top dollar with a surgically-repaired shoulder.
When it was time to negotiate a new contract, the Chargers offered Brees than he thought he was worth. The Chargers let Brees walk in free agency and promoted Brees' understudy Phil Rivers.
In 2006, Brees signed a contract with the New Orleans Saints and the rest is history.