Phil Mickelson hasn't stepped onto a golf course for an official tournament since playing in the Farmers Insurance Open in January. But the six-time major champion is now planning for a busy summer, even if he's not sure where exactly he'll be playing just yet.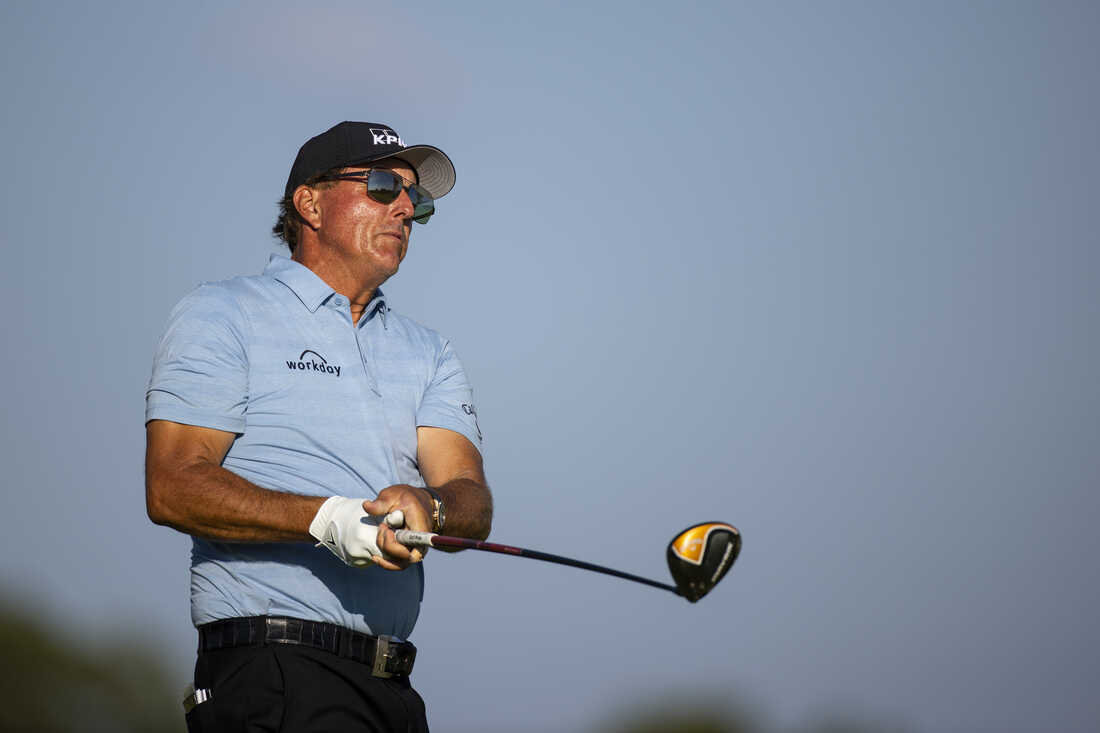 Mickelson registered to play in both the PGA Championship in May and the US Open in June.
Mickelson not committing to any schedule
However, the 51-year-old has also requested a release from the PGA Tour so that he can play in the first event of the LIV Golf Invitational Series. Mickelson infamously supported the Saudi-backed tour as a way to gain leverage – and perhaps more money – from the PGA Tour.
Mickelson's team says he hasn't decided what events he'll play in yet.
"Phil currently has no concrete plans on when and where he will play," agent Steve Loy said in a statement. "Any actions taken are in no way a reflection of a final decision made, but rather to keep all options open."
Mickelson apologized after comments he made about the Saudi Arabian-financed tour became public. Author Alan Shipnuck revealed those statements in an excerpt from his upcoming biography of Mickelson.
"They're scary mother***ers to get involved with," Mickelson said in the excerpt, referencing Saudi Arabia's human rights record and the death of reporter Jamal Khashoggi. "Knowing all of this, why would I even consider it? Because this is a once-in-a-lifetime opportunity to reshape how the PGA Tour operates … the Saudi money has finally given us that leverage."
Mickelson skipped the Masters in the wake of those comments, choosing not to play despite qualifying as a former winner. He might want to head to the PGA Championship, as he won the event last year, becoming the oldest major winner in golf history in the process.
Rahm: Recent comments shouldn't erase legacy
Mickelson won't rank among the favorites no matter where he plays, due mostly to his age. FanDuel Sportsbook lists Mickelson as a +8000 pick to win the PGA Championship this year, and is offering him at the same odds to win the US Open as well.
It's still an open question as to whether Mickelson will play in either or both tournaments. It's also unclear how the PGA Tour would respond if he chooses to play in the LIV Golf Invitational Series.
While Mickelson's comments and support for the new tour have tarnished his image, some of his rivals say that his stance shouldn't damage his legacy.
"A lot of people focus on Tiger, but [Mickelson] is easily one of the top 10 best players of all time," Jon Rahm told the Golf Channel. "He is a Hall of Famer, and we should recognize him as that. He has given his life to the public. No one has signed more autographs, no one has done more for the fans. I know he's in a bit of a slump for whatever it may be. I don't think his whole career or whole legacy should change because of a couple comments."
The 2022 PGA Championship begins May 19 at the Southern Hills Championship Course in Tulsa, Oklahoma.