Former world champion boxer Floyd Mayweather Jr. faced some of the best fighters in the world during his undefeated career. That won't be the case on June 6, when he battles YouTuber Logan Paul at Hard Rock Stadium in Miami, Florida.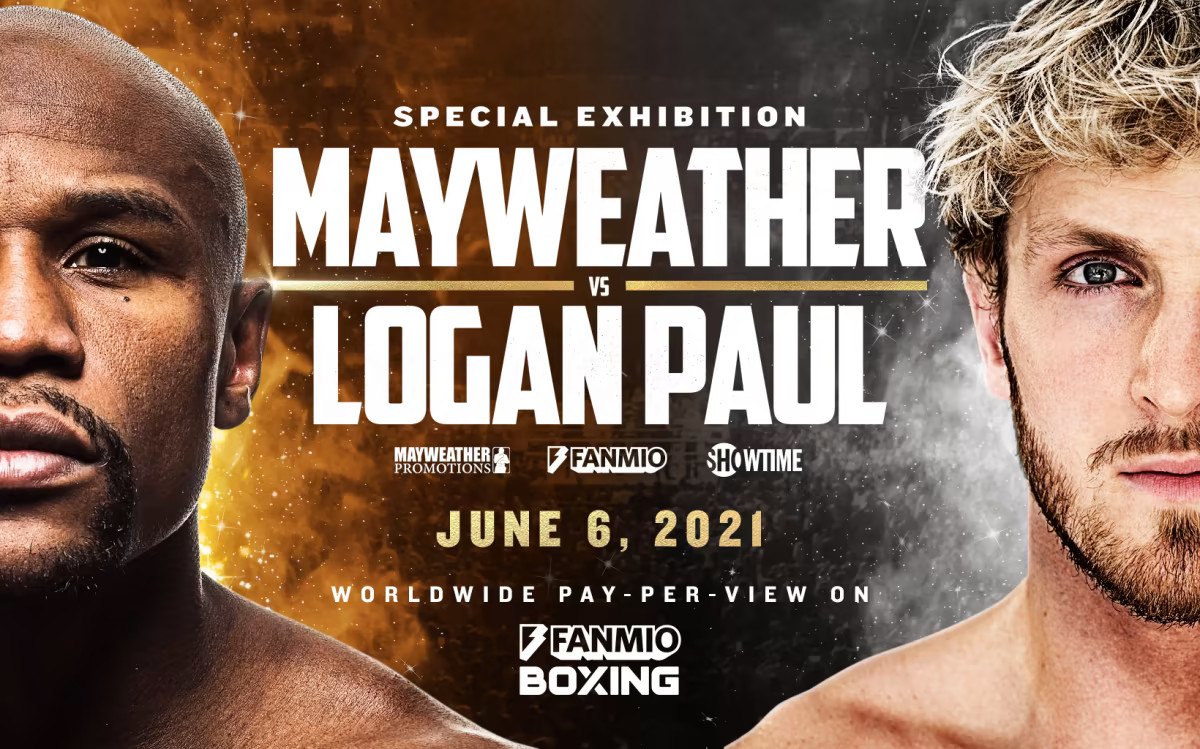 Paul (0-1, 0 KOs) is the older brother of Jake Paul, who has found success in his move to professional boxing.
Logan Paul lacks success of brother Jake
Jake Paul (3-0, 3 KOs) is coming off a first-round knockout over former UFC fighter Ben Askren. While he's shown solid skills in his limited ring time, Paul has attracted criticism for not yet fighting anyone with a professional boxing background.
Logan Paul, on the other hand, lost his only professional fight, dropping a split decision to YouTuber Olajide William Olatunji – better known to fans as KSI – in November 2019. Yet he'll be stepping into the ring against one of the greatest boxers of all time.
Mayweather (50-0, 27 KOs) won world championships in five different weight classes, ranging from junior lightweight to junior middleweight. He last fought in 2017, beating UFC superstar Conor McGregor via 10th round TKO. Mayweather retired after that bout.
Now, Mayweather will return to action in what organizers are billing as an exhibition bout.
View this post on Instagram

"June 6, 2021!!!!" Mayweather wrote on Instagram. "Me and Logan Paul will be fighting at the Hard Rock Stadium."
When organizers first announced the bout for February – before postponing it indefinitely – they billed the fight as a "special exhibition." At the time, there was no information on any rules for the bout, such as the number of rounds.
Take betting odds with grain of salt
The lack of details hasn't stopped some online sportsbooks from offering odds on the fight. BetOnline.ag lists Mayweather as a -2000 favorite over Paul (+900), though the book has been careful to stipulate some rules for that market.
"This is an exhibition match and grading will be based on the WBC (or governing body promoting match) announcement of the winner," BetOnline.ag says on the market. "Sportsbook manager's decision final."
If the fight in any way resembles an actual boxing match, it may be hard to imagine this being a competitive contest. Yet BetOnline has put odds on the fight that suggest Mayweather comes in as a heavy favorite, but not a guaranteed winner.
There are a few reasons for this. First, Paul is the much bigger fighter. He's 6-foot-2 and weighs around 200 pounds, meaning he'll be about 50 pounds bigger than Mayweather. The age difference could magnify the physical disparity: Paul is just 26 years old, while Mayweather is 44.
Secondly, there are plenty of questions over just how serious a contest this will be. Mayweather could well carry Paul through the fight, or even allow Paul to keep things close without putting the YouTuber in any danger. Paul even suggested on Twitter that he – or at least those close to him – know Mayweather could do a lot of damage, if he wants.
full transparency my mom is terrified https://t.co/ixN93qIdTH

— Logan Paul (@LoganPaul) April 28, 2021
"Full transparency, my mom is terrified," Paul tweeted.
But most importantly, there are bound to be plenty of fans willing to put some money down on Paul just for the fun of it. That will keep the odds from becoming too lopsided, even if Paul can't actually win.