Freshman sensation Paige Bueckers scored a game-high 31 points, including all of UConn's nine points in overtime, to lead the #2-ranked Huskies to a 63-59 victory over #1 South Carolina.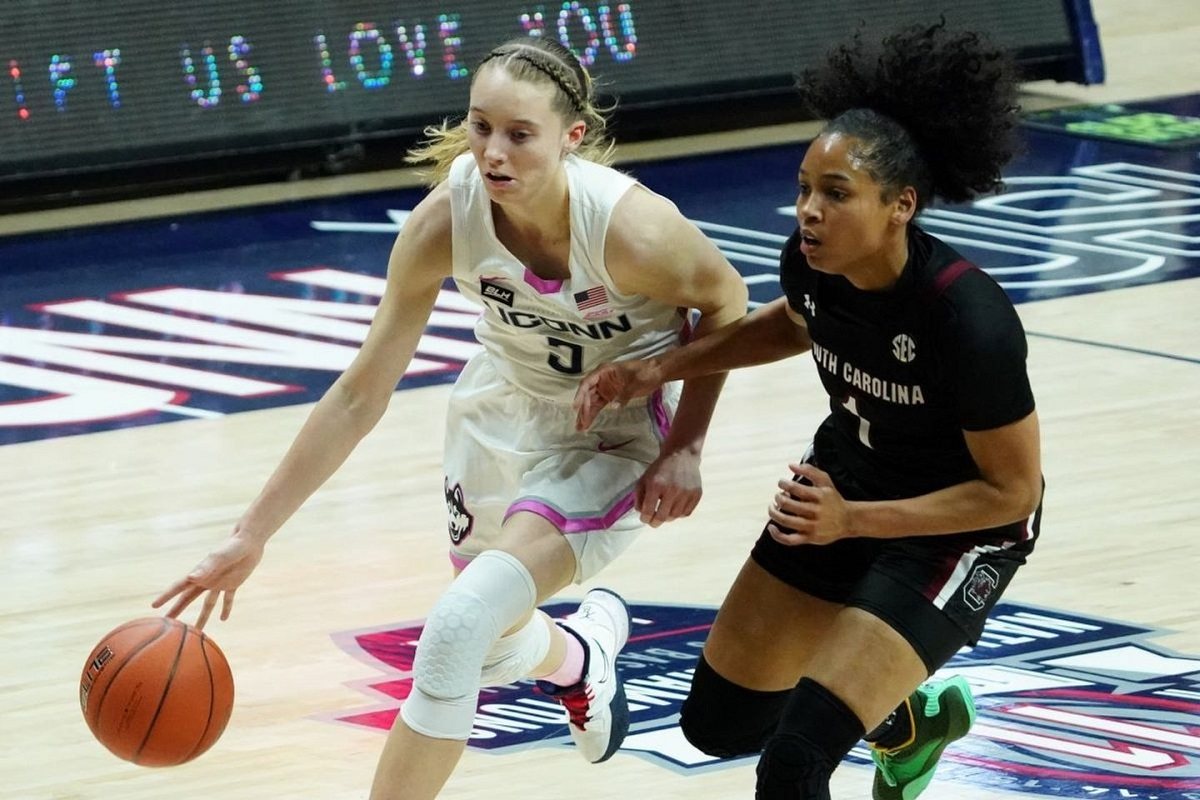 After falling behind 59-56 with two minutes remaining in OT, Bueckers scored the final seven points of the game as UConn went on a 7-0 run to close out the overtime session.
"I'm always surprised when she shoots and the ball doesn't go in," UConn head coach Geno Auriemma told The Athletic's Charlotte Carroll.
This women's college basketball game featured the top-two ranked teams in the nation. Dawn Staley's South Carolina Gamecocks slipped to 15-2, while UConn improved to 14-1, including a perfect 9-0 clip at home.
If these two teams meet again, it will most likely be in the Women's March Madness Final Four.
UConn won four games in a row since they were upset 90-87 by #19 Arkansas almost two weeks ago. UConn has seven Big East games remaining on their schedule, with five of them on the road.
No. 1 vs No. 2 lived up to the hype 🔥

Catch all the action from @UConnWBB's OT victory over No. 1 South Carolina ⬇️ pic.twitter.com/bbBKgloVZD

— FOX College Hoops (@CBBonFOX) February 9, 2021
Super Frosh Bueckers
Bueckers, pronounced "Beckers", was the top women's high school basketball player in the nation when she won the Gatorade 2020 National Player of the Year. She grew up in Minnesota and gained notoriety as one of the best ballplayers in the country thanks to YouTube videos and clips from her high school games. Her ability to score a high volume of points earned her the moniker "Paige Buckets" in Minnesota.
Coming into the game, she led UConn in scoring average with 20.4 ppg. She was also shooting lights out from 3-point range, with a 59.6% success rate.
Against South Carolina, Bueckers struggled from downtown. She missed her first five attempts, but that didn't deter her when she knocked down her only 3-point attempt in overtime. The trey was part of her overtime scoring barrage where she inflicted all of the offensive damage by herself.
"She's a player," said South Carolina head coach Dawn Staley. "She makes big shots when her number is called, time and time again."
"There's not much you can say," said Auriemma. "She's that player. She's that player that comes along and people talk about."
Bueckers has been unstoppable over her last five games, averaging 28.4 ppg. She led the team in scoring nine times through 15 games, including 17 points in her NCAA debut against UMass Lowell in December.
PAIGE. GETS. BUCKETS.@paigebueckers1 gets the bounce in OT to seal the win for @UConnWBB 🔥 pic.twitter.com/yMqfZj0TUq

— FOX College Hoops (@CBBonFOX) February 9, 2021