The #2 Oregon Ducks, led by star player Sabrina Ionescu, defeated #1 Mississippi State 88-84 to advance to the Oregon's first women's Final Four in school history.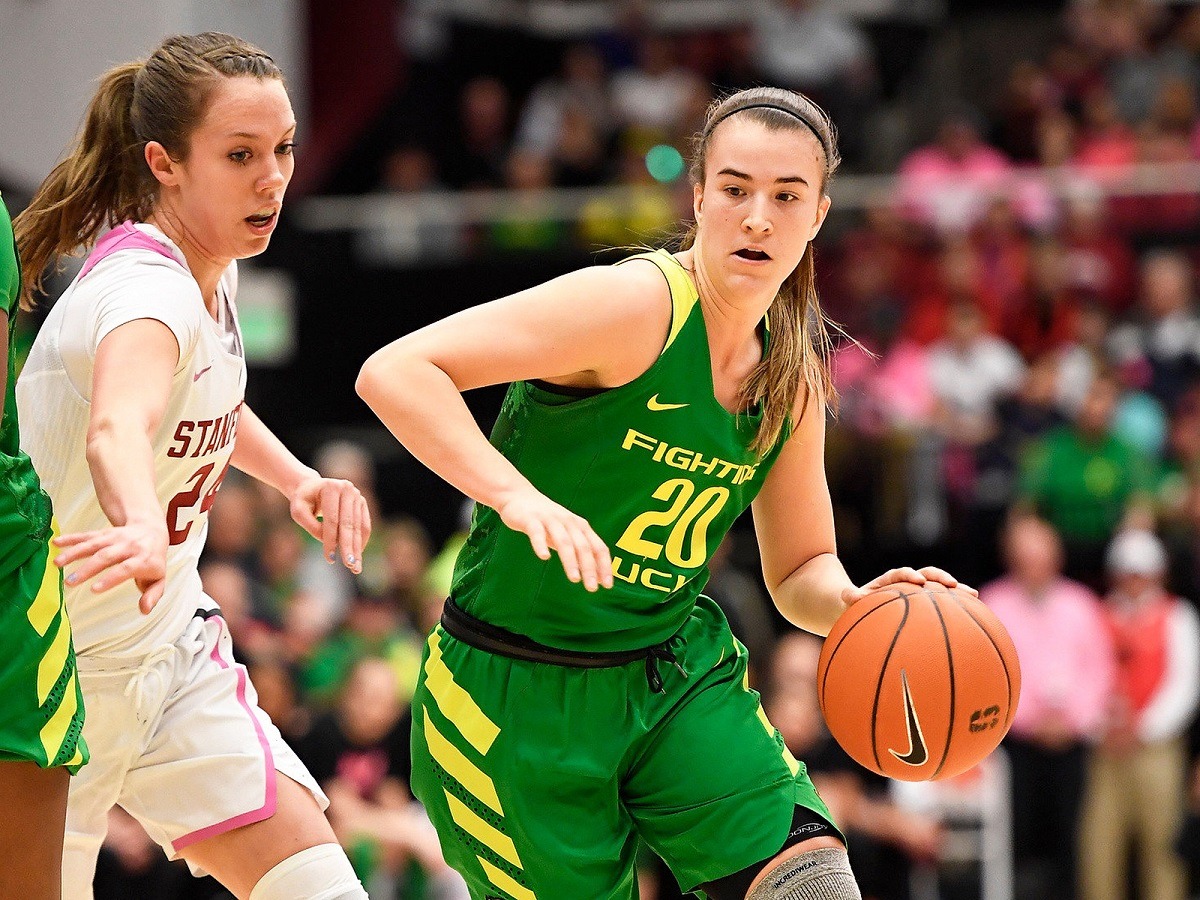 Top seeds Baylor (35-1) and Notre Dame (34-3) also advanced to the Final Four. Notre Dame is seeking back-to-back championships.
UCONN (35-2), which received a baffling #2 seed by the selection committee this year, picked off #1 Louisville 80-73 to advance to their 12th straight Final Four. The Lady Huskies at UCONN made the Final Four 20 times overall. They last won in 2016 when they ran off four championships in a row. UCONN won 10 titles since 2000 and 11 total under legendary coach Geno Auriemma.
NCAA WOMEN'S BASKETBALL CHAMPIONS (Since 2005):
2018 Notre Dame
2017 South Carolina
2016 UCONN
2015 UCONN
2014 UCONN
2013 UCONN
2012 Baylor
2011 Texas A&M
2010 UCONN
2009 UCONN
2008 Tennessee
2007 Tennessee
2006 Maryland
2005 Baylor
The Women's Final Four tips off on Friday in Tampa, Florida with #1 Baylor vs. #2 Oregon and #1 Notre Dame vs. #2 UCONN. The semifinals will be broadcast on ESPN2.
Baylor is a 6-point favorite over Oregon. Meanwhile, UCONN is a 2.5-point underdog against Notre Dame.
Lady Bears Streaking
The Lady Bears last won a title in 2012 when they defeated Notre Dame. Under Kim Mulkey, Baylor won their first championship in 2005. They have not been back to the title game since their 40-0 perfect season in 2012.
Baylor won 27 games in a row with their only loss happened earlier in the season against Stanford. The Lady Bears upset UCONN in the middle of the season and have been the team to beat since then.
The Lady Bears have been mauling opponents in the tournament this year. They destroyed #16 Abilene Christian by 57 points and crushed #8 Cal by 39 points. In the Sweet 16, they defeated #4 South Carolina by 25 points. In the Elite Eight, #2 Iowa gave them their toughest game of March Madness because they only lost by 22 points. Their average margin of victory have been 35-plus points.
The Lady Bears have to figure out how to stop Sabrina Ionescu and Oregon (33-4). Kalani Brown and Lauren Cox are their two best players, but they will have to play solid defense to neutralize Ionescu.
Sabrina Soaring
Mississippi State lost in the championship game in the last two seasons. The Lady Bulldogs were on a specific mission to return to the Final Four to finally go all the way. They locked up a top seed once again, but their run ended with a loss to Oregon and the best player in the country, Sabrina Ionescu.
The Lady Ducks advanced to the Elite 8 in three consecutive seasons, but they failed to advance to the Final Four in 2017 and 2018. The Ducks finally achieved their goal with a victory over Mississippi State.
"We've been thinking about this opportunity since our loss to Notre Dame last year," said Sabrina Ionescu. "This is what we work for. This is what we dream of. Now it's time to make our dreams a reality."
Ionescu, 5-foot-11 junior guard, set a record for most triple doubles in NCAA history with 18. In December she notched her 13th triple double, which broke an NCAA record for both men and women. After he accomplishment, Steph Curry from the Golden State Warriors gave her props on social media by saying "Shoutout to the walking Triple Dub."
Ionescu led Oregon in scoring with 19.7 points per game last year. This season, Ionescu averages 19.5 ppg. She also averages 7.8 assists per game and 6.7 rebounds. She also drills 43.8 percent of her three-point shots.
While the men's basketball team at Oregon took on the role of Cinderella in March Madness, the Lady Ducks were doing damage as well. Ionescu locked up her 18th triple double in a second-round game against Indiana.
"It's awesome to get one in the tournament," Ionescu said. "Probably still won't get recognized because ESPN never recognizes women's sports that are getting triple-doubles. But I'm just happy I was able to do it in front of the home crowd with everyone supporting me."
Ionescu will leave school early to declare in the WNBA draft. She's projected to be the #1 overall pick.