The Green Bay Packers are doing everything possible to persuade the reigning MVP Aaron Rodgers to stick around Wisconsin for one more season instead of bouncing to the Denver Broncos or elsewhere, so they went out and hired his former quarterbacks coach, Tom Clements.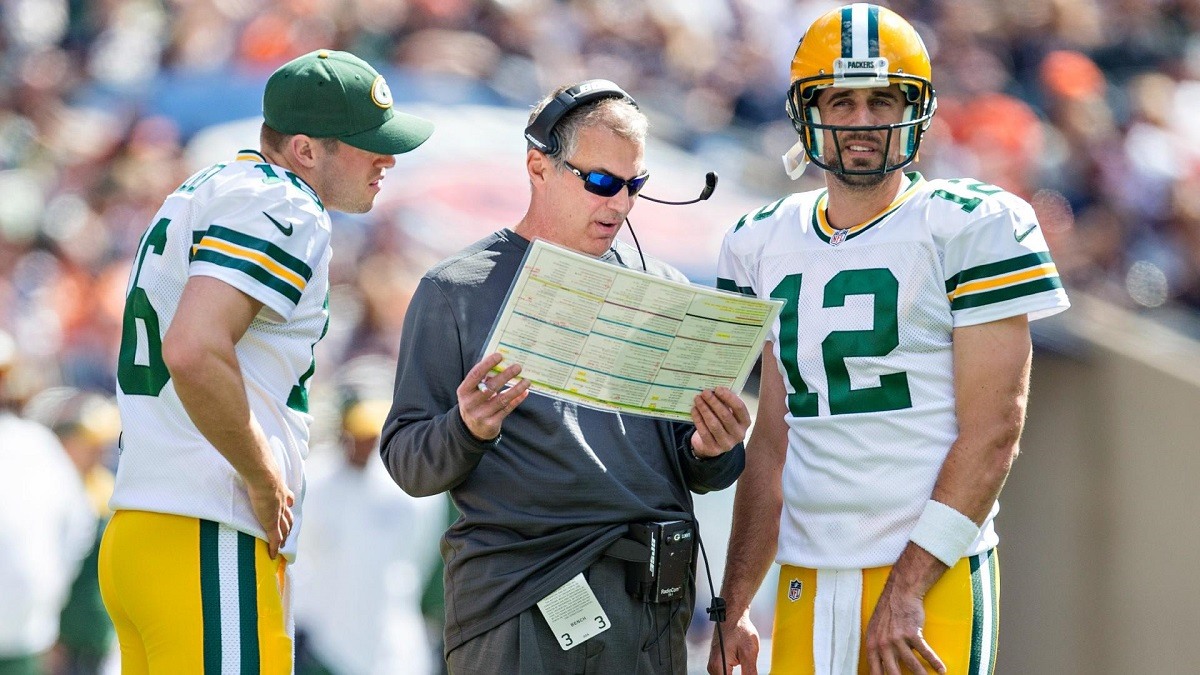 The Packers convinced Clements to come out of retirement to coach his old pupil. Rodgers has always said great things about his relationship with Clements, who helped him evolve into an elite passer during his earliest days in Green Bay.
"I'm thankful, deeply thankful, to guys like Joe Philbin and Tom Clements and Alex Van Pelt, who've helped me understand that facet of leadership and being a quarterback," said Rodgers.
Clements, 68, worked for the Packers between 2006 and 2016, including the QB coach from 2006-11. During the 2011 season, Rodgers won the MVP with Clements as the QB coach. In 2012, Clements was promoted to the offensive coordinator, even though head coach Mike McCarthy called all the plays.
Clements ended his tenure with the Packers after the 2016 season and he took a couple of years off before returning to the coaching grind.
Kliff Kingsbury from the Arizona Cardinals hired Clements in 2019 as their quarterbacks coach to help mentor Kyler Murray during his rookie season. Clements spent two seasons with the Cardinals before he retired at the end of the 2020 season.
Will He Stay, Or Will He Go?
Cue up The Clash. It's the big question that has multiple franchises on edge. The Green Bay Packers know that Rodgers already has one foot out the door, but they're pulling out all the stops to make him reconsider his decision to leave.
The Packers also recently hired Byron Storer as their new special teams coach. Storer is a college teammate of Rodgers back in the Berkeley days when the two played for the California Bears.
Meanwhile, the Denver Broncos are setting up the table for Rodgers. The Broncos hired Nathaniel Hackett as their new head coach. Hackett previously worked as the offensive coordinator for the Packers, so it's very obviously that they intend to do everything possible to secure Rodgers in an offseason trade.
Of course, there are a few other franchises in need of a quarterback. Tom Brady retired and there's a job opening in Tampa Bay. Word on the street is that the Bucs are interested in Deshaun Watson or Russell Wilson, but if Rodgers is available, why not snag him for a couple of seasons?
The New Orleans Pelicans also need a quarterback, but they have a lot of other issues with trying to get under the cap and a hefty salary to Taysom Hill. There's also rumblings that the Indianapolis Colts will move on from Carson Wentz, which means there's a potential opening with the Colts. Owner Jim Irsay would love to bring in an elite quarterback like Rodgers after they struggled to find a proper successor to Andre Luck.