Love him or hate him, but Tom Brady the GOAT is finally entering retirement. After winning the Super Bowl seven times, Brady finally retired at age 44 after 22 seasons as a quarterback with the New England Patriots and Tampa Bay Bucs.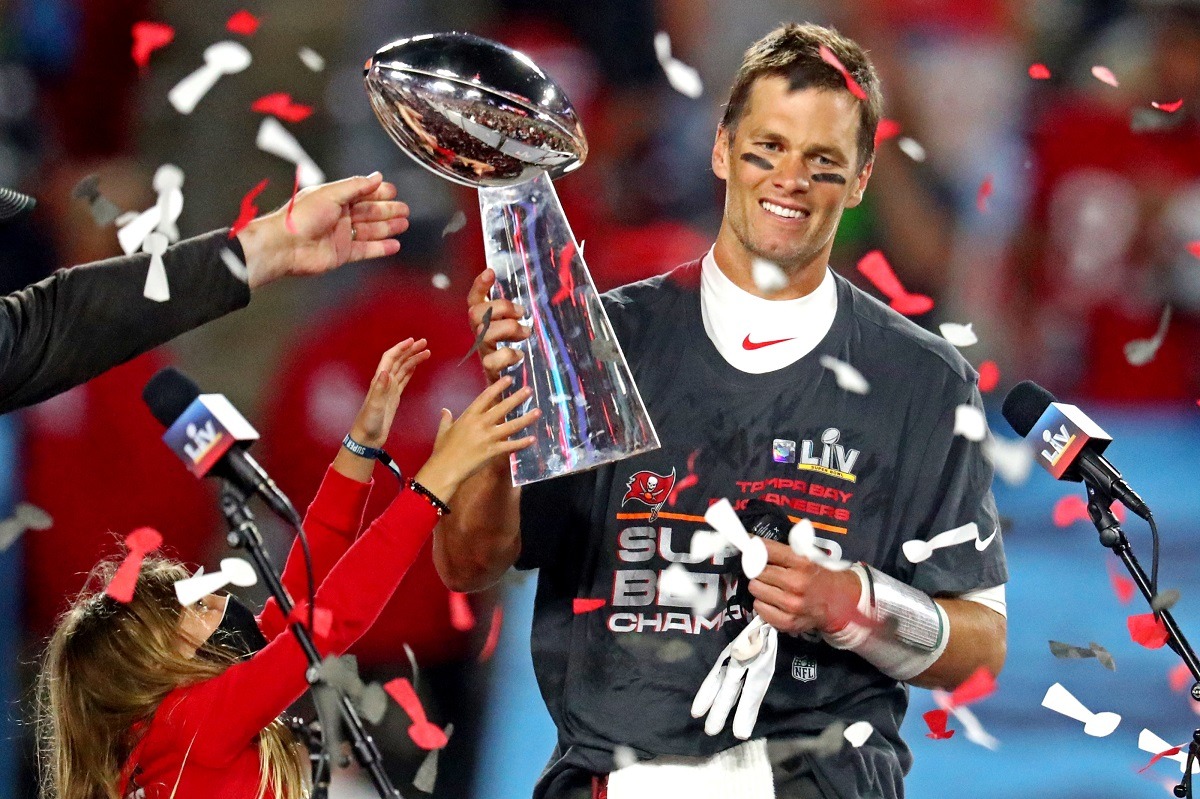 The Bucs failed to defend their championship when they were knocked out of the playoffs last weekend by the Los Angeles Rams in the NFC Divisional Round.
Brady and the Bucs trailed the Rams 27-3 in the second half, and almost pulled off a miraculous comeback. Brady helped the Bucs tie the game late in the fourth quarter. However, the Rams pulled ahead with a game-winning, walk-off field goal by Matt Gay. That marked the last time Brady would play in an NFL game. Or maybe, it's not?
For the last few years, rumors surfaced at the end of each season that Brady would consider retirement. On Saturday, multiple outlets — including the NFL Network and ESPN — reported that Brady will enter retirement.
However, there's also a few conflicting reports — like one from the AP — that indicated Brady had not made up his mind yet. Brady's father stated that his son is still undecided. Tampa Bay Bucs head coach Bruce Arians told reporters on Saturday that Brady has not officially told him his plans, and that he's still thinking about his future.
GOAT. #ThankYouTom pic.twitter.com/6NJ4ODwSoO

— NFL (@NFL) January 29, 2022
Brady the GOAT
Brady won the NFL MVP three times, but fans will tell you he should've won at least two more times. He holds the record for most wins as a starting quarterback with 243.
Brady won the Super Bowl seven times, including six times with the New England Patriots and once with the Tampa Bay Bucs last season. He also named the Super Bowl MVP five times.
During his 22 seasons, Brady set the record for most touchdowns with 624. He also holds records for most passing yards in NFL history with 85,520 yards, most passing attempts with 11,317, and the most completions at 7,623.
Brady was named to the Pro Bowl 15 times and earned All Pro honors six times.
In 2009, Brady won the Comeback Player of the Year after a knee injury prematurely thwarted his 2008 season.
Tommy Boy Wins 6 Rings with the Evil Empire
Brady was not a labeled a wunderkind in college or even in his first years in the NFL. He had to fight for his starting job at Michigan. Brady also didn't get drafted until the sixth round in the 2000 NFL Draft.
The New England Patriots took a flier on Brady with the #199 pick in the NFL Draft. Brady eventually got revenge on every single team that passed on him, especially his hometown San Francisco 49ers.
After 20 seasons, the stats did not lie. Brady won the Super Bowl six times with Bell Belichick and the Patriots in two distinctly different eras. Brady won Super Bowl 36, Super Bowl 38, Super Bowl 39, Super Bowl 49, Super Bowl 51, Super Bowl 53.
If it were not for Eli Manning and the New York Giants, Brady and the Patriots could've won the Super Bowl two more times.
Just when fans thought Brady would retire after the 2019 season, he surprised everyone in New England when he said goodbye and signed with the Tampa Bay Bucs.
Brady: Still Gas in the Tank
Brady made a tough but wise choice to depart from New England so he could continue playing football and postpone his retirement. After he signed with the Tampa Bay Bucs, Brady even persuaded his old pal Rob Gronkowski to come out of retirement to join him.
The Bucs pulled off a sick run in the postseason and ran the table to win the Super Bowl. Over the last two decades, bettors found out the hard way when you bet against Brady in the playoffs. Brady and the Bucs defeated the Kansas City Chiefs in Super Bowl 55, despite the fact the Bucs were an underdog. Brady conjured up his magic one last time to win his seventh Super Bowl.
Of course, this one felt different and was uniquely special because he won a title without Belichick and the Patriots. Brady proved a couple of points. For one, he still had enough gas in the tank to win another championship at 43-years young. Secondly, Brady did not need Belichick and the Patriots to win one more Super Bowl.
Compared to other quarterbacks in the league, including a few nearly half his age, Brady was still among the best of them. In theory, he could play another season or two so long as his body held up. Brady never had a rapid decline like Drew Brees or Ben Roethlisberger late in their careers, where it seemed like they should've entered retirement instead of playing one year too long.
The prevailing thought in Tampa is that if Brady did not win the Super Bowl last year, he would return for the 2022 season for one last shot at winning one without Belichick and the Patriots.
Update: Brady Officially Retires
On Tuesday morning, three days after multiple outlets reported his retirement, Brady made an official announcement and statement via his Instagram account @TomBrady.
"I have always believed the sport of football is an 'all-in' proposition — if a 100% competitive commitment isn't there, you won't succeed, and success is what I love so much about our game," Brady posted on Instagram. "There is a physical, mental and emotional challenge EVERY single day that has allowed me to maximize my highest potential. And I have tried my very best these past 22 years. There are no shortcuts to success on the field or in life. This is difficult for me to write, but here it goes: I am not going to make that competitive commitment anymore. I have loved my NFL career, and now it is time to focus my time and energy on other things that require my attention."
After three days of speculation, the retirement is official. Brady rides off into the sunset as the GOAT.
"I've done a lot of reflecting the past week and have asked myself difficult questions," continued Brady on IG. "And I am so proud of what we have achieved. My teammates, coaches, fellow competitors, and fans deserve 100% of me, but right now, it's best I leave the field of play to the next generation of dedicated and committed athletes."
If you like drama, chew on this: Brady never mentioned the New England Patriots once in his retirement statement.
Now, it's time for the Tampa Bay Bucs to scramble and find a new quarterback. During the 2021 season, Brady was backed up by Blaine Gabbert and rookie Kyle Trask.
According to DraftKings, the Bucs are +1200 odds to win Super Bowl 57 on the look-ahead NFL futures board.