On Nov. 20, the Utah Utes crushed the Oregon Ducks 38-7, effectively ending the hopes of Oregon – or any other Pac-12 team – making it into the College Football Playoff this season. But Oregon gets a shot at revenge on Friday, as the two teams will face off in a rematch for the Pac-12 Championship.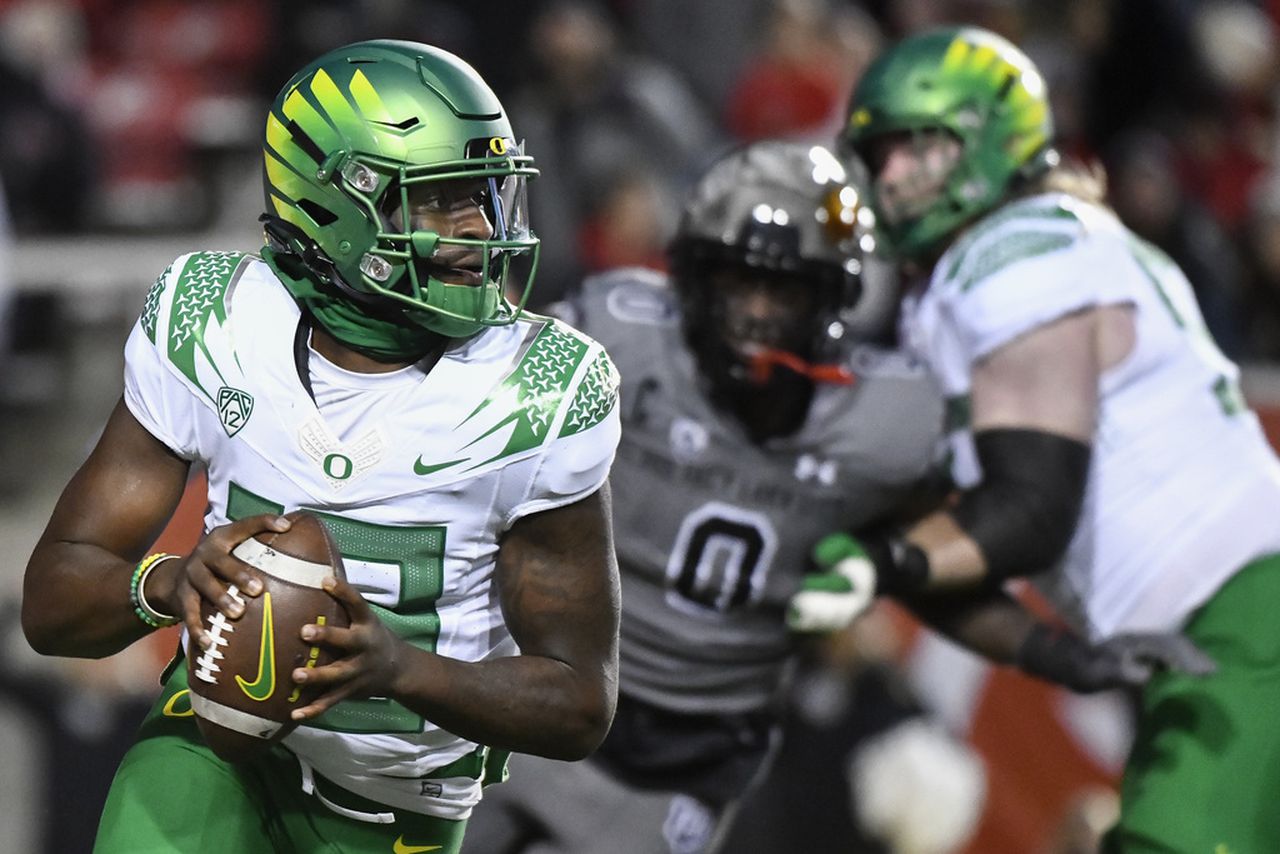 No. 14 Utah (9-3) will host No. 10 Oregon (10-2) on Friday, and comes into the Pac-12 Championship as a favorite.
Oregon vows to show up for Pac-12 Championship
Despite beating Oregon decisively just two weeks earlier, FanDuel Sportsbook only lists the Utes as a 2.5-point pick, portending a much more competitive contest in the rematch. Oregon players say everyone should expect a better effort on Friday.
"Last time we played this team, we got embarrassed, so tune in Friday night," Oregon safety Verone McKinley III told reporters. "Two weeks ago, it was probably the worst loss I've had since I've been here. To get this team again, and to understand what type of game it's going to be, and know what we did wrong and know how we can be better, let's do it again."
Utah played perhaps its best game of the year in its blowout over Oregon. The Utes have improved on both sides of the ball throughout the season, particularly on offense, where the team has become among the best in the country at converting on third down. Against the Ducks, Utah converted 11 of 14 third-down attempts, something players credit to offensive coordinator Andy Ludwig.
"He did a great job with the situational work, especially third downs," Utah wide receiver Britain Covey said, via the Deseret News. "It's attributed to coach Ludwig's good play-calling on third down. I know we ran the ball a lot more in the second half, but I'm glad that we didn't back down and we didn't just try to run the clock out and play conservative. We still were pushing forward and trying to win the game."
Whittingham ignoring retirement talk
Speculation has been swirling around Utah head coach Kyle Whittingham. After leading the Utes for 17 years, some believe he will call it a career. He, however, is downplaying the retirement talk.
"I'm having as good a time right now as I've ever had, so I'm not even contemplating that right now," Whittingham told reporters.
While Utah and Oregon are likely out of College Football Playoff contention, there's still a Rose Bowl berth on the line for the winner of the Pac-12 Championship. Between that and the revenge narrative, Oregon has all the motivation it needs to reverse the outcome.
"We know what happened, and this team knows what we can do, and we have to do what we are comfortable with," Oregon defensive end Brandon Dorlus said. "We don't have to play out of character, just be us."